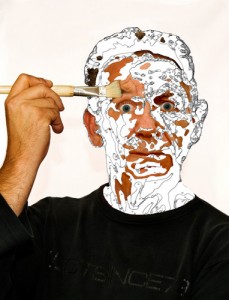 They used to refer to James Brown as "The Hardest Working Man in Show Business". Based on his output in 2011 I think we are going to have to dub Bertrand Duchaufour, "The Hardest Working Man in Perfume". As we sit here in September 2011 he has been the nose behind ten fragrances for six different perfume houses and an eleventh for a seventh perfumer is due in another month. In most cases I would think I would weary of a perfumer's bag of tricks; their ability to tread familiar ground in unique ways. M Duchaufour manages to turn that hypothesis on its ear as these ten fragrances of 2011 display a variety of artisitry that few working in the fragrance world could reliably pull off. That each one of these fragrances fit within the aesthetic of the other perfumes from the respective houses but yet also somehow also seem positively Duchauforian is something I marvel at.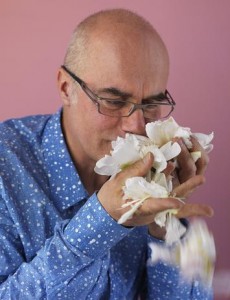 These five entries come from his long-standing tenure as L'Artisan Parfumeur's perfumer in residence. He created stand-alone bottles called Mon Numeros back in 2009. At that time there was only one bottle of each. The idea is the purchaser would truly have her or his Mon Numero for themselves.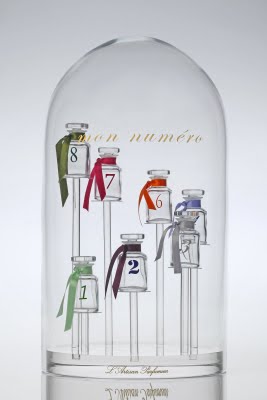 I very badly wanted to get a sniff of these and expected they would attain mythic proportion over time. Then the announcement at the beginning of the summer that these fragrances were going to be released but that they would be country specific gave me hope. There is a well-connected perfume underground which allows one with my obsession the opportunity to get a chance at these scents. Over the past few weeks I have been wearing the five Mon Numeros I've been able to obtain non-stop and they are some of the best work of M Duchaufour's time at L'Artisan. During my research I also discovered that M Duchaufour has a little video to introduce all of the Mon Numeros and so I will let The Hardest Working Man in Perfume have the first word and I will have the last word.
Mon Numero #1: The Free Agent available only at L'Artisan boutiques worldwide
Mon Numero #1 is the most delicate of these five fragrances. It is a classic fruity floral based upon a Duchaufour architecture. What I mean by that is usually in a fruity floral you get clobbered over the head by the fruit and flowers like a fragrant food fight. In Mon Numero #1 M Duchaufour takes a crisp pear note welds it to a delicate mimosa and lays it on a bed of sheer musk. This sounds like every fruity floral in Sephora. Trust me when I tell you this is like no fruity floral you will find in a mass-market outlet. Every bit of this stands out in stark lines and yet each interface is also a study in contrast. It is said, in the press materials this has some relation to Mure et Musc which I sort of see but honestly Mon Numero #1 is an oil painting of the sketch that is Mure et Musc, for me.
Mon Numero #6: Available in Italy at Olfattorio
In the video M Duchaufour mentions Mon Numero #6 is meant to evoke a monsoon in Asia. The image I have is standing in a bamboo structure watching the driving rain as the scents of the fruit and flowers on the table next to me mix with the ozonic smell of the storm. When you are outside in a significant rainstorm there is this moment where water takes on an almost magical ozonic scent. In Mon Numero #6 M Duchaufour has bottled that scent and it is what the opening moments are all about. Then you begin to smell the other things surrounding you. The sliced mango and pineapple are what come to the nose next followed by jasmine and light cedar all over a cashmere soft amber. Mon Numero #6 makes me appreciate the power of a strong rain because this fragrance carries a similar power.
Mon Numero #8: Available in Hong Kong at Lane Crawford
If asked to name my favorite floral notes three very high on the list would be orris, osmanthus, and narcissus. These three floral notes form the core of Mon Numero #8 and they go together like diamonds and pearls as in unison they create a luxurious opulent fragrance experience. Which is what I am hoping M Duchaufour was referring to in his video when he referred to Mon Numero #8 as a "fur fragrance". Mon Numero #8 begins with a very high quality version of orris which carries warmth but also the silvery edge good orris also has. It is that dichotomy that the osmanthus and narcissus will enhance and contradict throughout the early development. This give and take early on is magnificent to behold and was entrancing to me every time I wore this one. The base notes of musk and vanilla bring me back slowly to earth. M Duchaufour say in the video this is a homage to an old-fashioned fragrance. It definitely feels like a fragrance one should be dressed in jewels, silk, and white gloves for, to match the richness of Mon Numero #8.
Mon Numero #9: Available in France at L'Artisan Boutiques
So I have much the same issue M Duchaufour has in the video when it comes to describing this perfume. He says early on it is a cologne and the opening is all about the typical citrus mélange which define cologne. The heart is bridged by the pair of green notes of shiso and rhubarb which lead to a heart of slightly green orange blossom and jasmine. Then this fragrance heads straight to chypre territory as oakmoss, musk and patchouli form the classic chypre base on this. If you look at the very end of this video M Duchaufour also realizes while this might have started out as cologne it ends up as perfume and in this bit of semantics I completely agree with him.
Mon Numero #10: Available in the US at Barney's
Mon Numero #10 is the fragrance which combines some of the notes which have comprised some of M Duchaufour's greatest fragrances. A boozy opening segues into an incense heart only the High Priest of Fragrant Resins can seem to create. The base is where M Duchaufour's skill at coaxing yet another new turn of phrase in amber is on display as traditional oriental spicy amber comingles with ambergris and its unique quality. Mon Numero #10 is like a perfect 10 in gymnastics as all of the required routines are stuck perfectly and the artistic component is outstanding.
Of the originals created by M Duchaufour for Mon Numeros and the quality of all of these have me very much hoping that sometime soon the other two become available to me, so I can truly count along with M Duchaufour, as #5 was never available and #2 was sold to a private customer, according to our EIC Michelyn Camen .
Disclosure: This review was based on samples purchased from The Perfumed Court.
–Mark Behnke, Managing Editor
Thanks to L'Artisan Parfumeur we have a very special draw for a sample of one of the Mon Numeros. Which one? Ahh that would be telling. Leave a comment below telling us which one you would like it to be if you were to win. Draw will close on September 24, 2011.