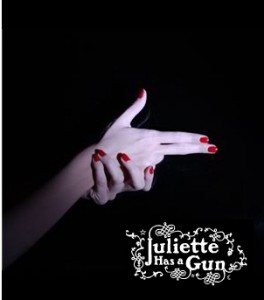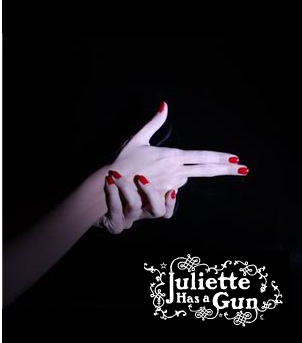 Juliette Has A Gun
It seems like only yesterday…but it has been ten years since Romano Ricci launched the perfume house Juliette Has a Gun. Today it is hard to find a perfume lover who has not tried and, most likely, been blown away by the fragrances of the niche house, named by Romano Ricci for the Shakespearean character Juliette, wielding her preferred weapon of seduction – perfume!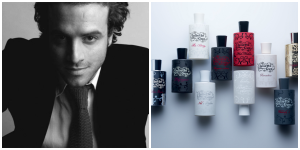 Romano Ricci and Juliette Has A Gun Perfumes
From the innocent and flirtatious Miss Charming and the rosy, rebellious Lady Vengeance of 2006 to 2016's seductively Dark Into the Void and lusciously tart MMMM, Juliette Has a Gun has explored the episodes, ages and stages of the eponymous heroine's love of life and search for freedom through fragrance and at times strays outside into other plots. Over the past ten years Romano Ricci (the great grandson of designer Nina Ricci and grandson of perfumer Robert Ricci) has confidently traveled divergent perfume pathways, expertly crafting a variety of fragrances featuring the synthetic simplexity of Anyway, the animalic (Calamity J) and even the musky gender bender (Gentlewoman).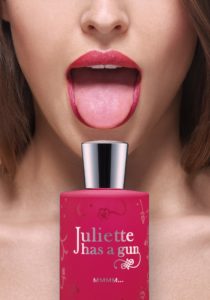 Juliette has a Gun Ad for MMMM
JHAG's MMMM is a delicious "zero calorie treat – the name says it all. The first sprtiz is a burst of sweet, delicately tart raspberries infused with a breath of patchouli and glowing with the diffuse effects of salicylates. The initial take is crisp enough to convince both my olfactory and taste buds that they must have more…. and even more. At this stage MMMM is the fragrant equivalent of SweeTarts, those small round candies packaged in rolls that explode with amazing, mouthwatering, tangy fruit flavors. In the perfume the SweeTarts are mingled with spicy geranium, a hint cool wintergreen and bright neroli.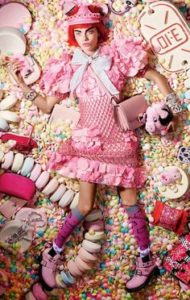 Cara Delevingne in 'Sweetie' by Liz Collins for Love Magazine
MMMM is reminiscent of Annick Menardo's 1998 olfactory masterpiece Dior Hypnotic Poison. I find the difference to be in the choice of fruit, the concentration and texture. While Hynotic Ppison is clearly focused on an intense plumy stone fruit mélange over bitter almond, vanilla and rosewood, MMMM, for me, is all about berries and is more open, diffuse and powdery, especially as it begins to dry down. This new fragrance evolves from a crisp effect of sassy SweeTarts to a luscious creamy-smooth and juicy texture much like that of Starburst fruit chews. The result is a fabulous, guilt free taste treat that also manages to create a fragrant aura of vivid, bright reds and pinks around my skin.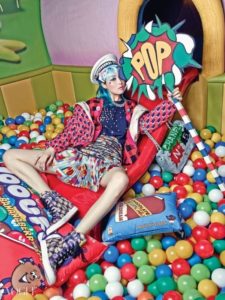 Candy Pop Vogue Korea 2014
This description of tart fruit candies might leave the impression that MMMM is all about immediate indulgence and sugary excess.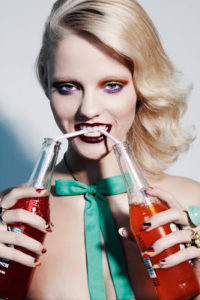 Not so! While the Starburst stage lasts for several hours and eventually melds into a taste of vanilla Turkish Taffy, the overall effect is never too sweet. From the first sprtiz to the last subtle breath of fragrance many hours later, the sweetness is effectively tempered by a light, refreshing fruit punch resting on sandalwood, vanilla, jasmine and tuberose.
Is MMMM too much of a good thing? Not for me! I truly believe that, as Jean Cocteau and Romano Ricci's grandmother were both known to say, " A little too much is just enough…". YuMMMM!
MMMM fragrance notes include: Neroli, Raspberry, Geranium, Orange Blossom, Jasmin Sambac, Tuberose, Iris Butter, Sandalwood, Patchouli, and Salicylates.
Many thanks to Twisted Lily for my sample of MMMM. My opinions are my own.
Gail Gross – Sr. Contributor
Art Direction:- Michelyn Camen, Editor-in-Chief who has interviewed Romano Ricci four times over ten years, you can read the latest here.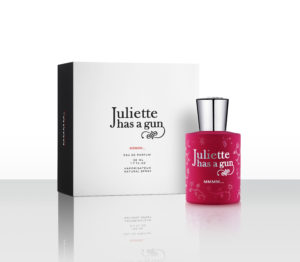 Thanks to the generosity of the USA distributor of Juliette Has A Gun Europerfumes we have a 50 ml bottle of Juliette Has a Gun MMMM for one registered reader in the USA (be sure to register or your comment will not count). To be eligible, please comment on what appeals to you about MMMM, based on Gail's review – or tell us about your favorite fragrance from Juliette has a Gun – and let us where you live too. Draw closes 12/16/ 2016.
We announce the winners only on site and on our Facebook page, so Like Cafleurebon and use our RSS feed…or your dream prize will be just spilled perfume.