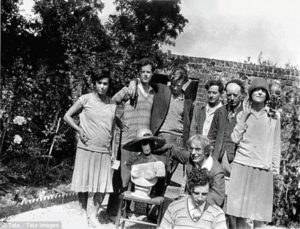 Some of the Bloomsbury group at Charleston in 1928, including (standing, from left) Quentin and Julian Bell, Duncan Grant and Clive Bell
The Bloomsbury Set, also known as the Bloomsbury Group, was a name given to a number of English artists, philosophers, and writers who frequently met in the Bloomsbury district of London, near the British Museum. They also relaxed together at their country retreat, a 16th-century stone farmhouse at Charleston in East Sussex. Influential members of the group included the writers, Virginia and Leonard Woolf, E.M. Forster, Desmond MacCarthy, Lytton Strachey, post-impressionist painters and art critics, Clive and Vanessa Bell, Robert Fry and Duncan Grant and economist John Maynard Keynes. There were also several others who made appearances from time to time between the years 1907 and 1930, including one of my favorite writers and poets, Katherine Mansfield.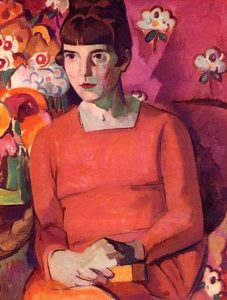 Portrait Of Katherine Mansfield, 1920's by Anne Estelle Rice
The Bloomsbury Group espoused "art for arts sake", decried the conventions and expectations of their Edwardian/early 20th century world, favoring private relationships and individual pleasures over public posturing and achievement. Their concern for what they considered to be the true and the beautiful led them to question accepted morality, expose what they perceived as the sham of conformity and espouse what was, at the time, a very unconventional and radical life style.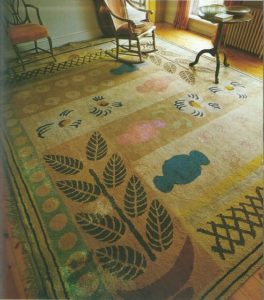 'Vases' carpet, designed by Duncan Grant for Virginia Woolf.
Their slightly run-down country retreat has, over the years, become a shrine, of sorts, and today is preserved for the public, much as it existed a century ago. "Whether you admire Virginia Woolf and the rest or condemn them as middlebrow, sex-mad snobs, there's no disputing that the Bloomsbury movement was a crucial moment in the development of British art, and this rickety old house was at its heart." – Rosie Millard for the Telegraph, June 2011.
"Were we positive, eager, real—alive? No, we were not. We were a nothingness shot with gleams of what might be." Katherine Mansfield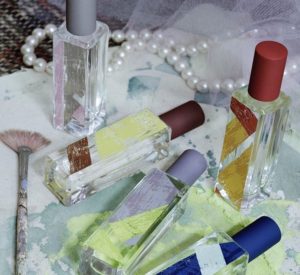 Jo Malone Bloomsbury Set: Blue Hyacinth, Garden Lilies, Leather & Artemisia, Whiskey & Cedarwood and Tobacco & Mandarin
Jo Malone London, inspired by this rich British literary and artistic heritage, has recently introduced its a scented homage to the Bloomsbury Set. The new limited edition collection includes five new compositions by Yann Vasnier of Givaudan that capture the essence of the environs of the Charleston farmhouse and suggest the unconventional lifestyle of the group.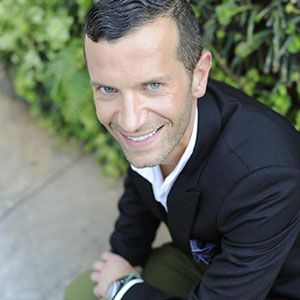 Yann Vasnier courtesy of Yann Vasnier
"When we visited Charleston, in the middle of the English countryside, I didn't know what to expect but I fell in love with it. When I was there I made a storyline in my head from morning to afternoon to evening, so the five fragrances have a natural evolution. What I particularly loved about The Bloomsbury Set was the juxtaposition of domesticity and simplicity with this hugely intellectual environment." –Yann Vasnier, Master Perfumer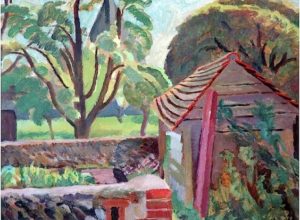 Vanessa Bell – Garden at Hampstead
The fragrant scene evoked by the Bloomsbury Set of perfumes depicts the lily pond at dawn and goes on to describe, in scent, the bold blue hyacinths, blossoming fruit trees, absinthe in the afternoons and golden linseed on paint-stained hands. In the evening the farmhouse is warmed with the smell of whisky and sweet pipe tobacco. The secrets of waxed floors burnished by footsteps suffuse the night. The designs on the bottles suggest the colors of an artist's palette. The five scents in the collection include Blue Hyacinth, Garden Lilies, Leather & Artemisia, Whiskey & Cedarwood and the perfume I will be reviewing today – Tobacco & Mandarin.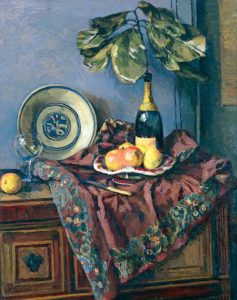 Still Life by Duncan Grant (c) DACS/Henrietta Garnett; Supplied by The Public Catalogue
Tobacco & Mandarin opens dazzling and bright – bursting with the scents of fresh peeled mandarin oranges and bouquets of green, savory herbs freshly cut from the kitchen garden. I delight in this invigorating, albeit intimate cloud of citrus and sage for about ten minutes before the fragrance begins a gradual transformation to a honeyed heart, infused with something sweetly powdery and mildly phenolic, touched with hay, vanilla and smoke.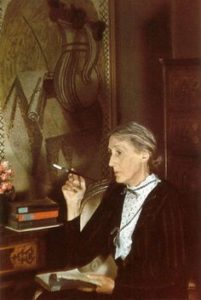 Virginia Woolf, 1939 © Gisèle Freund
As time passes these scents of serenity and contentment coalesce into a distinct aura of pipe tobacco, evoking memories of evening conversations by a fireside, of good friends and good books.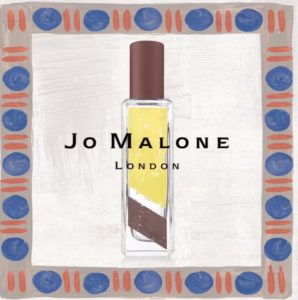 Jo Malone Tobacco and Mandarin courtesy of Jo Malone London
This fragrance of honey, beeswax and tobacco lingers in the air long after the phantom fire has died and the imaginary houseguests have gone to bed. I find myself sitting in the dark, reminiscing and enjoying Jo Malone London Tobacco & Mandarin until dawn breaks. Yes! This perfume really does last a good twelve hours on my skin and up to 48 (and beyond) on clothing. And when it finally disappears I must pick up the bottle once more, as I would a favorite book, and smell the story all over again. Notes: Mandarin, sage, beeswax and pipe tobacco.
Disclaimer: Many thanks to Jo Malone London for the treasured bottle of Tobacco & Mandarin. My opinions are my own.
Gail Gross, Editor
Art Director, Michelyn Camen Editor-in-Chief
Editor's Note: The tangled love lives of the set: Vanessa Bell was the heart of the group, married to Clive Bell but was hopelessly in love with the homosexual artist Duncan Grant. Vanessa's ssiter was Virginia Woolf who was married to Leonard Woolf, but had a long love affair with Vita Sackville-West. John Maynard Keyes was bi-sexual. He had affairs with Duncan Grant and Lytton Strachey. He married a Russian ballerina Lydia Lopokova. David Garnett and Duncan Grant had a sting of lovers too long to list.