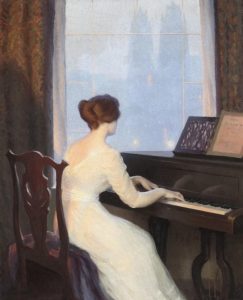 William Worcester Churchill – Girl playing piano, 1918
"The art of simplicity is a puzzle of complexity" – Douglas Horton
My young piano students love to play intricate, technically complicated pieces. They derive a lot of kinetic satisfaction from negotiating difficult passages and bringing excitement to the piano with their hands. From time to time I have to remind them that musicianship is not just about dexterity and speed. It also involves the ability to reveal the beauty, emotion and nuance in even the simplest of melodies. Simplicity and elegance often take more skill to express than complexity. I believe the same holds true for fragrance. A mesmerizing soliflore, while perhaps not as elaborate or rich as an oriental perfume, can be just as exquisite and exciting. And when life seems overwhelming or confusing, a well-crafted, focused cologne can be a welcome antidote.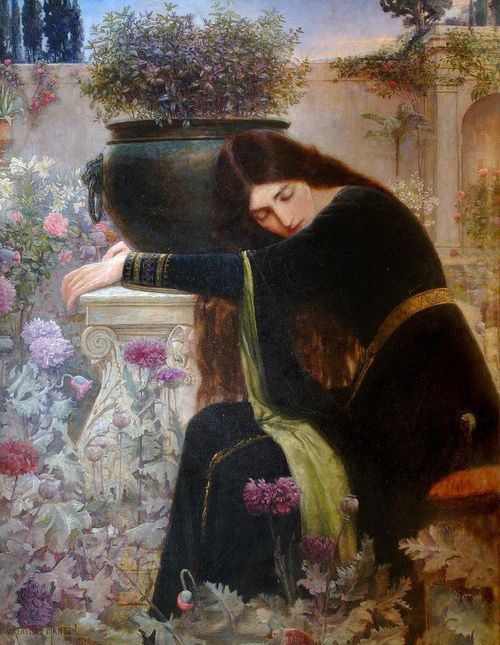 Isabella and the Pot of Basil – George Henry Grenville Manton
Basil & Neroli by Anne Flipo in collaboration with Creative Director Céline Roux, the newest fragrance from Jo Malone, is a great example of this elegant simplicity. The cologne has two distinct characters. It opens very green and cool with the fresh, sweet pungency of basil, bergamot and something like lemon verbena. It doesn't take long for the warmth of blooming bitter orange, the neroli, to surround the wearer with a glow of comforting, slightly spicy warmth. The lightness of the neroli blossom, not as heavy and honeyed as orange flower, is a great pendant to the herbal, shimmering quality of the basil. The composition is delicately woven together with a touch of cedar leaf and carefully grounded in a suggestion of vetiver and musk.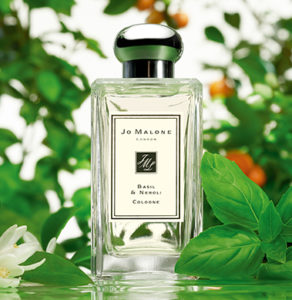 Jo Malone Basil & Neroli photo Jo Malone
Jo Malone London has been creating beautiful colognes, soliflores and elegant, deceptively simple note combinations for over 20 years. Basil & Neroli pays homage to the game changing use of basil in the iconic Jo Malone fragrance, Lime Basil Mandarin. The Company encourages clients to personalize their perfumes by layering and combining scents. I believe that Jo Malone's Basil & Neroli has the ability to lift and lighten almost any combination of fragrances, much as it has recently brightened and enlivened many of my busy and very challenging days.
Disclosure: I received a bottle of Basil and Neroli from Jo Malone London with gratitude. Opinions are my own
Gail Gross – Senior contributor
Art Direction:MC