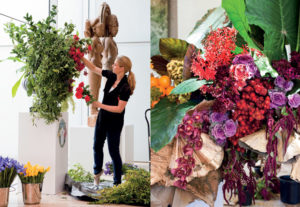 Saskia Havekes of Grandiflora in Sydney
For the past 20 years, Australian florist, author and more recently fragrance maker Saskia Havekes has built her Grandiflora brand. Saskia has an international reputation and her work has influenced the way flowers are displayed in fashion, editorial, hospitality and interior design. Her prestigious client list includes the names of royals, celebrities and artists.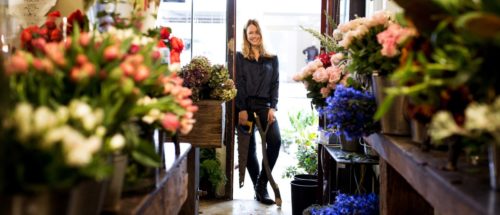 Photo of Saskia courtesy of Theplanthunter.com
Despite her success, you can still find Saskia working along side her small team of florists in the boutique-sized flower shop she opened 20 years ago in Potts Point, one of Sydney's trendy inner suburbs. A visit to Grandiflora is something I would recommend to any perfume lover visiting Sydney and you never know who you might rub shoulders with as you navigate your way through the shop's narrow aisles in amongst the colourful flowers.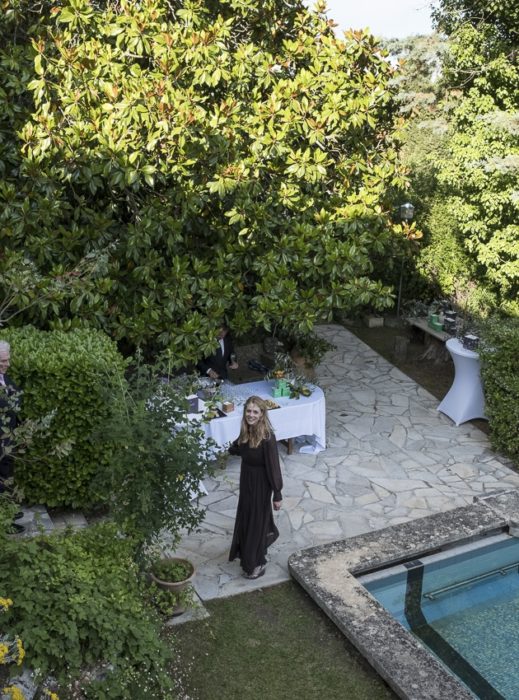 Saskia Havekes at the estate of Edmond, Therese and Michel Roudnitska for the launch of Queen of the Night perfume and candles
Since Saskia launched her own line of fragrances in 2013, I've had a couple of opportunities to sit down with her and talk about Grandiflora fragrances. Our meeting ritual involves her clearing a workbench at the back of the shop, laying down a tablecloth of waxed wrapping paper, we sit amongst the flowers with a cup of tea and we discuss her latest projects.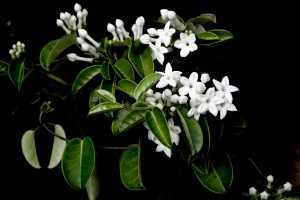 Stephanotis grandiflora. Stephanotis Floribunda photo Saskia Havekes
Last month I met Saskia to talk about her new fragrance called Queen of the Night, which she created with French perfumer Bertrand Duchaufour. Grandiflora fragrances started with two scents inspired by Saskia's beloved Magnolia grandiflora, a beautiful and fragrant magnolia flower that blooms during Sydney's warmer months. When she was developing these two fragrances, Saskia formed a close bond with her perfumers Sandrine Videault and Michel Roudnitska. She named the fragrances Sandrine and Michel in their honour. This gesture was even more significant when Sandrine Videault became ill and she sadly passed away as the project was nearing completion.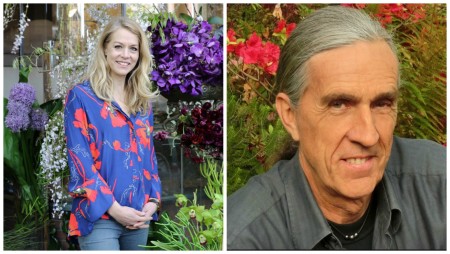 Saskia Havekes and Michel Roudnitska 2015
Michel continued to work with Saskia on Grandiflora's third fragrance called Madagascan Jasmine, which launched last summer. This ethereal white floral fragrance was a precise olfactory description of Stephanotis floribunda, a Madagascan jasmine flower that florists use in wedding bouquets because of its attractive white petals, trailing green foliage and opulent floral scent.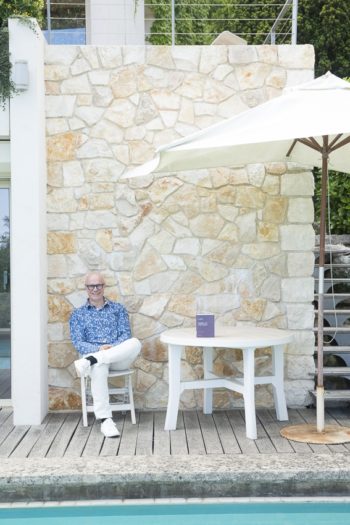 Bertrand Duchaufour in Cabris (Grasse) at the Roudnistka estate for the launch of grandiflora Queen of The Night
This year, Saskia completed a fourth fragrance with Bertrand Duchaufour, a perfumer who needs no introduction amongst fans of niche fragrances. Together they interpreted the highly transient night flowering cactus Epiphyllum oxypetalum. Affectionately known as Queen of the Night, the orchid cactus is a Central American native that only produces flowers once a year. The flower opens in the night and lasts a matter of hours. By sunrise the flower is spent.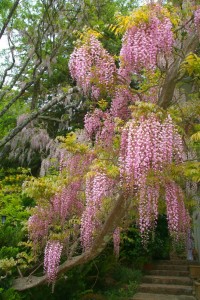 Pink Wisteria photo courtesy of Michel Roudnitska
Saskia has always been inspired by ephemeral flowers, which put on a spectacular show of colour and scent to attract a pollinator during their short lives. Saskia describes the flower's scent as having a watery quality, which she associates with the scent of wisteria. It also has an important vanillic aspect. The first three Grandiflora fragrances were focused studies of one flower and although Queen of the Night continues the Grandiflora tradition of soliflore fragrances, I was interested to smell Bertrand's interpretation of this uncommon flower, knowing that his work tends to sway more towards being conceptual in contrast to the photorealism of Madagascan Jasmine.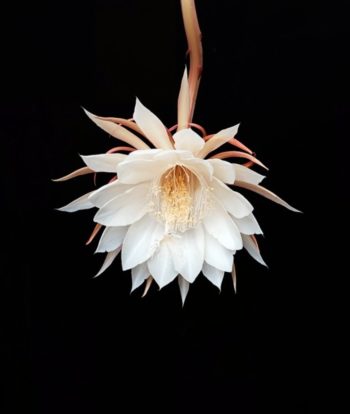 photo Queen of the Night, shot by the renowned photographer Gary Heery.
Saskia says Bertrand "wrote to me with his ideas about the flower. I could tell he had injected really interesting qualities into the flower. He wanted to put the air and the desert, the surroundings of the flower into the fragrance." After speaking with Saskia, I called Bertrand in Paris, and we talked about Queen of the Night over the phone. "Saskia asked me to create a fragrance for the very specific scent of this cactus flower that blooms in the desert. She described the smell of the cactus flower and the area where it grows, the desert, and the fact that it blooms during the night. She wanted to represent a very fresh, night, watery and ozonic fragrance but still with something mineral because of the presence of the desert. So it was actually quite easy to represent this accord between three different poles, the mineral desert effect, the fresh ozonic night accent and the blooming floral note."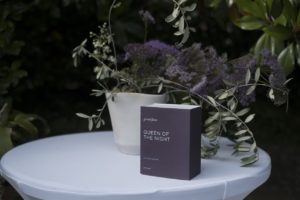 Grandiflora Queen of the Night
Queen of the Night is a beautifully contrasted fragrance. The fragrance opens with delicate, watery floral notes, which are lifted by a bright citrus accord as well as being grounded with indolic notes, richly textured musk and the vanillic note Saskia spoke of. Bertrand used a range of raw materials and notes in his mineral accord, which needed to represent the flower's dry desert habitat. In the top notes there are red berries and fresh spices, which compliment the incense note that lies further in. The base has sensual notes of sandalwood, amber and a generous 10% of Velvione, a refined and powdery musk molecule. To create the desert night's cool atmosphere and to accentuate the flower's watery quality, Bertrand says, "I refreshed everything with watery ozonic notes like syringa aldehyde, Helional and a fresh, floral lily of the valley effect. I used a lot of cyclamen aldehyde, which is very fresh and transparent."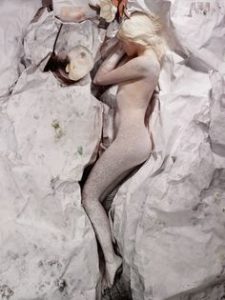 Undergrowth Series 12, Photographed by Gary Heery in collaboration with Saskia Havekes
Bertrand's white floral accord is built around orange blossom absolute, which fills 0.6% of the formula and a seringa ( English mock orange flower not the lilac) accord backed with jasmine notes. These flowers are naturally very indolic, which is an aspect Bertrand wanted to emphasise. "I used them because they are full of indol, which is a keystone of the construction. Indol is a key note in all the white floral accords and at the same time it is very floral, very sexual, sensual and very mineral. For me, indol is like tar or asphalt. It has a 'road' note. So it's a key part of the mineral desert effect and it's a good link between this and the white floral accord." In our conversation Bertrand also talks about the importance of an orchid note in his formula. "There is a reason why I used the term orchid flower. Orchid is made of this vanillic effect mixed with salicylate notes and some tiny white floral effects." By interweaving this complex range of accords and notes, Bertrand was able to construct a fragrance that echoes the mysterious personality of this rare nocturnal flower.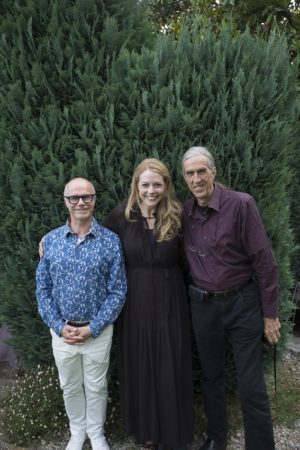 Bertrand Duchaufour with Saskia Havekes and Michel Roudnitska in Cabris Grasse at the launch of Queen of The Night
Australia is far away from perfume capitals like Paris, Grasse and New York and collaborating on a subjective project like the creation of a fragrance comes with its fair share of design challenges. Saskia compares the creative process to having a pen pal and she gets excited receiving small packages from her perfumers that contain the latest trials. For Bertrand, this remote way of working is becoming more common and he understands the importance of communication. "I work with a lot of foreigners who I don't know at the beginning and maybe we meet first through Skype or something like that. It's very important to have voice contact. Email is interesting for describing precisely what you want but the voice contact is very important to evaluate the way of expressing an accord."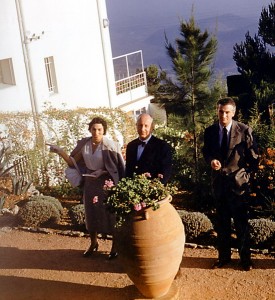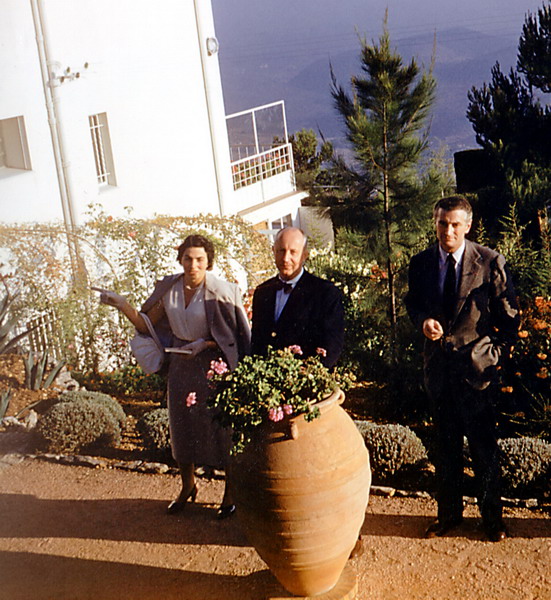 Therese Roudnitska, Christian Dior and Edmond Roudnitska (photo courtesy of Michel Roudntiska)
It wasn't until the launch of the fragrance that Saskia and Bertrand finally had a chance to meet in person. Last month Saskia travelled to Cabris, a small village overlooking Grasse, which is home to the Roudnitska family. This Cabris residence is where Michel's father, legendary perfumer Edmond Roudnitska, created Diorissimo for Christian Dior.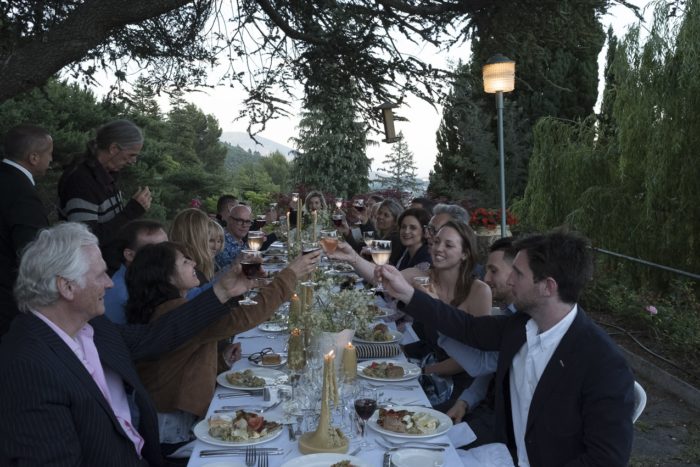 The launch of Queen of The Night in the garden of Edmond /Michel/Therese Roudnistksa Cabris France June 21, 2016
He was inspired by the delicate scent of lily of the valley, which grew in the garden below his studio. Michel offered to host Saskia's launch and Bertrand also attended. Queen of the Night was launched over an intimate dinner in the Roudnitska family garden.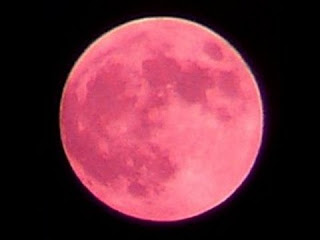 Pink Moon June 21, 2016 photo space.com
By chance, the evening also coincided with the summer solstice and a rare pink moon. Michel in particular, who has an interest in permaculture and planting by the moon, pointed out the rarity of this moon, which will not take place for another 46 years. This gave me perspective and settled my patience for the idea of having to wait a year to experience the diva that is Queen of the Night. Luckily for everyone, we now have Grandiflora's Queen of the Night, which gives us immediate access to this rare flower.
Disclosure: I received my bottle for review by Grandiflora.
All photos provided to ÇaFleureBon for this Review and interview with Bertrand Duchaufour by Saskia Havakes unless otherwise specified. Note from Michelyn: In addition, I used photos from our archives that Michel Roudnitska sent me for various articles he has written for CaFleureBon
Clayton Ilolahia, Guest Contributor and Editor of What Men Should Smell Like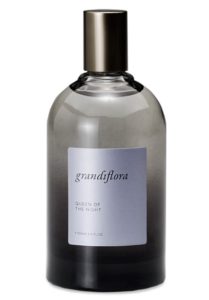 Photo courtesy of luckyscent
Thanks to Grandiflora we have a 100 ml bottle of Queen of the Night for a registered reader in the EU, US and Canada. To be eligible please leave a comment with what you enjoyed about Clayton's review, quotes you will remember, where you live and if you have a favorite Grandiflora perfume. Draw closes 8/7/2016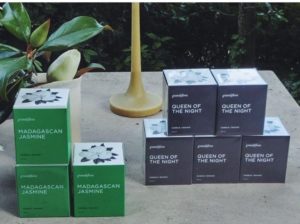 Madagascar Jasmine and Queen of the Night candles (photo by Michel Roudnitska)
Queen Of the Night is Available at Luckyscent.com as an Eau de Parfum and a candle