]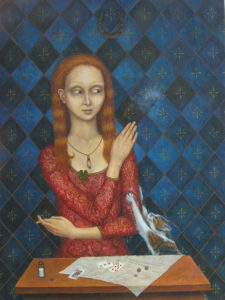 Gina Litherland Good Luck Painting
In March of this year, Editor-in-Chief Michelyn Camen prefaced CaFleureBon Project Talisman by revealing the superstitious nature of her household as a child. This we share in common: to this day, I affix red ribbons to cribs, mail them to my friends who've just delivered (so that they in turn can attach them to diapers, undergarments, tiny chubby wrists, cribs, carriages). I wear talismans of all sorts dependent upon my needs of the day: Ma Durga astride her tiger, Quan Yin, the Merkaba, the Hamsa with a chai inserted (part of my given Hebrew name), Ganesha, Lord Hanuman, a giant rose gold Om, the little lotus feet of Lord Vishnu, ad nauseam.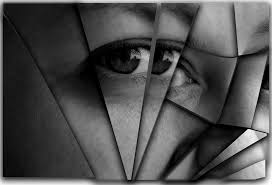 Photo: Lance Henson
Then there's the old anti-curse: "Keyn ayin hara!" ("no evil eye!"). The spitting three times to ward off Il Malocchio, Le Mal Oeil. Enough said.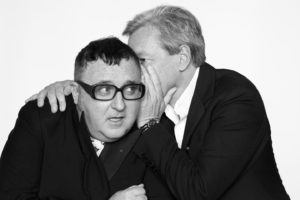 Photo of Frederic Malle and Alber Elbaz via Vogue UK©
"Superstitious is finally with us just months after it was first announced at Israeli designer Alber Elbaz's Légion D'Honneur ceremony in Paris in 2016. Here, Mssrs. Frederic Malle and Elbaz discuss the journey that brought this modern take on a floral aldehydic into being."~ British Vogue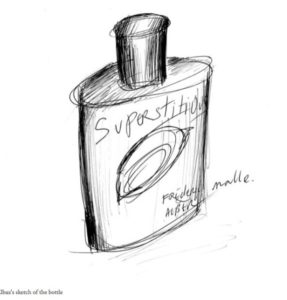 Superstitious bottle drawing by Alber Elbaz via instagram
Aha. According to both Malle and Elbaz, they "have their rituals" – much as the rest of us do. Messieurs Malle, Elbaz and Ropion share common loves, it seems: women and making them feel even more beautiful.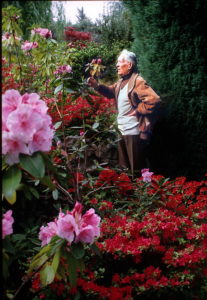 Edmond Roudnitska photo for CaFleureBon courtesy of Michel Roudnitska
Frederic Malle's pedigree hearkens back the House of Dior, where his grandfather Serge Heftler-Louiche, founder of Christian Dior perfumes – first collaborated with Edmond Roudnitska, with whom he created perfume legends: Diorissimo, Diorella, Eau Sauvage and Eau Fraîche. M. Malle's mother later worked as an Art Director for the House of Dior. Posthumously, Michel Roudnitska and his mother Therese gave M. Malle the rights to market under Frederic Malle's brand Edmond Roudnistka's Le Parfum de Therese.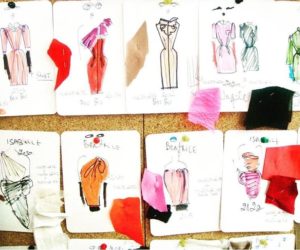 Alber Elbaz Sketches and swatches via instagram
M. Elbaz commenced by creating for Guy Laroche and Yves Saint-Laurent, then moved on to the House of Lanvin (and departed there in 2015).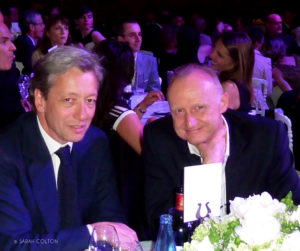 Frederic Malle and Dominque Ropion via Sarah Colton
Prior to Mssrs. Malle and Elbaz's first encounter, M. Malle had been industriously collaborating with renowned master perfumer Dominique Ropion (who created the following perfumes for Editions Frederic Malle: Carnal Flower, Une Fleur de Cassie, Vetiver Extraordinaire, Portrait of a Lady, Cologne Indélébile, Geranium Pour Monsieur, The Night). They were developing an aldehydic floral.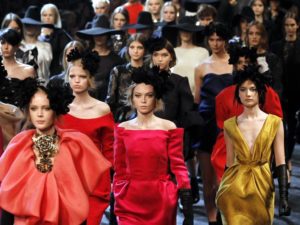 Models present creations by designer Alber Elbaz during a fashion show in Paris. Photo Francois Guillot/AFP/Getty Images
M. Elbaz savored what he smelled. It was elegant, refined, and exquisite: what he craved was a perfume which smelled like a couture gown. This module portended a satisfying and successful outcome. In my mind there is little doubt: Superstitious smells like a classic right out of the bottle, a pedigreed filly draped in sumptuous olfactory cloth shot through with precious metal.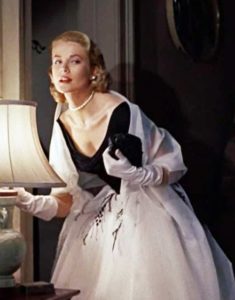 Grace Kelly in Rear Window
DAZZLING. Superstitious is diamantine, faceted in the manner of a high quality grade round brilliant or princess cut stone. Its clarion blast showcases some of the most potent aldehydes I've smelt in all my born days. More than Chanel No. 22, and that is saying something, aldehydic sillage monster that it is. Chanel No. 22 is sweeter than Superstitious; the latter possesses a completely different floral nature, one which shows restraint when contrasted with Chanel's downy powdery/woody, incense-suggestive white flower exaltation. Superstition resembles a Snow Queen perfume, quickened by the shards of broken troll-mirror which lodged in Kai's eye in Andersen's fairy tale. These are the aldehydes: cold, glittering, sublimely fascinating as Grace Kelly in Rear Window.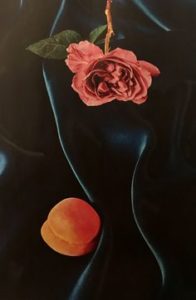 Painting of Roses and Peach via googlesearch
We smell a deft touch of peach, but it is the indolic Egyptian jasmine – for me – which basks in the limelight. Turkish rose oil is a delight (when is it not?), but she is an aromatic companion, a tender bedfellow. Amber, as portrayed here – is not a sweet one. It is flanked by a somewhat austere no-nonsense frankincense buffeted by balsamic Haitian vetiver. Despite the absence of patchouli, citrus, or oakmoss (all classical chypre components), the aldehyde/jasmine/rose/amber/vetiver amalgam intimates an aldehydic floral chypre. It is somewhat dark-hued beneath its shimmer: dry, distant, impossibly beautiful. This may be what bestows a modernity, a timeless grace upon it and the one who dons it. Superstitious is not necessarily about curves: it feels as if it is structured around the relationship between angles, curves, and the spaces which breathe in between them. There is no room for sentimentality here; we have been given a perfume which charms with its wit, verve and glamour, always a bit beyond our reach. An intelligent, vivacious perfume which takes no prisoners but keeps its distance.
I would love to smell this on a man's skin; I imagine it would be very seductive indeed.
What are your favourite smells in the world? Asked Vogue UK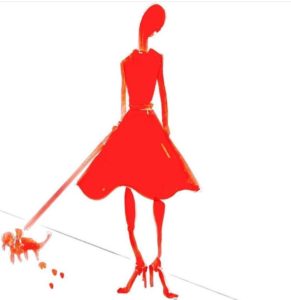 Alber Elbez sketch of a dress via instagram
FM: "I live in smells. Life keeps on being mesmerising and a permanent source of inspiration: flowers, forests, wood burning in the night, kerosene at JFK, the glue that we used as children to paste paper at school, the scent of a good dinner, the purity of mountain air – these and 1,000 more never cease to amaze me."
AE: "The scent of a dress."
Notes: aldehydes, Turkish rose oil, Egyptian jasmine, peach, amber, frankincense, Haitian vetiver
Disclaimer: sample purchased on my own.
~ Ida Meister, Senior Editor
Art Direction: Michelyn Camen, Editor-in-Chief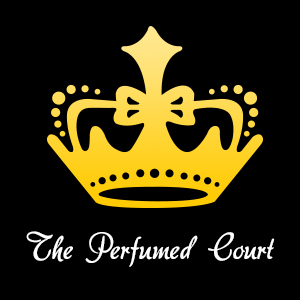 Thanks to the generosity of Diane of the The Perfumed Court we have a 2ml glass sprayer of Superstitious ($24.00 value) for 1 registered reader anywhere in the world (don't know how to register? click here). Please sign up for their monthly Newsletter here also to enter. To be eligible, please leave a comment regarding what appeals to you about Superstitious based upon Ida's review, where you live, if you like BIG floral aldehydic perfumes or what are your own Perfume rituals. Draw closes 6/12/2017.
We announce the winners only on site and on our Facebook page, so Like Cafleurebon and use our RSS FEED...or your dream prize will be just spilled perfume.