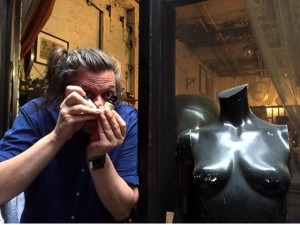 Stephen Dirkes photo Iona Pop
Brooklyn artisan perfumer Stephen Dirkes of the Indie perfume house Euphorium Brooklyn is back, this time collaborating with New York City-based leather design company, Hayden-Harnett. They have joined forces to create Suédois, a soft leather scent with a hint of florals that's equal parts creamy sweetness and deeply balsamic spices, done up nicely in an atomizer flacon and with perfumer's alcohol as a carrier, rather than the usual oil base that Euphorium Brooklyn has used in the past.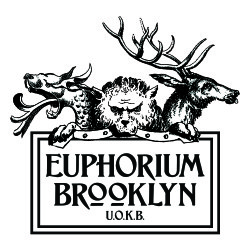 Readers of Çafleurebon might be aware of Euphorium Brooklyn, as former Editor Steve Johnson covered their first release, Celice, back in February, after discovering them on instagram. Stephen Dirkes, founder and nose of Euphorium Brooklyn, has also been featured in Cafleurebon's Profiles in American Perfumery series.
Suedois Film 2 from stephen dirkes on Vimeo.
Euphorium Brooklyn's style is deep and hypnotic, and very strong. Stephen Dirkes seems to enjoy creating scents that thrive in a land of contrasts- sweet, syrupy notes and deep, resinous and earthy accords.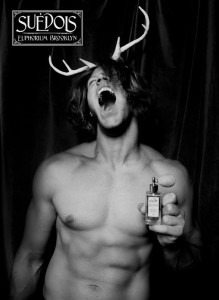 Ad for Euphorium Brooklyn Suédois Tal Shpantzer
There's always a sense in his work that something deep, distracting and hedonistic is warming up in the body of his fragrances that waits for an unguarded moment to devour the more civilized front we present to the world. Previous releases have featured honey and maple syrup paired with dark elemi, fir and resins.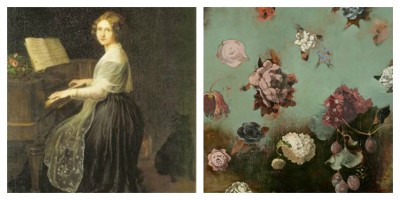 Painting of 19th century Swedish Opera Singer Jenny Lind "The Nightingale of Sweden" and Floral painting by Jean Antoine Watteau
So it's both surprising and wonderful that with Suédois (which has a dual meaning …in French it translates to both Swedish and Suede), Stephen Dirkes has managed to create a scent that is both lighter in tone and in spirit for his collaboration with Hayden-Harnett. There's definitely the dark, drowsy, balsamic backbone you expect from his work, but here it's paired with a hit of cardamom spiced suede and Watteau-esque florals dipped in raspberry and vanilla cream. This perfume seems to be inspired by Jenny Lind, the famous Swedish Opera Singer. "Awakened by Miss Lind's attendant in the early morning hours of the next day in varying states of undress to the dense aroma of sandalwood, suede, wildflowers, spice, berries, sweet cream and the soft skin of a Swede, the four had apparently no knowledge of what might had taken place in the tender hours of night. Leaving the arms of Morpheus and the grand 'Sleep of Sialam' to awake exposed, but sated and contented in the ways of a society most secret, the four remained close for the remainder of their lives."—Euphorium Brooklyn. The Grand Sleep of Sialam is a hypno erotic state brought on by drugs and magic ritual, (so our EIC tells me), but who the four are and what this has to do with Jenny Lind or Suédois, I have no clue, another example of Stephen's elliptic storytellling. Frankly, I just love wearing Suédois.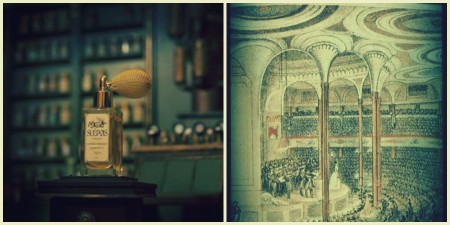 Euphorium Brooklyn Suédois perfume and illustration of Jenny Lind's NYC debut inthe Castle Garden Opera House
Suffice it to say that Suédois wears lightly on the skin, all things considered this being Euphorium Brooklyn. The sillage is moderate, but definitely go easy. One spray alone does the trick, apply more and you'll be shrouded. Suédois lasts for a good while, as well – over 6 hours.
Euphorium Brooklyn Instagram Tal Shpantzer
There are over 20 different notes all told in this release, but the overall effect is baroque florals, church spices, resins and creamy deliciousness. Sandalwood is very prominent at the start and through the heart of this fragrance. The suede accord is perfect for a partnership with a leather goods store – if I were shopping at Hayden-Harnett and tried this scent first, it would definitely compel me to investigate the rest of the store. But Suédois is by no means a store prop. In my opinion, it acts like a great introduction to the entire line of Euphorium Brooklyn's scents.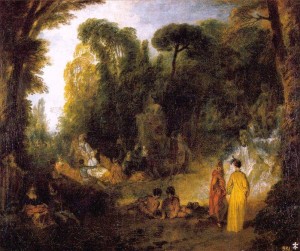 Jean Antoine Watteau Gathering by the Fountain of Neptune
It's a bellwether of sorts – you will either immediately like it and be curious enough to discover the rest of Stephen Dirkes' style, or perhaps you'll find another scent that is more approachable and transparent. Euphorium' Brooklyn's way of presenting their scented world isn't for the casual, "found this in a magazine" perfume user, but made instead for those who might be willing to wander a little deeper into the forest. Start with this one and then go a little farther with Celice and Wald later on. You can pick up a fine bag at Hayden-Harnett to hold whatever you might find out there.
Notes: Indonesian Sandalwood, Swedish Wildflower, Pettitgrain sur Fleurs, Raspberry, Raisin, Labdanum, Clary Sage, Suede, Birch Tar, Cade, Cardamom, Elemi, Myrrh, Patchouli, Labdanum, Nutmeg, Anise, Cassia, Benzoin, Peru Balsam, Coumarin, Vanilla Cream, Castoreum, Ambergris, Tonka Musk
Pam Barr, Contributor
Art Direction: Michelyn Camen EIC
Editor's Note: Now available at Hayden-Harnett & TwistedLily.com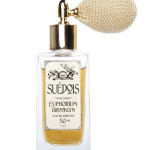 Thanks to Stephen Dirkes of Euphorium Brooklyn we have a draw for a registered reader of 30 ml flacon Suédois in its new atomizer bulb bottle for a USA reader
and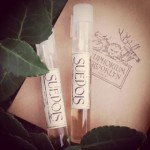 a genreous sample for one EU or Canadian reader. To be eligible, leave a comment about what you enjoyed about Pam's review, if you have tried Euphorium Brooklyn perfumes before and where you live. Draw closes 7/25/2015
We announce the winners only on site and on our Facebook page, so Like Cafleurebon and use our RSS option…or your dream prize will be just spilled perfume