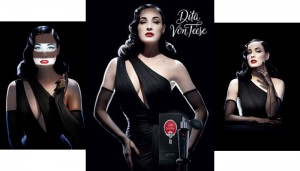 In the last decade or so, there has been a resurgence in burlesque. The art of striptease a la Gypsy Rose Lee has been revived by a cadre of young women who have come to realize that they don't have to bare all to be successful and entertaining. One of the pre-eminent pioneers in the revival of classic burlesque is Dita Von Teese. Best-known for her act of performing a never-bare-all striptease that culminates with a splash in a giant martini glass (she and her act were recently featured in an episode of CSI), she titillates without being crude, and is highly glamorous. She is a retro-style glamour girl, with a modern sensibility. Her hourglass figure is enhanced by corsetry, her raven-black hair and red lips accentuate her porcelain skin, and her style is emulated by many.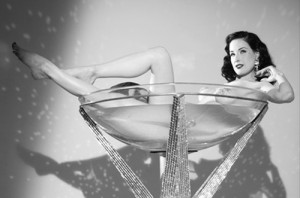 When I first read that Dita Von Teese was launching a perfume, I was thrilled. This was a celebrity scent I could get behind. The material I read enforced my desire to try the scent, because she refused to produce a standard vanillic fruity-floral, and was very involved in the formulation and final product. She seems to be teasing her perfume audience as much as she does her burlesque audience, because the release of this perfume has been excruciatingly slow. First launched last year in Germany, May 1st marks its debut at Liberty of London. A fabulous perfume fairy was able to mule a bottle back to me from Germany, and I am completely delighted to have some at last.
I have worn the eponymous Dita Von Teese perfume during the day and at night, and I have to say, it is best at night. Dita was adamant that the scent be seductive, and it is. It is also very quiet. I was expecting a bit of a bombshell fragrance, and although I was initially nonplussed by the subtlety of the scent, once I wore it at night, I understood it. When you want to seduce someone, you want them to be intrigued by your aroma, not blown over by it. You want them to scootch a bit closer to you on the divan, and lean in when you are speaking. This is a perfume that creates that atmosphere of mystery perfectly.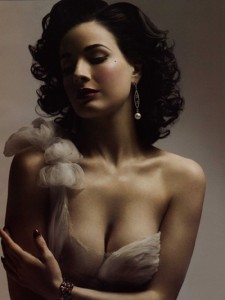 The perfume opens as a slightly spicy floral scent, the sweetness tempered by a subtle bergamot and pepper. The pepper is well-utilized here – it adds tingle to the nose, but never overwhelms the delicate peony. The almost corrupt smell of peonies is captured nicely in this scent, which is rare. The floral bouquet at the heart is darker than you would think it would be with tiare and jasmine in the mix. The drydown is warm and beckoning, and the fragrance remains true to its floral heart throughout. It does not have huge sillage, but that's where the allure comes in. You have to nuzzle to get to it. My nose is fairly glued to my wrist as I write, but the scent is definitely not faint. It is a well-balanced perfume, and very wearable.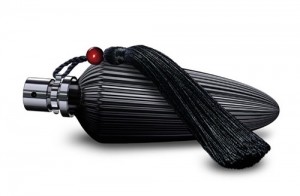 I make a point of not being a perfume snob and have tried a lot of celebuscents. Dita Von Teese is a celebrity scent that fits into the higher-end of the genre when it comes to pricing and quality of materials. It is definitely near the top of my list of feminine, sensual fragrances. It's nothing groundbreaking, but thoughtfully created to fit a personality, and I will be happy when it is more readily available in more countries, especially mine. In the meantime, I will enjoy my shower gel and little tasseled boudoir bottle of scent, and try like heck not to hoard it.
Notes are bergamot, bourbon pepper, rose, peony, tiare, jasmine, sandalwood, patchouli and musk.
Perfumer is Nathalie Lorson.
Dita Von Teese is available as eau de parfum, body lotion, shower gel, and deodorant.
It is available in Switzerland at Müller drugstore and Manor department stores;
Austria at dm and Müller drugstores; Germany at Müller, Rossmann, dm drugstores, Kaufhof, Karstadt, Douglas stores and Douglas online; and England at Liberty of London (online and in store) from May 1st 2012.
If you'd like to see Dita's famous martini glass act, click on the link below. Although she is not completely nude, it is not advisable to view at work.
http://www.youtube.com/watch?v=iwRVywY-bUk&feature=related
I can't keep this all to myself so I'm going to share a 2mL sample from my bottle. To be eligible just leave a comment answering this question; do you have a favorite celebrity scent? We'll draw one winner on May 4, 2012 via random.org.
We announce the winners only on site and on our Facebook page, so Like Cafleurebon and use our RSS option…or your dream prize will be just spilt perfume.
-Tama Blough, Senior Editor