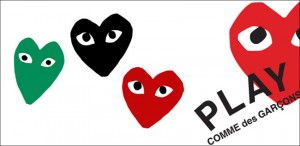 The latest fragrances from Comme des Garcons are a playful trio of scents composed of notes that relate to the colors each scent is named for. The series is called Play, and the scents are Red, Green, and Black. The fashion side of Play features simple aesthetics, and the perfumes follow in a similar vein. Antoine Maisondieu is the perfumer for all three, and the cheerful heart logo, which also appears on the Play clothing brand, is designed by Filip Pagowski.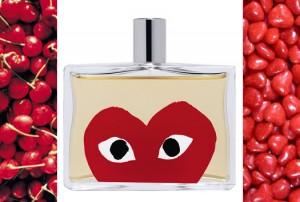 Red Play is an uplifting concoction that is a little fruity and a little spicy, with no overdose on either. The opening is so brashly citrus and pepper that I find it quite bracing. After a few moments, I am enjoying the wonderfully subtle, not-sweet cherry note, and equally enjoying the aroma of cinnamon imperials. Every time I lift my wrist to my nose, a huge grin breaks out on my face, and I even giggled once. For a brief moment, I thought the perfume was going to go plastic, but it was so fleeting I may have imagined it. The dry down is lovely – just that wonderfully tempered cherry note surrounded by cozy spice and wood. This is an artful, contemporary composition that is very wearable for men or women equally.
Red Play Notes (per Lucky Scent)
Red mandarin, pink peppercorn, Safraleine, red cherry accord, geranium, cinnamon, osmanthus, myrrh, tolu balsam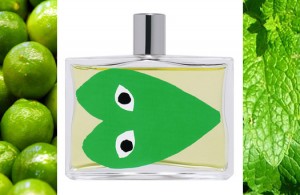 When I poured Green Play on the back of my hand from my sample vial, I didn't get what I was expecting. Although I should know better from experience, when I hear "green" I think Estee Lauder Private Collection or Chanel No. 19. This is a more natural-smelling kind of green. Nanah mint is the variety used in refreshing Moroccan mint tea, and provides quite a snappy opening. Only momentarily coming across as almost too minty-fresh, it quickly becomes more mellow, blending well with the herbs and citrus. This is definitely the lightest of the three. It would be great in hot weather, and reminds me of a summery cocktail. Green Play has the lightest sillage of all of the three, and stays closer to the skin.
Green Play Notes
Nanah mint, lime, juniper berry, basil, jasmine, mastic, ambrette, vetiver, cedar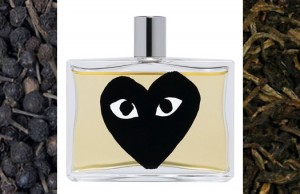 As would be expected of a scent with a black theme, Black Play is peppery and smoky. Skewing more masculine to my nose than Red, Black is a nicely complex scent that has a bit of a bite. This could be a great autumn scent, with its crisp pepper and smoldering, tarry tea notes. I keep sensing something lemony that keeps it from falling into total darkness. This is the kind of fragrance I would like a man to smell like, actually. It manages to capture what I like in a masculine perfume without being sporty, extreme, or the dreaded "fresh". It's a man who has been through his day and still smells good enough to nuzzle. It is also modern – the man I keep visualizing is an entrepreneur in a cutting-edge field who dresses well but not in a 3-piece suit. I would be inclined to wear it to bed, or in cold weather, because the warm, spicy dry-down is superb. Well-done!
Black Play Notes
Black pepper, pepperwood, red pepper, violet, thyme, black tea, birch tar, incense, tree moss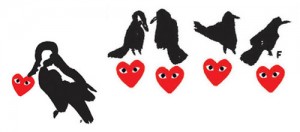 I appreciate the concept and outcome of this whole line, although Red Play might be my first-look favorite. Antoine Maisondieu followed his instructions well – these do smell like the colors they are named after. I don't know if we realize how much some scents can take on the personalities of colors, a concept proven out quite well with these fragrances. I also enjoy that these are very modern and upbeat, without being so quirky as to be unwearable. I would gladly wear any of the three, and I think a lot of people will find at least one of the three to love.
My samples were graciously provided to me by Lucky Scent. The CdG: PLAY scents are available for $100 for 100 ml bottles.
–Tama Blough, Senior Editor