Somehow, through all these years of Calvin Klein making perfume, I have never worn a single one. I have had family members and loved ones devoted to some of his fragrances, but even though I have half-heartedly sampled a few, none have ever been more than a blip on my perfume radar. Are they too popular for me, or do I have too many associations? Not sure, but when I was looking around for something new in Sephora, I remembered some buzz going around the boards and Facebook about ck one shock. I picked up samples of for her and for him. Although obviously marketed toward the youth demographic, I took my chances that age appropriateness wouldn't be a factor.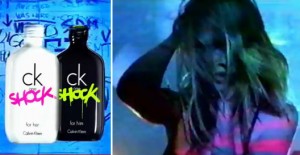 The Calvin Klein website describes these as sexy, edgy, impulsive and electrifying. As usual, the PR goes a bit beyond reality. I wouldn't use any of those adjectives (maybe sexy) to describe either one of these. They are easy, likable, nicely done, wearable scents that I could see becoming a staple in any collection. That kind of copy isn't going to sell perfume, though.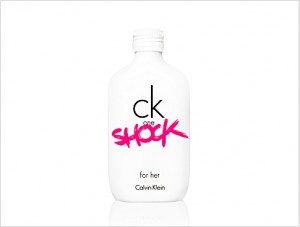 ck one shock for her has a slightly sweet floral opening that is tempered quickly by a very light touch of chocolate. Chocolate-phobes need not fear – it is really just a hint. A brief tang from the berry comes and goes in a flash, but is nice while it is there. I am grateful that this isn't too fruity – I like fruit in perfume at times, but the use of more flowers and the warmer base notes keeps this from being yet another in a long list of cheerful synthetic fruity-florals already on the market. I think shock for her could garner a lot of compliments. It doesn't have heavy sillage, but does create an aura of femininity that becomes a nice close skin scent at far drydown. Longevity is not great, but at around $50 for 3.4 oz., one could lavishly apply all summer and into fall without breaking the bank.
top notes: passionflower, pink peony, poppy flower
mid notes: liquid chocolate accord, blackberry, narcisse, jasmine
base notes: vanillin, patchouli, ambers, skin musk (per Calvin Klein website)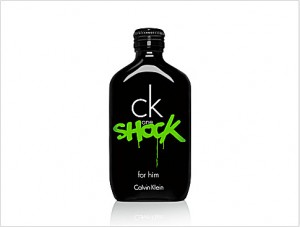 ck one shock for him presented an opening I wasn't too sure about. I have sneezy problems with some top notes used in masculines, and they are present in this scent (I think it is partly lavender leaf and partly a citrus). Fortunately, they are gone in moments, before I could even sneeze. Although those notes give the fragrance a "this is for guys" start, what is left is a full-bodied aroma that could be worn by men and women equally well. Thanks to the osmanthus, the middle drydown is almost creamy, with the spices keeping it from being too floral or sweet. The black pepper is present, but smooth, and the base notes are quite cuddly. Like its sister scent, Shock for Him stays fairly close to skin after the initial sillage cloud, but the longevity is better. I encourage anyone, male or female, who appreciates a good comfort scent to try this out.
top notes: cucumber, clementine, purple lavender
mid notes: osmanthus absolute, black pepper, cardamom, black basil
base notes: tobacco absolute, ambreine, musk, patchouli
ck one shock for her and for him are available in 1.7 oz and 3.4 oz at Sephora and other retailers. I procured my samples from a lovely Sephora sales associate.
–Tama Blough, Senior Editor