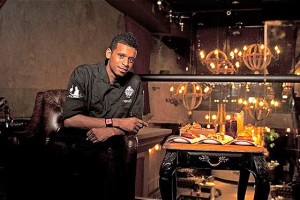 Chef Roblé of BRAVO Roblé & Co.
As Guest Contributor Hernando Courtright mentioned in his Sniffapalooza Fall Ball 2014 wrap up, the culinary arts merged with the olfactory arts with the new fragrance CliquebyRoble, developed by BRAVO TV celebrity Chef Roblé Ali and Frank Voelkl of Firmenich. It is the first perfume from a Master Chef and Frank introduced me to the fragrance at his office in New York.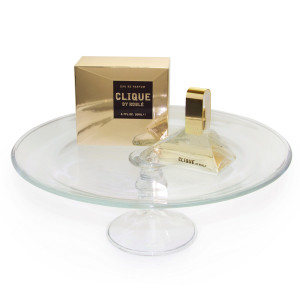 According to Chef Roblé, "For close to a year, Frank Voelkl and I have been working on our Fragrance Recipe. Finding the perfect balance to incorporate scents from some of my favorite culinary creations required a lot of fine-tuning and multiple trials. "It started with the idea of developing an irresistible fragrance recipe that could maintain the freshness of a citrus cocktail on top, with an alluring and sensual dessert base containing notes from one of my favorite signature".
Clique by Roblé is a well structured floral with a lovely play at the top as red hot chili peppers and blood oranges present a savory/sweet opening. Iris, Jasmine and Tuberose, should overpower each other but do not; these floral divas are well blended and behave. Clique by Roblé firmly enters the Gourmand stage in the drydown where the scent of Challah slathered in butter then soaked in chai cocoa tea brings back memories of the wonderful aromas of both my grandmother's kitchen and HighTea at the Plaza. Longevity 6 hours with good sillage.
Top Notes: inspired by Cocktail ingredients consist of blood orange juice, lime, triple sec, tequila, a pinch of salt and a touch of chipotle peppers
Heart: wild jasmine, violet, tuberose and precious iris
Base: French Toast Crunch Dessert includes Challah bread, cornflakes cinnamon, salt, honey, rich chocolate and powdered sugar…
50ml $59.50 for the Eau de Parfum, 150ml body butter $59.50 and 200ml shower gelee $59.50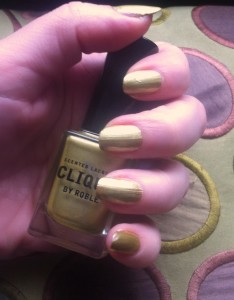 CliquebyRoble as modeled by Moi
As fascinated as I am with the perfume (and of course the perfumer), our readers know my love for nail polish. Put the two together and I am in heaven. CliquebyRoblé has introduced a nail laquer that is right on trend for Holiday– antique golden shimmer, with a duochrome olive green hue that it is lightly scented. How did they do it?
According to Bart Schmidt, Co owner and Founder of Brands With A Purpose, "Frank Voelkl created a modification/new version of the fragrance to make it "shine" in this Scented Lacquer and last for up to 96 hours….The folks in the (Nail Polish) lab encapsulated the fragrance and worked it into the formulation".
The scent is definitely there; I wore it while working out and as I began to sweat, the sillage was huge! Otherwise, you really need to bring your nails to your nose to smell it and the aroma is subtle. Just don't start nibbling on your mani.
–Michelyn Camen, Editor in Chief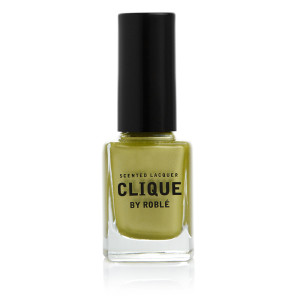 Scented Nail Laquer CLIQUE by Roble $16
To celebrate the debut of Clique by Roblé on ShopHQ (formerly ShopNBC) this Holiday Season during the big 'Day of Beauty' on November 7th, we are giving away three nail lacquers to three USA readers along with a sample of the fragrance. Draw ends November 4, 2014. Caution: Try not to bite your nails although you will be tempted. If you want a headstart and simply must have the perfumes, body lotion and body butter before you can buy it online here and To be eligible please leave a comment with why you would like to try Clique by Roblé and if you have ever watched Roblé & Co on BRAVO.