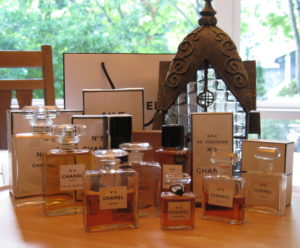 Gail's collection of CHANEL Nº 5 from the 1950s to 2016
I have to admit that, until this week, I have been enjoying Chanel Nº 19 and Gardenia EdP and have not had more than a whiff or two of Chanel Nº 5 in awhile. Before writing a review of the newest CHANEL Nº 5 L'Eau – I knew that I needed to revisit my old love. In the chaos of perfume storage I discovered five bottles of parfum extrait and one cologne, dating from the 1950s through 80s. To facilitate this review I also received three newer version of Nº 5 from Chanel. To put CHANEL Nº 5 L'EAU in the context of the legacy of CHANEL Nº5 I focused on nothing else but Nº 5 – for five days. I could easily have spent five years. Here are some excerpts from my scent diary: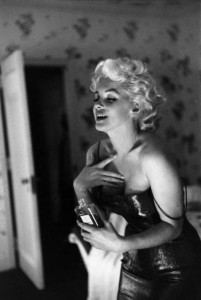 Marilyn Monroe 1960s courtesy of CHANEL
Day 1 – These 50s – 80s parfums have not lost their lift and are still buoyant and full of life. One of my favorite aspects of Chanel Nº5 parfum is the melding of Ylang-Ylang, Iris and May Rose. I adore how the heavy sensuality and velvety texture of Ylang-Ylang, the freshness and spice of Rosa centifolia and the powdery innocence of Iris are modified and melded into one fragrant fantasy via Chanel's famous and ubiquitous use of aldehydes. The parfum seems more polite and well behaved than I remembered, but addictive nonetheless.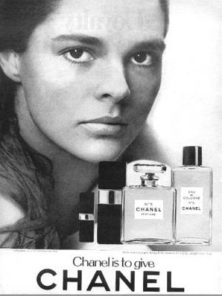 Ali McGraw 1966
Day 2 – The 70s's cologne is basically new old stock and very well preserved. Lemon, edgy Bergamot and powdery Orris Root are still obvious, modified by aldehydes and resting on Sandalwood, Amber, Oak Moss and Civet. The whole effect is very powerful. There is nothing lightweight about this Nº 5 cologne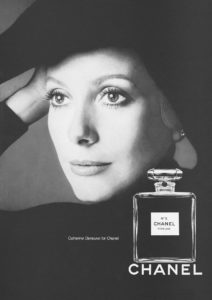 Catherine Deneuve by Richard Avedon. 1981
Day 3 – The method of application makes a big difference to perception of fragrance. My vintage Nº 5s are "splashes" ("dabs" really). The EdP I am trying today is a spray. The first spritz of Jacques Polge 1986 EdP surrounds me in a veil of effervescent Neroli, Peach and Ylang, followed by Lime and Iris. The addition of Peach to his version of Nº 5 amplifies the effect of Ylang-Ylang. The aldehydes add their predictable kick. I perceive more Neroli here than in the vintage scents but it is the Peach, Sandalwood and Oak Moss that give this Nº 5 a fragrant voice of its own.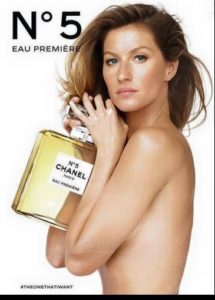 Gisele Bundchen CHANEL Nº 5 EAU PREMIERE
Day 4 – Today I am wearing one of Jacques Polge's last creations for Chanel – the 2015 Eau Premiere – The first thing I notice is an intricate tracery of citrus, jasmine and rose, very different from what I encountered in the earlier versions of Nº 5. The vanilla in Eau Premiere smoothes out the sharp green edges resulting in a new warmth and delicacy, complimenting the vanillic aspects of the sandalwood and lending a more friendly and approachable sophistication to this new rendition of the classic.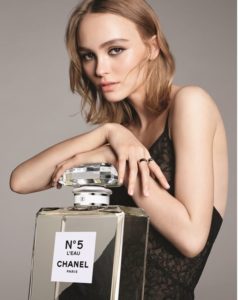 Lily Rose Depp for CHANEL Nº 5 L'EAU
Day 5 – "This is the freshest version of Chanel Nº 5…" – Olivier Polge. 2016. Chanel's new perfumer (and son of his predecessor Jacques Polge) set out, with the creation of L'Eau, to bring a new and vibrant transparency to the masterpiece that is Chanel Nº 5. After my 5 days of total immersion I believe the perfumer has truly succeeded in putting a fresh new face on the fragrance while maintaining the integrity of Nº 5 and the "olfactory heritage" of 95 years. L'Eau opens with a breath of sweet Lemon, nothing concentrated, astringent or tart, but simply radiant, suggesting Citrus and Rose warming into Jasmine. This phase lasts for a good 15 minutes, long enough to have me wondering if the real Chanel Nº 5 will ever make an appearance. She sneaks in, trimmed down, a little greener, and more innocent perhaps, but still the same gorgeous, fragrant fantasy that I'd fallen for years ago (see Day 1). The perfumer mentions a new fractional distillate of Ylang-Ylang that might be partially responsible for this livelier, trimmer Nº 5. Vetiver and Cedar also contribute a bracing, invigorating quality to the dry down. L'Eau at first seems to vanish too quickly but returns, disappears again and finishes, at last, as a diffuse, watercolor impression of Cedar and Musk.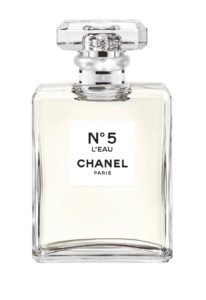 CHANEL Nº 5 L'EAU
My five-day retreat with Nº 5 revealed to me that each rendition has a unique personality and a very different face, reflecting the decade and the century that gave it life. Lovers of this iconic fragrance can chose a Nº 5 to project just about any persona or find a scent for every occasion and season.
Available on Chanel.com in 1.2 oz, 1.7 oz and 3.4 oz $76.00-$132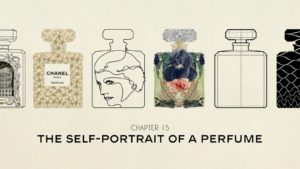 CHANEL Nº 5 PHOTO courtesy of CHANEL
Have you tried L'Eau? I believe young women will love it and every woman will appreciate its updated sophistication. Do you have a favorite Chanel Nº 5?
Disclaimer: Many thanks to Chanel for providing the Nº 5 EdP, Eau Premier and L'Eau. The opinions are my own.
all photos courtesy of CHANEL
Gail Gross – Contributor