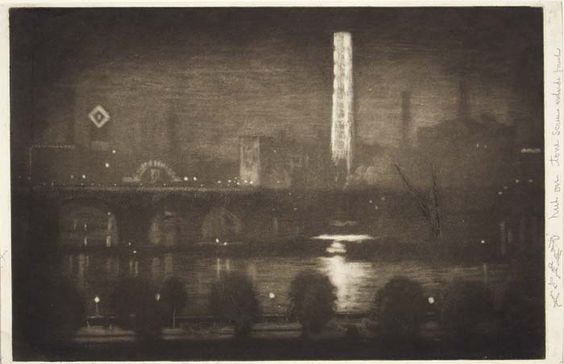 London Night, Whiskey & Tea. By Joseph Pennell. 1909
"Emotional excitement reaches men through tea, tobacco, opium, whiskey, and religion"-George Bernard Shaw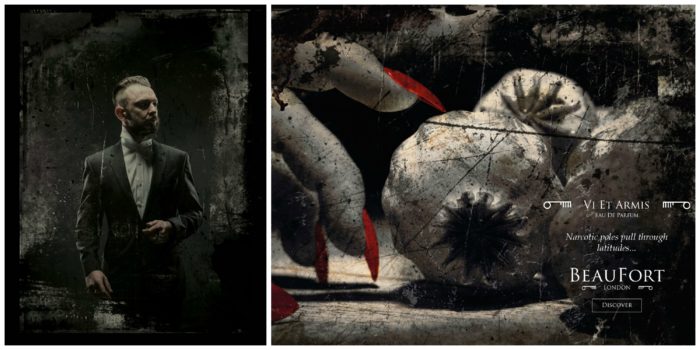 UK Drummer for Prodigy and Creative Director Leo Crabtree of Beaufort London and Vi Et Armis (photos courtesy of Beaufort)
Vi et Armis by BeauFort London Come Hell Or High Water collection, (formerly known as East India) evokes the darker side of British History. Beaufort London was founded by Creative Director, musician (drummer with the band Prodigy) and writer Leo Crabtree. We have been fans of this UK brand since we first discovered it in 2015 and The Nosey Artist wrote about the blood and brandy soaked 1805 homage to the Battle of Trafalgar. They are bold, tempestuous fragrances inspired by the high seas and even without the intriguing backstories, incredibly finely crafted.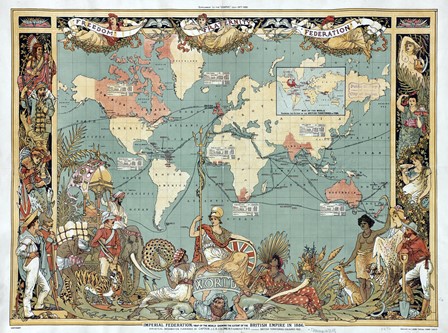 map of the British Empire in 1886
The name Vi Et Armis Force of Arms was the motto of the British East Indies Co (Latin for Force and Arms). During the height of British Imperialism, their navy was unparalleled as was their exploration and perhaps exploiitation as traders. This eau de parfum is a heady narcotic that pays tribute to the wealth Great Britain received (or took depending who is telling the story) as they dominated international seas trade around the world …from Asia, India, Africa, The Americas and the Caribbean islands.
Opium Stall , Cairo 1841 By William James Müller
The opening is a beguiling aroma of cardamom beans soaked in iced whiskey that morphs into an addictive cloud of opium floating on golden and darkened waves of tobacco and tea leaves. As the scent dries down the sweet notes of the tobacco take center stage and besots the senses in the manner only the finest pipe tobacco can achieve. Vi Et Armis is a scented map of the luxury goods that fueled the Empire and is one of the best boozy/tobacco scents on the market today (and in our opinion gets our rare recommendation for a blind buy). Do not hesitate to wear Vi et Armis during the summer as the tea and opium accords bloom in the heat, but we both cannot wait until the cooler weather when the strong base notes of oud and tobacco will project warmth onto the bleak winter landscape. This is our favorite from the collection to date and while leaning masculine it is a fragrance for confident women as well. Sillage is strong enough to catch the attention of passerbys; Michelyn had quite a few men stop her and ask her what scent she was wearing (thus she we will be draining her sample dry). Vie et Armis has all day longevity and the plush pillow and billows of opium and tobacco linger into the night. Beaufort has a unique scale of measuring their fragrances' strength and while they feel Vi Et Armis is the equivalent of a light breeze, there's a storm ahead.
Notes: Cardamom, Black Tea Leaf, Tea, Whiskey, Opium, Tobacco, Oud, Birch
Michelyn Camen , Editor in Chief and The Nosey Artist, Contributor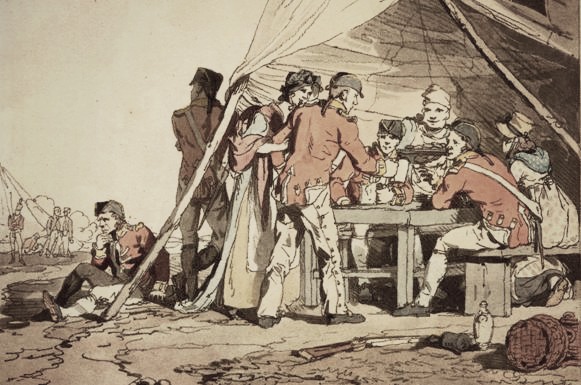 British soldiers drinking at a Sutler's booth, 1808
Country Before Pleasure by The Nosey Artist
Sip slowly young man you have much to learn,
Listen intently as you await your turn
When the pipe gets passed and it reaches your hand,
Let the soul leave the body but remember your land
You are Great Britain's own tried and true,
A son of the Queen your blood runs blue
All you survey take in with care,
A wise man looks but only a fool stares
The docks are your market the sea is your field,
The deals that you make are the fruits that you yield
Be cautious…
To rush is to miss the way,
Deal right the first time and you won't need another day
Be cautious…
Country before pleasure,
Sip slowly young man
Sip slowly…
Disclaimer: We received our samples of Vi et Armis from Twisted Lily
Art Direction: Michelyn
Vi Et Armis Eau de Parfum courtesy of @beaufortlondon
Thanks to Leo Crabtree of Beaufort London we have a 50 ml bottle for a registered Cafleurebon reader in the EU, USA or Canada. Please leave a comment with what you liked about the review of Vie et Armis or your favorite line from The Nosey Artist's prose. If there is a Beaufort London fragrance you want to try or wear please tell us that too. Draw closes July 23, 2016
follow us @cafleurebon @beaufortlondon on instagram
We announce the winners on our site and Facebook page so be sure to like Cafleurebon and use our RSS option or your dream prize will just be spilled perfume.