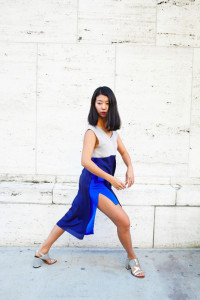 Beau Rhee Photo Credit Barbara Anastacio
Atelier de Geste Stones is one of two limited edition scents (only 200 pieces were made) released this year. Blues is the companion fragrance, a hand blended all natural extrait created by Beau Rhee, an artist, dancer, and founder of the design and fragrance house Atelier De Geste (the Gesture Studio). (Our reviews of Blood Sweat and Tears, The Good Earth and Wild are the Wind which debuted in 2013 here).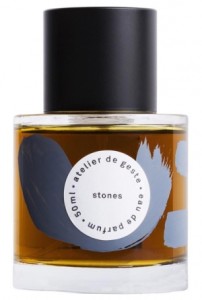 Atelier de Gestes Stones
Before I write about the perfume itself, I want to commend the aesthetics of the bottle and packaging design, each bottle is engraved with a unique edition number, hand painted with gestural strokes and placed in a beautiful black box- the visual effects set the tone for the fragrance inside. Stones is a shared scent, leaning masculine that was inspired by the movement of stones and boulders through time. The opening notes are an amazing burst of airy freshness that one would expect from a spring fragrance, however what I particularly enjoyed was the originality in the opening; I couldn't detect any citrus notes, just the fresh, damp, and slightly salty aroma that I believe is created from the tomato, ivy, and lotus that smells of wet stones or boulders after rain.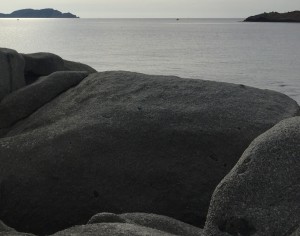 Corsica photo Beau Rhee
There is a uniquely rich type of vetiver in the base that 'opens' up Stones and lends both a sense of spatial dimension and a very powerful almost primal feel, as if one was slowly moving through vast expanses of time. For those that are familiar with certain aroma chemicals and their effect on a fragrance, there's a bit of geosmine in the base to elevate the perception of dampness throughout Stones' entirety. For such a light fragrance, the overall composition has heft with excellent longevity lasting well over the course of an entire day and the sillage is perfect; never overpowering but definitely noticable to those standing close. If you're looking for a Spring/Summer scent that doesn't walk the traditional lines of white florals, or citrus overkill then you should definitely consider adding Stones to your collection. Notes: tomato, ivy, lotus, vetiver, geosmine.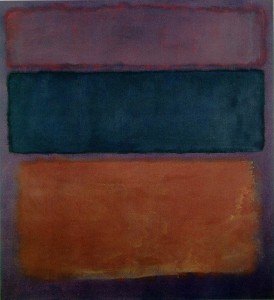 Rothko Brown Black Sienna on Wine
Sticks & Stones by The Nosey Artist
I'm a rolling stone far from home,
No place to go yet still I roam
I've sailed the seas through the sky I've flown
No place to go yet still I roam…
My spirit is in search of,
The same feelings that I felt from my first love
But I no longer dwell on the past,
I smile as my toes feel the dew from wet grass
The sun shines again,
The waves do a joust as one tries to win
I feel a surge of energy from what lies within,
I'm reminded to be brace I have one life to live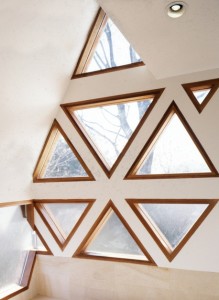 detail from a project by Robert Marino
So I live it…
And I live it with a bright smile,
Forever grateful for the blessings of my life style
I've been through so much and yet I'm still here,
Embracing all that comes of whom shall I fear?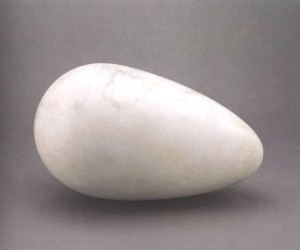 Brancusi Sculpture for the Blind Beginning of the World 1916
I'm a rolling stone far from home,
No place to go yet still I roam
I've sailed the seas through the sky I've flown,
No place to go yet still I roam…
Disclaimer: I received my sample of Stones through Twisted Lily
The Nosey Artist, Sr Contributor
Editor's Note: Beau Rhee was the art director for this review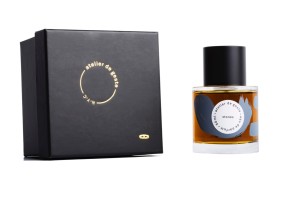 Courtesy of Beau Rhee we have a perfume draw for our US, Canada and EU registered readers (yes you must be registered fragrance friends), for a discovery kit 8ml x 2 of Stones and Blues. Please leave a comment below with what intrigues you about Stones and what you liked most about The Nosey Artist's review or prose. Draw closes 3/4/2016
We also announce our winners on our Facebook page so like Cafleurebon or use our RSS option…or your dream prize will just be spilled perfume.