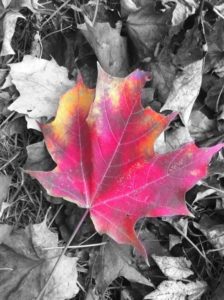 Maple Leaf Photo by Jane Daly
The latest offering from Atelier Cologne is a delicious and surprising combination of lemon and maple. Atelier Cologne Citron d'Erable was released exclusively in Canada at Sephora, and was inspired by the "Temps de Sucres" or as we say "Sugaring off", which is when the sap of our majestic maple trees is collected, to later become the Canadian national treasure….maple syrup. It was a summer launch to coincide with Canada Day, July 1 and it's simply delicious.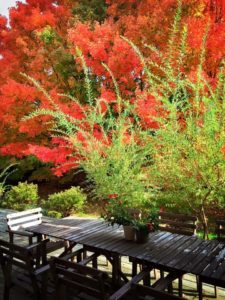 Jane Daly's Patio
The lemon-maple aspect is actually not entirely unexpected, at least in the world of food. Think delicious homemade crepes with powdered sugar, lemon and maple syrup. My mouth is watering at the thought. However Atelier Cologne did not go all lemon foody dessert with Citron d'Erable, they went all woodsy. The lemon-maple combination is totally rare in perfume. I love the softly sweet scent of maple syrup, and there is a woodsy undertone to that fragrance that actually makes it a natural for perfume.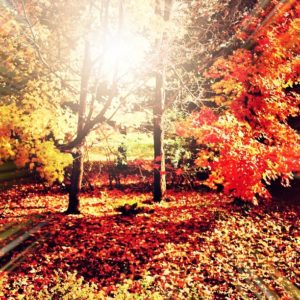 Jane's yard in Autumn (photo digitalized by MC)
On first sniff, I get lemon, blackcurrant and a tiny touch of eucalyptus. The blackcurrant helps add a deep forest vibe and the entire combination is almost pine-y. And it's not just maple syrup I smell – it's the whole tree. I smell woods and leaves, a sort of rich arboreal illusion, kept light thanks to the beautiful lemon and mandarin fruity lightness. As a kid who grew up in Canada spending my summers at camp, the smell of the woods is buried deep in my olfactory memory. I can feel the soft pine needles under my feet, and smell the soft sweet fragrance of the maple leaves on the ground. This would be in the fall, when the trees have shed their leaves. It is an unmistakable scent, and distinctly Canadian. However, we have no lemons in our Canadian Shield wilderness, and this is where the magic happens in Citron d'Erable. The lemon is like a ray of yellow sunshine, ensuring that our maple trees live in an eternal summer, their sweetness going on and on….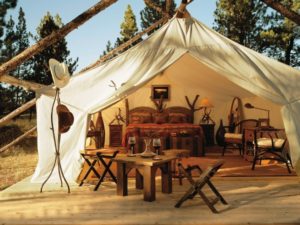 Glamping Tent
It makes me think of "glamping", the name for the whole anti-camping movement that combines glamour with camping. No tents or sleeping bags, just luxury accommodations in the woods – all of the fresh air without the crappy night's sleep on the ground. The glamper is more of a jet-setter meets gypsy, ready for travel and adventure, but demanding luxury and comfort. There is most definitely an elegance to Citron d'Erable, and I'm definitely sleeping on high thread count sheets while glamping in the woods in this gorgeous scent. So I picture the gypsetter – someone driven to the gypsy lifestyle, the modern nomad, ready to go anywhere anytime, like a modern bohemian. No fancy hotels for the gypsetter, but giant canvas tent with teak floors, fringed blankets and maybe even a chef. A girl can dream, right?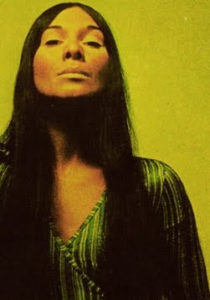 Canadian Artist and Activist Buffy Sainte Marie
I imagine the gypsetter, after a day in the woods, maybe hiking, maybe even creating an avant garde piece of art involving pressed leaves. The sun has set, the giant bonfire is roaring away, with maple, cedar and pine burning away and scenting the air. The gypsetter and their friends cuddle together in their Hudson Bay blanket, as the woods are cold when the sun goes down. The incredible artist Buffy Sainte Marie is there, and she is singing Take My Hand For Awhile, while the gypsetters are sipping a delicious snifter of Lemoncello, dreaming of their next adventure.
Jane Daly, Guest Contributor of Daly Beauty
Editor's Note Atelier Colgone Citron d'Erable is exclusive to Sephora Canada.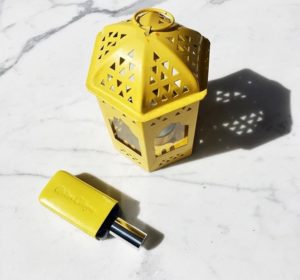 Atelier Cologne Citron D'Erable which means Lemon Maple in French (photo by Jane Daly)
Thanks to the generosity of Atelier Cologne we have a draw for 30ml of Atelier Citron d'Erable. To be eligible you must be a registered reader in the USA or Canada (don't know how to register…click here!!) Please leave a comment with what you enjoyed about Jane's review of Citron d'Erable and if you have ever gone glamping, your favorite place in Canada and where you live. If you have a favorite Atelier Cologne Perfume we would love to know. Draw closes 7/31/ 2016
Follow us on instagram @cafleurebon @dalybeauty and @ateliercologneparis
We announce the winners only on site and on our Facebook page, so Like Cafleurebon and use our RSS Feed option … or your dream prize will be just spilled perfume