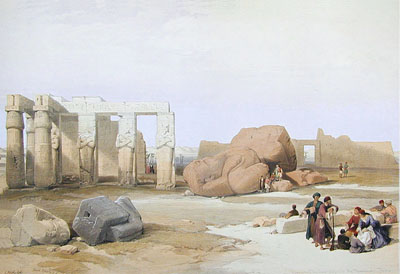 "Fragments of the Great Colossi, at the Memnonium" by David Roberts 1842-49
Perfumer Lisa Fong of Artemisia Natural Perfume has just released a new fragrance, Ozymandias, homage to the mighty Pharaoh known in the western world as Ramesses II, using aromatics that have been used for millennia in ancient perfumery. Composed of 100% natural materials and carefully hand-blended, all of Ms. Fong's artisan perfumes radiate a depth and complexity only possible with natural essences. Ms. Fong has studied with Mandy Aftel since 2002 and her eight current available fragrances represent the best of her repertoire. Much like one flower must be pulled to allow another room to grow in its place, some Artemesia scents of years past have been culled to allow others to shine. This process of creation, discontinuation and reinvention is yet another way Artemisia Natural Perfume echoes the natural order of things.
"The Questioner of the Sphinx" by Elihu Vedder 1863
The structure of any good perfume is its framework,which is especially important in natural perfumery where there are no synthetics to anchor a fragrance. The cool incense resin and wood create a firm foundation for the aromatic tobacco, the light dry floralcy of broom, and for the lush florals and vegetal accords Ms. Fong deftly weaves as she creates a scented story of Egyptian mystique. Accented with just the right amount of green, Ozymandias starts a bit sharp before Jasmine, enthroned like an Egyptian Queen, enters, a refined and royal consort to masculine cedarwood. Sandalwood and olibanum waft a tale of the desert that eventually fades into blissful earthy oblivion that transports us to the land where a mighty Pharaoh ruled as King of Kings.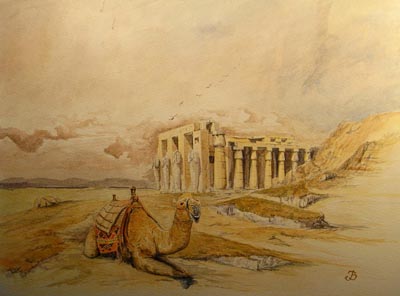 "The Ramesseum Theban Necopolis, Egypt" by Juan Bosco
I met a traveller from an antique land
Who said: "Two vast and trunkless legs of stone
Stand in the desert. Near them, on the sand,
Half sunk, a shattered visage lies, whose frown,
And wrinkled lip, and sneer of cold command,
Tell that its sculptor well those passions read
Which yet survive, stamped on these lifeless things,
The hand that mocked them and the heart that fed:
And on the pedestal these words appear:
'My name is Ozymandias, king of kings:
Look on my works, ye Mighty, and despair!'
Nothing beside remains. Round the decay
Of that colossal wreck, boundless and bare
The lone and level sands stretch far away.
– Percy Bysshe Shelley, 1818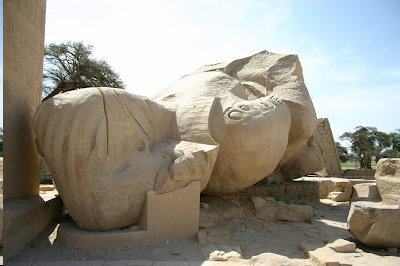 The ruins of Ozymandias, inspiration for the poem
Artemisia's Ozymandias perfume captures both the grandeur and power of the forgotten Pharaoh while the anachronistic tobacco adds a modern touch to the fragrance. Ozymandias had never seen nor smelled tobacco while he lived and ruled but I am quite certain he would have approved of its heady aroma and sanctioned its use in a scent honoring his name. Sillage: average. Longevity: good.
Notes: Arnica, mandarin petit grain, jasmine sambac, broom, tobacco, sandalwood, frankincense, cedar wood, & mitti (soil) attar.
Disclosure: Review based on an EDP sample sent to me from Artemisia Natural Perfume.
John Reasinger, Senior Editor and Natural Perfume Editor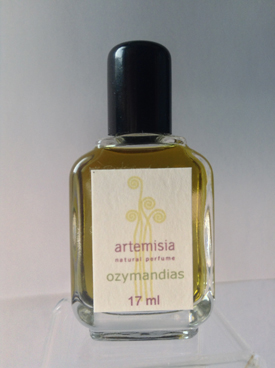 17 ml bottle shown, winner will receive a 5 ml bottle
Thanks to the kindness of Lisa Fong, we have a 5 ml EDP of Ozymandias to give away to one US reader. To be eligible, please leave a comment with why you would like to try Ozymandias and your favorite Egyptian. Draw will end on May 20th, 2014.
We announce the winners only on site and on our Facebook page, so Like Cafleurebon and use our RSS option…or your dream prize will be just spilled perfume.