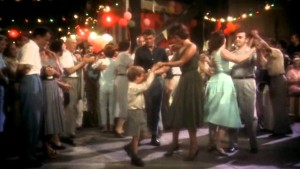 Pane, amore e…, 1959 film directed by Dino Risi: Sophia Loren Mambo Italiano
I'm a sucker for old movies. The ones filmed on esoteric film stock like Kinetoscope!, or SuperDeluxe-O-Vision!, where every frame is saturated in soft, pastel colors and the plot is watchably romantic. These films are always shot in a country where you long to be, but somehow is always out of reach. Places like Rome, Cannes and Naples, where Sophia Loren dance on moonlit cobblestone streets, her dress catching the wind.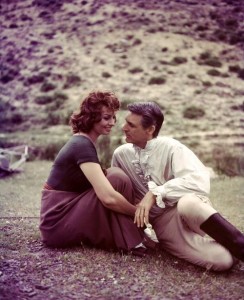 Sophia Loren and Cary Grant in The Pride and the Passion, 1957
But I'm not in Italy, with no plans to go, sadly. But I do have the new release from Maria McElroy of Aroma M Perfumes, Voluptuous Nostalgia, which might be the next best thing. Voluptuous Nostalgia instantly paints your world in Technicolor washes, with each moment cast in a bright and breezy hue. It's built on a captivating violet and amber combination wherein both notes are intriguingly uplifted rather than turning powdery and dully sweet. The effect is stunning – Voluptuous Nostalgia is a very aptly-named scent, because if a young lad might come across a whiff of this while travelling in a foreign country, well it might haunt him a good long while. The violet/amber feel is coquettish and very enticing – in short, catnip for the menfolk. It's a perfume with a very retro feel, but in all the best ways a demure, feminine but sweetly sensual fragrance can be. A woman who wears this scent feels like she can take on the world – provided the world is filled with Dean Martin's music, Vespas, and late-afternoon Southern Italian sunshine.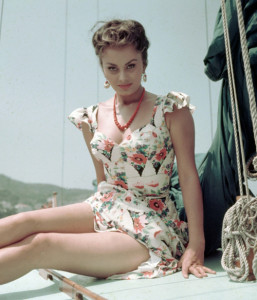 Sophia Loren Cannes 1965
Voluptuous Nostalgia also has a more modern, floral side – namely with the inclusion of a delicious gardenia and muguet opening that is to perfume what bright yellow sunlight is to a kitchen window. This perfume begins with an abundance of floral joy that is immediately uplifting and playful, and draws you in with a wink and a flash of leg, before the more serious and sensuous violet/amber feel kicks in. The opening notes are flirtatious and bright, and mask the serious commitment that young lad will have to come up with later on as this scent develops.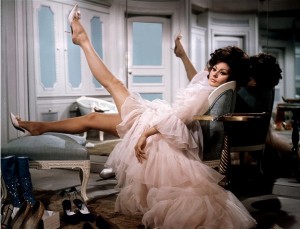 Sophia Loren in 1966 Arabesque
But perhaps the best thing about Voluptuous Nostalgia is its texture. Aroma M perfumes all seem to carry this absolutely exquisite hand to them – like the hand found in a fine silk scarf. There's a soft, sheer slip in the feel of this perfume as you wear it that is absolutely gorgeous. And this silken quality is what I most admire in Aroma M perfumes – they literally drape around the wearer, rather than blast aggressively off the skin or retreat into introverted, sullen skin scents. There's an elegance in the wearing of Voluptuous Nostalgia that is entirely compelling and unique. Maria McElroy's release of Geisha Amber Rouge from 2011 has this same, quiet, silky sophistication.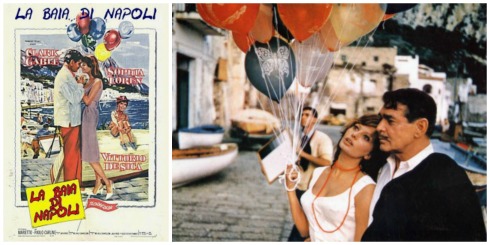 La Baia Di Napoli 1960 Vittorio De Sica Sophia Loren and Clark Gable
Voluptuous Nostalgia's presence is in keeping with old, foreign movies also – the fragrance lasts for several hours and entertains you with its retro, coquettish charm just long enough for you to be smitten, but not bored. Like all the sweet summer girls skipping down the side streets in Italy, Voluptuous Nostalgia knows well that the best memories are the fleeting ones. Voluptuous Nostalgia is a scent made to lose yourself in, and it doesn't matter how long the daydream lasts when it's this much fun. This perfume isn't for operatically-long and tortured romances, just for those stolen moments when the sun pops out from behind a cloud and turns the world into your own, private foreign movie
Author's Note: Aroma M is celebrating their 21st Anniversary as a perfume house, and is offering Voluptuous Nostalgia at 20% off, just in time for Valentine's Day.
Pam Barr, Senior Contributor
Art Direction and Theme: Michelyn
Disclosure: I received my sample from Aroma M Perfumes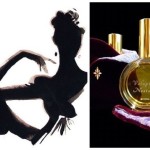 Thanks to Maria McElroy and Aroma M Perfumes, we have a draw for registered reader draw of 5 ml of Voluptuous Nostalgia for a US or Canada Reader. To be eligible, leave a comment with your favorite movie featuring Sophia Loren. If you have a favorite Aroma M perfume we would love to know. Draw closes 2/14/16.
We announce the winners only on site, and on our Facebook page, so like Cafleurebon or your prize will be only spilled perfume.