The term "love it or hate it" can be a bit overused, and in my mind mostly applies to people's reactions to black licorice and calves' liver. In the fragrance world, one perfume stands out as a true "love it or hate it" scent: Thierry Mugler's Angel Eau de Parfum, launched in 1992 and created by Olivier Cresp and Yves de Chirin whose new star is Eva Mendes. Recognized as one of the first true gourmand scents and emulated by many, Angel's odd combination of traditional and foody notes appalled some but also won the hearts and noses of millions. My preference for wearing Angel EDP is as a cool weather scent, lightly applied.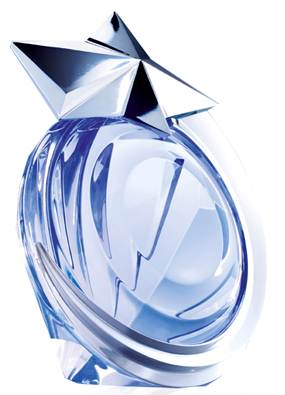 When Mugler announced the new Angel Eau de Toilette, I wasn't sure why they had bothered. Wasn't there already some kind of "Angel Lite" out there – Innocent or Eau de Star? But, as an Angel fan, I sought out a sample and tried it out.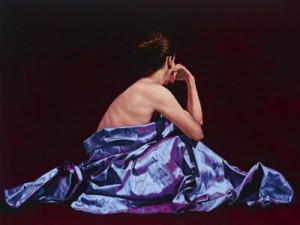 Angel EDT opens brightly, with an uplifting hit of crisp fruity bergamot and berry notes. An undercurrent of the signature Angel aroma is present, but with a much smoother and lighter presentation than the EDP. I have applied, and now reapplied, and am very much enjoying not only the shimmering opening, but the sweet, slightly candied, sensual drydown. If you are recoiling in horror to read that I applied and then reapplied, fear not, this is a softer, more subdued Angel.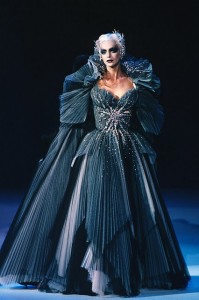 1992- 1993 Collection Maison Thierry Mugler @ Patrice Stable
If Angel EDP has been difficult for you to wear, I highly encourage you to try the EDT, especially if you are attracted to Angel but find it to be too much. Even if you don't like Angel, give this a go – you might be pleasantly surprised, especially if you are looking for something that can be worn through the seasons that has some personality without being too potent.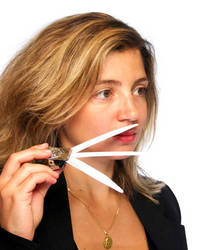 This fragrance is composed of notes of bergamot, pink peppercorn, praline, red berries, cedar, patchouli, vanilla and white musk and was created by noted perfumer Amandine Marie (who also created one of my favorite scents for MDCI, Peche Cardinale).
–Tama Blough, Contributor
Thanks to the generosity of Thierry Mugler USA., we have a 2.7 oz refillable available. but please be patient, the winner will receive their flacon in about 2 weeks after draw. In order to be eligible name your favorite fragrance by Thierry Mugler, by logging on to http://www.mugler.com/us/en/ and why you want to win the EDT ! Draw closes September 20, 2011