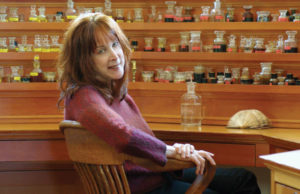 Mandy Aftel
For many of us in the Northern Hemisphere, the "bleak mid-winter" can be exactly that, cold and dreary and a never-ending search for warmth and light. Fortunately, natural perfumer extraordinaire Mandy Aftel has gifted us with a stunning new perfume "Amber Tapestry" to help chase the winter blues away!
Amber Tapestry opens on my skin with a glorious blast of powdery heliotrope offset by a juicy mandarin citrus that feels almost as if a lilac-colored bouquet has been blessed with a scattering of drops of fresh tangerine juice, at once tart and sweet, and absolutely captivating. The top is subtle, allowing the floral fruity heart to come forward and engage your senses in a perfect pas de deux of slightly indolic jasmine mixed with ripe cinnamon dusted pear juice.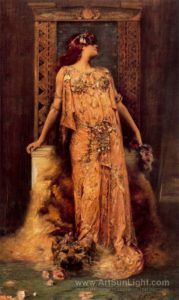 Sarah Bernhardt as Cleopatra by Georges Jules-Victor-Clairin
Amber Tapestry has a definite vintage vibe (a la Arpege for example); underneath all the floral, citric, and spicy beauty is the mix of amber, castoreum, and labdanum, combining to add a soft leather note, creating a subtle and VERY sexy growl instead of a lion's roar, quiet, sensual and cozy, but with teeth. In essence, an iron fist covered by a velvet glove, but one with animalic claws that have been manicured and polished perfectly. What came to mind for me after wearing this perfume for three days in a row now, was a story of Egyptian Pharaoh Cleopatra, one of the most important perfumistas in history.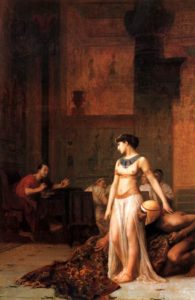 Cleopatra and Caesar (Jean-Léon Gérôme (1824–1904)
The legend is this; in order to gain an audience with the great Caesar after his conquering of Egypt, Cleopatra had herself rolled up in a tapestry or rug, which upon presentation to Caesar was unrolled at his feet, revealing the 18 year old Cleopatra in all her bejeweled, oiled and perfumed beauty.
Scene from the 1963 movie Cleopatra starring Elizabeth Taylor where she is wrapped in a rug 1963
Imagine Cleopatra being scented with floral spicy oils and resinous unguents, the finest available. Then picture her wrapped up in a rug or tapestry in the blazing Egyptian heat and carried that way through her palace, her body sweat permeating the very heart of the fabric, and mixing with the aromas of the precious oils to create a scent that literally must have brought Caesar to his knees; Cleopatra had Caesar around her scented finger by the very next day, first as a lover and ultimately as Consort allowing her to keep control and rule of the Egyptian lands. The wool of the rug mixed with sweat, flowers, sex and incense would've been a very heady brew.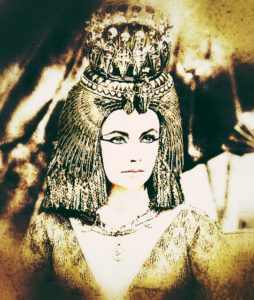 Elizabeth Taylor as Cleopatra (digitalized MC)
This is what Amber Tapestry perfume evokes; a perfect mix of historical and contemporary, a sexy, ambery, golden jewel of a scent that serves to remind us that there some truth to the adage "everything old is new again".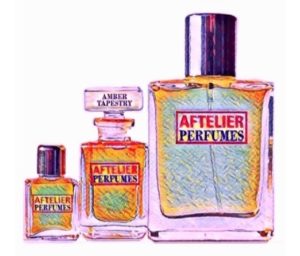 Illustration from Aftelier Perfumes
The beauty of natural perfumes created by an artist of Mandy's caliber,re-invent and re-interpret imagined potions of ancient history and make them viable, relevant, and absolutely on point for contemporary perfume lovers.
Notes: Top: heliotropin, yellow mandarin; Heart: jasmine grandiflorum, jasmine sambac, pear, cinnamon; Base: ambreine, labdanum, maltol, benzoin, castoreum, ambergris, coumarin.
Disclosure: I received my sample of edp from Aftelier Perfumes. Many thanks
–Robert Herrmann, Guest Contributor
Art Direction: Michelyn Camen, Editor in Chief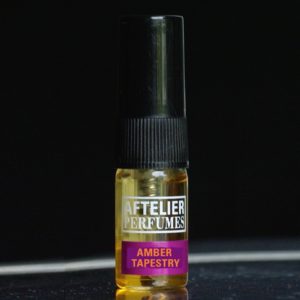 Thanks to Aftelier Perfumes we have a worldwide draw for a registered reader for a double size Eau de Parfum sample of Amber Tapestry EDP. To be eligible please leave a comment with what you enjoyed about Robert's review, where you live and your favorite Aftelier Perfume. Draw closes 12/26/2016
We announce the winners on our site and on our Facebook page, so Like Cafleurebon and use our RSS feed…or your dream prize will be just spilled perfume