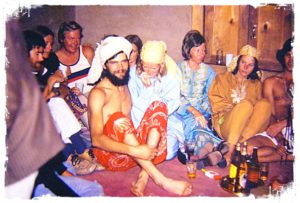 Marrakesh Party 1975 photo by Rory MacClean (c)
"Colored cottons hang in air
Charming cobras in the square
Striped Djellabas we can wear at home
Don't you know we're riding on the Marrakesh Express
They're taking me to Marrakesh…" -Crosby, Stills, & Nash; Marrakesh Express 1969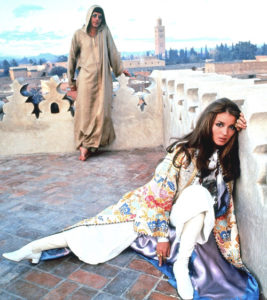 Paul and Talitha Getty Marrakech David Bailey 1971
Created just in time for 4/20 (National Cannabis Day), Award winning perfumer Amber Jobin gives us a cannibis-inspired scent, Perfume 420, as an homage to the hippie jet-set of the early 1970's discovery of Marrakech with its aura of easy-living and long languid days and nights devoted to intoxication of some kind. It was a heady time, ripe with possibility, and the cannibis and hashish that was easily available became the stepping stone for vivid imaginative dreams and blissed-out flights of fancy…..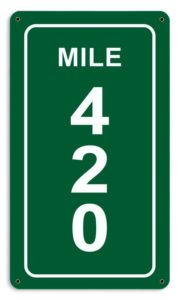 The term 420 (spoken as four-twenty) is a bit more mundane than that, having originated in 1971 behind the high school in San Rafael, CA, then the hub city of Marin County just north of San Francisco. A group of friends coined the term "420" as a shorthand communication for "Meet us out back at 4:20 p.m. and let's smoke some weed". As it so happened, just a block away from San Rafael High was a small music studio being used by The Grateful Dead for rehearsals, and the friends would hang out at the studio to get stoned and listen to the music. The Term 420 was picked up by Grateful Dead bassist Phil Lesh, and the rest as they say, is history.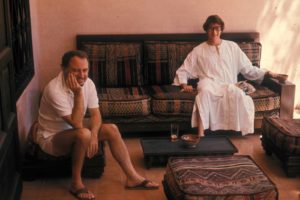 PIERRE BERGE AND YVES SAINT LAURENT IN MARRAKECH 1977 (C) GUY MARINEAU
At the same time, on the other side of the planet, global nomads and hipsters, clutching their copies of Paul Bowles' The Sheltering Sky, were flocking to Marrakech in Morocco following the unmistakable lure of the unknown, or "the other". Food and lodging were cheap, marijuana and hashish were plentiful, and the sun shined daily. These travelers, many in their late teens and twenties, adopted and embellished local Moroccan dress; the young ladies resplendent in vivid patterned and embroidered Kaftans and bangled head scarves, and the young men in billowing harem pants and bare-chested but for a mirrored cloth vest. Sexuality was fluid, the locals were non-plussed, and the hookahs and joints full of cannibis or hashish ironed out all the harsh edges and glaring realities".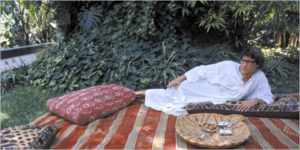 Yves Saint Laurent in Marrakesh garden Credit Guy Marineau
The warm Moroccan nights were rife with the scent of jasmine flowering vines, and magnolia trees loaded down with blossoms, their combined scents adding to the Aladdin's lamp narcotic haze blanketing the city. As Chef Anthony Bourdain described it "It was a station-of-the-cross for the bad boys of culture."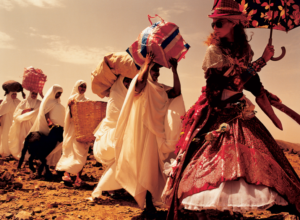 Mario Testino for British Vogue
420 is the intriguing and photorealistic scent of this seminal early 70's time and place. The burning and bitter hashish in the water pipe, the smell of the Medina tanneries juxtaposed on top of the goatish sweaty-wool aroma of the pillows used for reclining in the courtyard of a café or riyadh.The sweet and slightly indolic florals of a semi-arid oasis, a historical traveler-friendly caravansary caught between the turquoise blue and blinding tawny coastline of the Mediterranean, and the vast dry inhospitable desert to the south. The camel, donkey, and oxen sweat, the smells all intertwined and seeming to create an almost fugue state and psychedelic boots-on-the-ground experience, where you could forget your past and recreate yourself as your perfect near-eastern fantasy. It is quite honestly an astonishing and intoxicating scent!
Notes: Green cannabis accord laced with hashish, smoke, ash, jasmine sambac, magnolia, saffron, suede and leather accord, civet, musk, castoreum, costus.
Disclosure: Many thanks to Aether Arts Perfumes for supplying the sample. The opinions are my own
–Robert Herrmann, Senior Contributor
-Art Direction: Michelyn Camen, Editor-in-Chief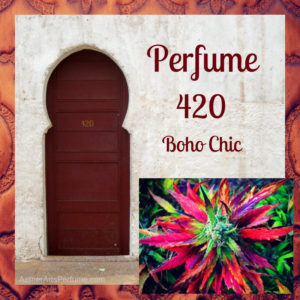 Thanks to Aether Arts and Amber Jobin, we have 5ml of Perfume 420 for a registered reader anywhere in the world please be sure to register if you have not done so. You must be registered and you must use your user name or your entry is invalid. To be eligible please let us know what you enjoyed about Robert's review of Perfume 420, where you were in the 1970s, and where you live. Draw closes 4/18/207
We announce the winners only on site and on our Facebook page, so Like Cafleurebon and use our RSS feed…or your dream prize will be just spilled perfume.