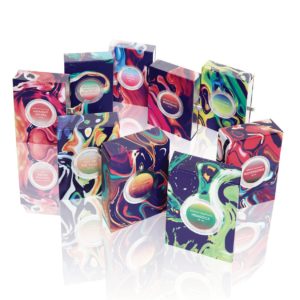 "Even bees, the little almsmen of spring bowers, know there is richest juice in poison flowers" — John Keats
Fragrance Foundation Award winning Creative Director Joseph Quartana who has been highly praised for Six Scents is launching Les Potions Fatales a new collection of perfumes that explore the treacherous beauty and intriguing lore behind nine of the world's most poisonous flowers; fragrant Femme Fatales and Homme Fatales that are alluring to behold but ultimately dark, sinister and even deadly. Les Potions Fatales was two years in the making a collaboration with accomplished noses (very much in the manner of Six Scents but with Symrise). The nine fragrances take their name from blooms that if ingested are deadly: Venetian belladonna, bloodflower, midnight datura, digitalis, hemlock, lily of the valley, mandrake, poppy soma, and wolfsbane.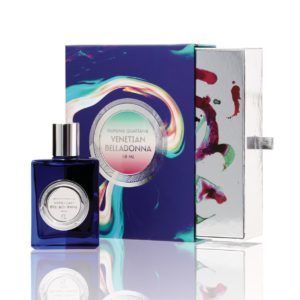 Venetian Belladona by Pierre Constantine Gueros
"Do Not Betray a Beautiful Woman"-Anonymous
Literally translating to 'beautiful woman', medieval Italian women would put droplets into their eyes to dilate their pupils as they believed this made them appear more attractive. It is often equated with aggresive female sexuality and was used by Northern Italian witches to place seduction spells on men.
FLORAL- FRUITY, FRUITY, SPICY, WOODY-DARK / Notes: Cassis, Violet Water, Plum, Sultanene, Cognac, Styrax, Ambrette Seed, Sampaquia, Honey, Purple Iris, Tuberose, Patchouli, Labdanum, Suede, Saffron, Beeswax, Sandalwood, Vetiver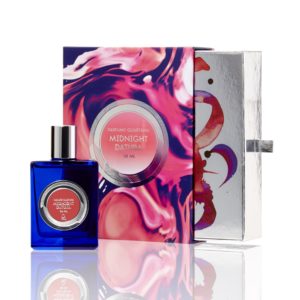 Midnight Datura By Lisa Fleischmann
"Any man who falls asleep after smelling datura will fall in love with the first woman he sees" — Anonymous
Also known as "moonflower", Datura is an essential ingredient in love potions and is known to induce visions and a trance-like state. Datura has aphrodisiac qualities and fittingly, its white flowers open at nighttime, glowing in the moonlight.
FLORAL-FRESH, FLORAL-FRUITY, CREAMY, BOOZY, POWDER, AMBER/ Notes: Green Leaf, Mandarin, Bergamot, Davana, Rum, Jasmine, Tuberose, Magnolia, Muguet, Rose, Violet, Lavender, Heliotrope, Datura Accord, Clove, Nutmeg, Pepper, Balsam, Patchouli, Vanilla, Sandalwood, Cedarwood, Amber, Musk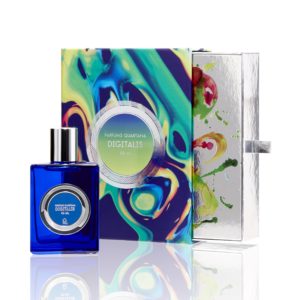 Digitalis ​By David Apel
"The foxglove bells, with lolling tongue Will not reveal what peals were rung In Faery, In Faery A thousand ages gone." — Mary Webb
GREEN, FRESH-CLEAN, OCEANIC, SPICY/ Notes: Galbanum, Silver Iris, Cucumber, Basil, Pepper, Ozone, Coriander, Florozone, Drenched Violet, Neroli, Rose, Jasmine, Gentiane, Incense, Fern, Wet Moss, Violet Leaf
Bloodflower By Alexandra Carlin
"Look at my bloodflowers, because I write with a serene sharp blade that soothes as much as cuts into the deepest parts of my soul"— Basith
Given the name, they wished to attain a haute Goth experience by adding blood accord, sambuca and dark roses
AROMATIC, BOOZY, GOURMAND, AMBER, METALLIC, WOODY-DARK/ Licorice, Anise, Blood Accord, Clover, Dark Rose, Amber, Patchouli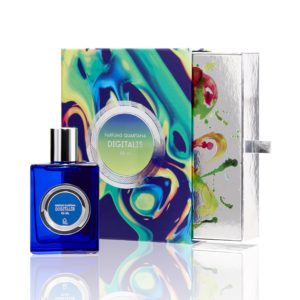 Hemlock By Christelle Laprade
"Socrates gave a lot of advice, and he was given hemlock to drink" — Rose Kennedy
In Ancient Greece, hemlock was used to execute condemned prisoners, the most famous being the philosopher Socrates.
GREEN, ORIENTAL, SYNTHETIC, WOODY-SPICY/ Notes: Martinique Rum, Pink Pepper, Calabrian Bergamot, Crushed Leaves, Glossy White Floral Accord, Cinnamon Bark, Clove Buds, Jasmine Sambac, Styrax Pyrogene, Black Vinyl Accord, Black Magnolia, Cyclamen, Salt Accord, Benzoin, Vanilla Bean, Suede, Sandalwood, Patchouli, Tonka Bean, Musk, Masculine Amber Woods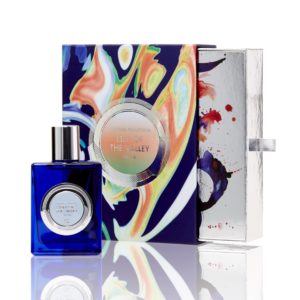 Lily of the Valley By Nathalie Benareau
"Sweetest of the flowers a-blooming In the fragrant vernal days Is the Lily of the Valley With its soft, retiring ways" — Paul Laurence Dunbar
It is said that the Lily of the Valley sprung from the eyes of the weeping Virgin Mary during the crucifixion of Jesus, and thus has traditionally been a flower of purity and innocence, but it is deadly poison.
FLORAL-FRESH, FLORAL-WHITE, FRESH-CITRUS, LEATHER/ Notes: Bergamot, Neroli, Dewy Petals, Cassis Buds, Muguet des Bois, Orange Blossom Absolute, Dark Rose Absolute, Jasmine Petals, Black Leather Glove Accord, Labdanum Extract, Vetiver, Bourbon, Vanilla Absolute, Sandalwood mandrake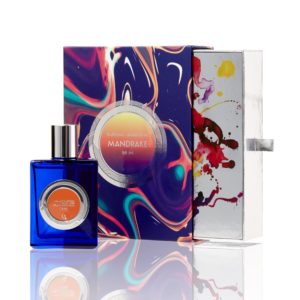 Mandrake By Carlos J. Vinals
"Go, and catch a falling star, Get with child a mandrake root, Tell me, where all past years are, Or who cleft the Devil's foot." — John Donne
In biblical scripture, mandrake was referred to as 'the love plant' and was through to have male fertility enhancing properties; as such it was mentioned by Shakespeare in "Midsummer Night's Dream" as a cure for erectile dysfunction.
GREEN, FRESH-FRUIT, NARCOTIC, LEATHER, WOODY-DARK / Notes: Crisp Apple, Pomegranate, Birch Leaf, Birch Root, Bergamot, Mandrake Flower Accord, Rhubarb, Cardamom, Sueded Leather, Deadly Addiction Accord, Patchouli, Madagascar, Vanilla, Sandalwood, Tonka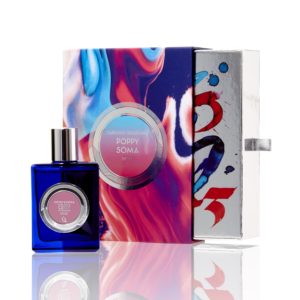 <
Poppy Soma By Emilie Coppermann
"The poppy opes her scarlet purse of dreams." — Sharmel Iris
Known to the Ancient Sumerians as "the joy plant", poppy symbolized nocturnal oblivion, specifically sleep, night, and death in the pre-Christian world.
FLORIENTAL, SMOKY, NARCOTIC, SPICY, AMBER/ Notes; Sichuan Pepper, Curry Leaf, Red Pepper, Black Gardenia, Jasmine Sambac, Red Rose, Old Church Incense, Labdanum, Tuberose, Styrax, Musk Tonquin
Wolfsbane By Phillippe Paparella-Paris
"The lolling weeds of Lether, green or wan, Exhale their fatal languors on the light; From out infernal grails of aconite. Poisons and dews are proffered to the dawn." — Clark Ashton Smith
Originally used in the West for exterminating wolf populations, Wolfsbane was used in the Far East for hunting and warfare by poisoning arrow tips.
ANIMALIC, EARTHY, SPICY, BALSAMIC, WOODY-DARK/ Notes: Angelica Root, Fig Leaf, Cumin Seed, Ginger Root, Absinthe, Patchouli, Cedarwood, Tuberose, Tobacco Flower, Castoreum, Benzoin, Sandalwood, Prunol, Vetiver, Deer Tonque, Black Truffles
A portion of proceeds from sales of this fragrance will benefit the American Association of Poison Control Centers. www.aapcc.org
All original artwork by Aerosyn-Lex Mestrovic.
Each Potion Fatale is 50 ml and housed in a Blue Amethyst flacon. Perfume concentration ranges from 12-20 percent. Prices $145- $185. Available June 2016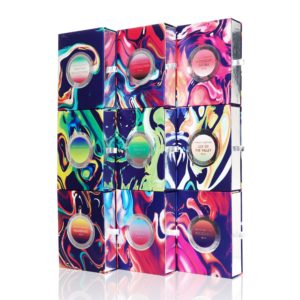 via Parfums Quartana
Thanks to Joseph Quartana we have a sample set of all 9 fragrances for a registered CaFleureBon reader in the USA, to be eligible pick your poison and why. Draw closes June 5, 2016
We announce the winners on our site and on our Facebook page, so Like Cafleurebon and use our RSS option…or your dream prize will be just spilled perfume.