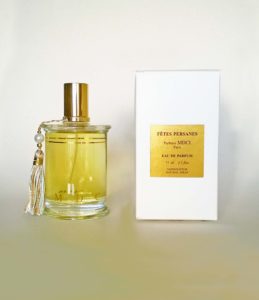 When I was at Esxcence in March, I was to meet up with Claude Marchal, Creative Director of Parfums MDCI but our schedules crossed. He had written to me that two years ago that he gave perfumer Cécile Zarokian a brief, more like a story that would be the leading thread of several creations. He wasn't keen about "stories" for fragrances, but in this case the story which were travels from the Silk Road, from the shores of the Pacific, through Continental Asia till the shores of the Meditteranean, preceded the compositions. The first journey, in 2015, was to the Floating World of Japan, Cio Cio San inspired by Madama Butterfly. Next, 2015's Les Indes Galantes (The Amourous Indies), an exotic gourmand that took its name from the opera by French baroque composer Jean-Philippe Rameau (1683-1764).
We now head to the Middle East with Fêtes Persanes, drawn from the third act of Rameau's opera. Also known as "Les Fleurs", "Fêtes Persanes" takes us to the garden of Ali, a confidant of the Persian Prince Tacmas, where a magnificent flower festival is to be held that night.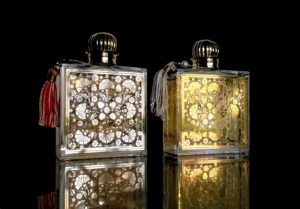 The New Design of the flacons for Fêtes Persanes (photo courtesy of Claude Marchal) but will be available in resin busts as well
According to M. Marchal, "This theme is also behind the design of a new flacon conceived for the Middle East (where the other presentations do not exaclty meet local cultural (and religious !) standards and Cécile's creations fit nicely with the general design". Claude has hinted a fourth fragrance is also in the works that is a nod to Western Turkey; Fetes Persanes is Mme Zarokian's 4th fragrance for Parfums MDCI.
Head : Bergamot, black pepper, elemi
Heart : rose notes, cardamom, cinnamon, clove, geranium
Base : white muscs, gaïac, cedarwood, patchouli, vanilla
75 ml/ $250 or $350 for bust
Via Claude Marchal of Parfums MDCI
Michelyn Camen, Editor in Chief