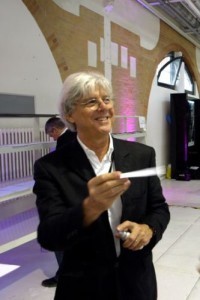 Claude Marchal
One of my favorite French perfumeries is Parfums MDCI. Creative Director Claude Marchal launched this bijou of a House in 2006 with Ambre Topkapi by master perfumer Pierre Bourdin. For M. Marchel perfume is ART; from the presentation in classic bust flacons to the quality of the compositions. He has collaborated with renowned perfumers Francis Kurkdjian (Promesse L'Aube and Rose de Siwa 2007), Stepanie Bakouche (Invasion Barbare 2007, Bertrand Duchaufour (La Belle Helene 2011 Chypre Palatin 2012), Patricia de Nicolai (Le Rivage des Sertes and Un Couer de Mai 2009), Amandine Marie (Peche Cardinal 2009), Jean-Marie Faugier (Vespres Siciliennes 2010), ), Cuir Garamante Richard Ibanez, 2013) and rising star Cécile Zarokian (Nuit Andalouse 2013). It has been two years and M. Marchel is working once again with Cécile Zarokian on the new launch of Cio Cio San.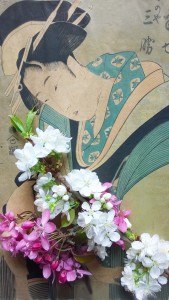 Image from C.Marchel
.Claude wrote to me, "Michelyn I am very happy with our collaboration with Cécile, To my delight she has answered with talent and accuracy the unusual and difficult brief given last year: a fragrance that would evoke the Far East, more precisely Japan Her creation met my request perfectly, and I immediately fell in love with what became Cio Cio San, an occidental vision of an imaginary Japan. Images of spring in Nara, temples, artfully tended gardens, precious silks, tea houses, out-of-this-world geishas… Clichés yes, but also genuinely beautiful images, reminiscent of the images of the "floating world" as ancient woodblock prints are called, that help us dream and escape. About the name, "Cio Cio San "comes directly from Madame Butterfly, Puccini's opera, in which the heroine, Cio Cio San (Madame Butterfly ), a lovely young Japanese woman who is seduced and later abandoned by her American lover.
Head notes: yusu, limette, lemon, ginger, grapefruit
Heart notes: cherrytree flowers, peone, leetchee, reeds (fresh and watery accord), oolong tea (for green and smoked notes)
Base notes: gaiac wood, cedarwood, oolong tea, muscs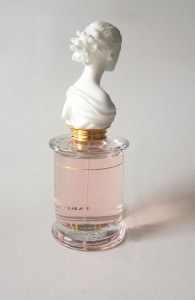 Cio Cio San is available at Luckyscent 75ml/$250, and 75ml Resin Bust/$375 Osswald NYC also carries the MDCI brand in the US, ask for Josie or Clement.
Via Claude Marchal of Parfums MDCI
-Michelyn Camen, Editor in Chief