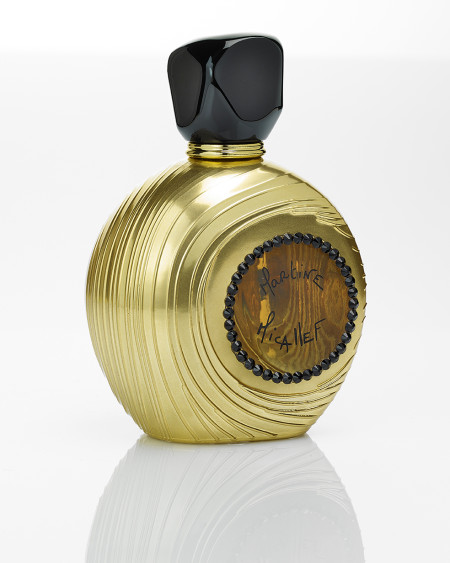 I have been a stalwart fan of M. Micallef for many years and one of my favorites in the collection is the mouth watering gourmand, Mon Parfum, launched by Martine Micallef and her husband Geoffrey Nedjman in 2009; it was created as Martine's personal perfume. Last year Geoffrey Nedjman and perfumer Jean Claude Astier presented a new version, Mon Parfum Christal a beautiful blend of rose, cinnamon, vanilla and that flew under the radar. Over the past few years Martine and Geoffrey have spent most of their time away from their beautiful Cannes home and have expanded their presence with many new boutiques in Dubai . For 2014, Martine Micallef wished to honor the mysteries of Orient and she does so in Mon Parfum Gold, a warm floral that is now the third in the Mon Parfum series which debuted at Pitti Fragranze. I am told that there is a secret ingredient not listed in the notes below that pays tribute to1001 Arabian Nights. Will a genie appear from the molten gold Swarovski studded flacon and grant me three wishes? If so, I hope one will be for wider US distribution; the other two wishes I will not divulge.
Head note : Plum, Pink Berries, Mandarin.
Heart note : Tuberose , Orange Blossom, Jasmine.
Base note : Vanilla and musk.
EDP 100 ml / 190 Euros
Availability: October 2014
via Parfums M Micallef
–Michelyn Camen, Editor in Chief