There are perfumers for who I look forward to seeing whatever the next thing is they choose to create. Pierre Guillaume has been one of those for me. Over the past year between the Huitieme Art Parfums series and the limited editions like Bois Naufrage and Tonkamande there have been plenty to admire. Still I wanted M. Guillaume to return to his original line Parfumerie Generale. The last Parfumerie Generale fragrance, Papyrus et Ciane, was one of my favorite fragrances of last year. In that fragrance M. Guillaume resurrected a classic base, mousse de saxe, and used it as the foundation for that fragrance. I just received the new Parfumerie Generale release for September called Indochine and instead of an ingredient from the past M. Guillaume was inspired by a geographical place from the past; the French colonies in Asia which made up Indochine.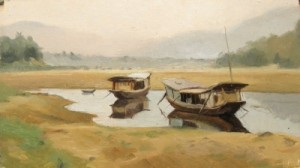 His inspiration for the 25th Parfumerie Generale perfume is a pair of sepia photographs from 1920 Indochine which depict a cruise on the Mekong River. As I have been wearing Indochine over that last few days it felt like a fragrance which has its own unique patina. M Guillaume chose ingredients from throughout the region as his notes for Indochine. He chose Honey from Laos, Pepper from the city of Kampot in Cambodia, Ceylonese Cardamom; and two very unique ingredients. The first is a traditional wood paste use widely in cosmetics in Burma called Tanakha. The second is an opulent Benzoin from Siam which is the central core of Indochine. It is this Benzoin which creates the foundation of Indochine and it is another tour de force from M. Guillaume.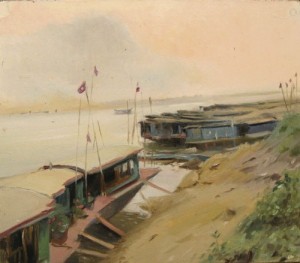 The Benzoin is in place right from the first moments. You get but a moment to admire its beauty unfiltered before cardamom and honey show up to accentuate the spicy and sweet facets of the resin. A pinch of pepper adds some heat and then the Tanakha arrives. In reading about Tanakha it is a native tree to Burma which is ground into a fragrant paste used in makeup. As a note in perfumery it shares a lot of similarity to sandalwood. It has the slight sweetness of sandalwood but it also has a hint of green quality which replaces the creamy quality of sandalwood. Just as with mousse de saxe in Papyrus et Ciane, M Guillaume has introduced me to a new note in Tanakha and I hope it shows up again in some future fragrance.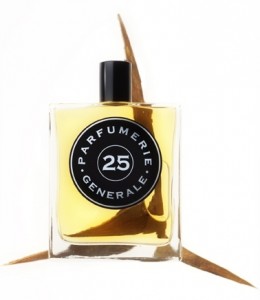 Indochine has excellent longevity and slightly below average sillage. Indochine tends to add a perfumed coating like sepia does to photographs, subtle but striking.
As I said above I will follow almost anywhere M. Guillaume wishes to take me olfactively. On this trip into Indochine he has created a luminous fragrance out of spices, woods, and resin much like creating a diamond out of coal it is a feat only the best can do consistently. This Fall let M. Guillaume transport you to the Mekong River and set sail.
Disclosure: This review was based on a preview bottle provided by Parfumerie Generale.
Thanks to the largesse of Parfumerie Generale I am going to share with one lucky commenter. I have made a 2.5mL sample from the bottle they provided me for review. To win leave a comment naming your favorite Parfumerie Generale fragrance or the one you are most interested in trying. Draw will close July 11, 2011.
–Mark Behnke, Managing Editor