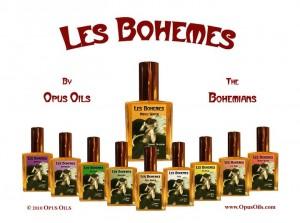 Opus Oils latest collection, "Les Bohemes" (The Bohemians) is a throwback to the age of Speakeasies & wild abandon. Rich, Ultra Decadent & Shamelessly heavy on the Natural Essences – just like the scents that were constructed during Perfume's Golden Age of the 1920's. Les Bohemes were first used in creating custom perfumes; each fragrance is designed to be worn alone or in layered combinations with each other.

GIGGLE WATER (Orange Blossom) ~ Olfactive Group: Fruity Florals
Michelyn's Favorite Scent (Created as Kedra Hart's personal fragrance)
This abundant, enchanting floral "aperitif" is sure to lift your spirits & brighten any day or night! Playful Orange Blossoms are perfectly enhanced by sweet White Musk, with a creamy Sandalwood dry down.
Key Notes of Tunisian Orange Flower Absolute, Egyptian Orange Flower Absolute, Orange Flower Water Absolute, Bitter Orange Flower Absolute, Wild Orange, Mandarin, Peach, Honey, Gardenia, Beach Found Ambergris, White Musk & Sandalwood.

LIL' NICO (Tuberose) ~ Olfactive Group: Floral
Not for the shy at heart! "Lil' Nico" is a Sultry & Intoxicating scent. This Luscious, Voluptuously Velvet Floral is simply put, "The Bee's Knees!" A full bodied narcotic, creamy, floral bomb that is sweet & carnal from the get go.
Key Notes of Creamy Tuberose Absolute, Orange Flower Absolute, Honey, Narcissus, Rose, Civet & Benzoin.
HEAVY SUGAR (Amber) ~ Olfactive Group: Amber/Oriental
A classic Vintage Amber scent that is deeply rich & completely irresistible! "Heavy Sugar" is composed with the exotic timeless aromas of dark Amber, vintage Patchouli & creamy Sandalwood. "Heavy Sugar" is the perfect blender note that can be worn with all "Les Bohemes" scents.
Key Notes of Dark Amber, Aged Labdanum, Fossilized Amber, Vintage Patchouli, Sandalwood & Beach Found Ambergris.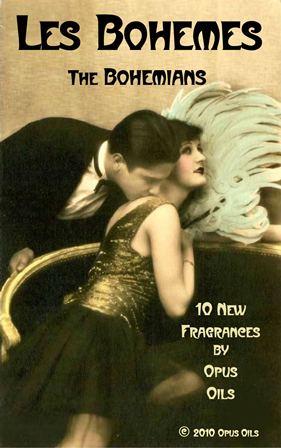 FLAPPER (Datura) ~ Olfactive Group: Floral
Captivating, Creamy, Floral Decadence! "Flapper" is a strangely alluring, blooming floral fragrance that starts off with an airy exotic narcotic green note & hint of spicy ginger that is soon taken over by wafting plumes of intoxicating sweetness…. Deadly Datura, AKA "Angels Trumpet," is a fragrant Diva that fascinated Zelda Fitzgerald at the end of her life… With its both mesmerizing & hypnotizing fragrance, Datura has been known to produce states of delirium. It was well known to be an essential ingredient in love potions & witches' brews…
Key Notes of Sweet Lemon Blossom, Clementine, Tangerine, Pink Peppercorn, Perilla Leaf, Mango Absolute, Ginger Lily, Datura, Gardenia, Jasmine, Vanilla, White Musk, Blond Tobacco & Tonka Bean.

DAPPER (Violet) ~ Olfactive Group: Floral Green
Dapper explores the theme of the Violet Berry note. Elegant & non-intrusive, this is a soft, velvety violet flower that is lightly powdered & sophisticated.

Key Notes of Violet absolute, Orris Root, Blond Tobacco, Sandalwood & Aged Dark Patchouli.

SPEAKEASY (Wisteria) ~ Olfactive Group: Floral
Wisteria was one of the most popular flowers in the Belle Époque period. This "Speakeasy" scent is a reproduction that is true to the flower.
Key Notes of Citrus, Green Pepper, Green Mandarin, Jasmine Sambac, Lily, Orchid, Rose & Sandalwood.
GOLD DIGGER (Narcissus) ~ Olfactive Group: Floral
"Gold Digger" is a heady, lavish blend of creamy white floral notes. There's something very retro about this scent. Ladylike & Glamorous, an intoxicating mix of Narcissus & Orange Blossom
Key Notes of Narcissus Absolute, Honey, Orange Blossom Absolute, Egyptian Jasmine, Wild Orange, Tuberose, Lily & Sandalwood.
JAZZ (Jasmine) ~ Olfactive Group: Floral
In the Roaring 20's, Jazz was sweeping the nation and meant "Excitement & Fun." A full bodied night blooming tropical Jasmine – "Jazz" is a unisex floral scent that is sexy, sassy & fun
Key Notes of Red Mandarin, Egyptian Jasmine Absolute, Moroccan Jasmine Absolute, Star Jasmine, Orange Blossom, Nutmeg & Sandalwood.
BOOTLEG (Vetivert) ~ Olfactive Group: Woody Chypre
Rich, Earthy, Exotic & Deliciously Dark! "Bootleg" opens with a smokey Vetiver note that is pure earthly intoxication… A mysteriously seductive scent that is deep, rich & slightly animalic. Wear with florals to add a sexy deep base note..

Key Notes of Sri Lankan Vetiver, Aged Dark Patchouli, Amber, Blond Tobacco & Roasted Coffee Bean.

HIGH HAT (Green Tea) ~ Olfactive Group: Aromatic Green
A fresh clean Green scent that is crisp, sophisticated & delightfully refreshing! "High Hat" opens with a clean fresh citrus blast, tempered with a soft, powdery green tea note that is delicious, delicate & discreet. "High Hat" mixes especially well with floral notes & is suitable for both men & women.
Key Notes of Citrus, Green Tea, Gin, Lily & Rose.





Party Well Together: (Suggested Scent Combinations)





(Giggle Water + High Hat) (Jazz + High Hat) (Jazz + High Hat + Bootleg)
(Gold Digger + Heavy Sugar) (Flapper + Bootleg) (Flapper + Heavy Sugar)
(Speak Easy + Gold Digger + Heavy Sugar) (Dapper + High Hat + Bootleg) (Dapper + Heavy Sugar) (Lil' Nico + Heavy Sugar) (Lil' Nico + Bootleg)
So New!!!… Retailer TBA
– Michelyn Camen, Editor-in-Chief