Dr. Ellen Covey, the founder and perfumer of Olympic Orchids Artisan Perfumes, launches two new fragrances – Ballets Rouges and Salamanca. Both have been over a year in the making.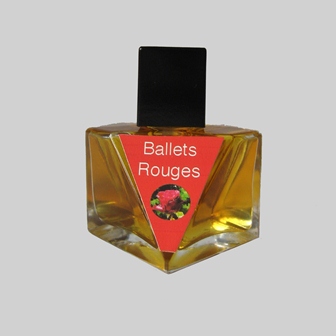 BALLETS ROUGES: a classic chypre with a rose theme. According to Ms.Covey, it originally was intended to be an exercise in making a vintage-type chypre, but was so well received by all those who smelled it that she decided to add it to her line. It will take its place next to Olympic Amber, Fleurs de Glace, and Kyphi as one of the "Perfumer's Perfumes" series, a line of fragrances that are classical or highly experimental in nature.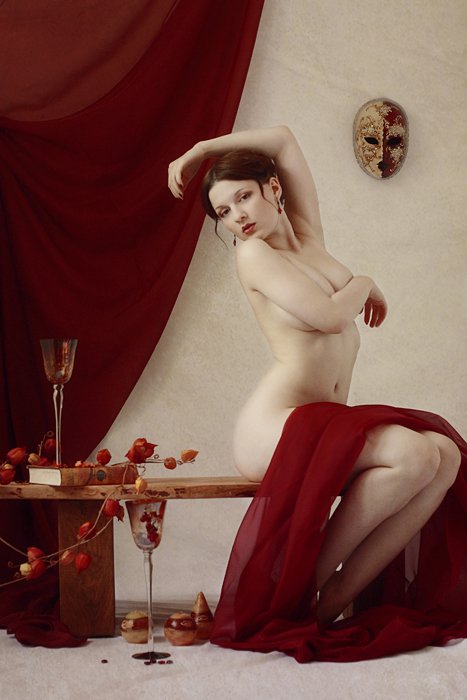 Ballets Rouges has the classic chypre skeleton of oakmoss, musk, patchouli, floral notes, aldehydes, and bergamot. However, the end result is a classic chypre with the modern touch of contemporary musks rather than the traditional ones. Because labdanum is one of Ellen's favorite materials, there's a generous amount of that in the base. For the rose, she created her own synthetic rose accord to evoke an old-fashioned garden rose in full bloom, and used that for the floral heart along with rose de mai absolute and ylang-ylang, a note that's often present in vintage chypres. Red thyme and red mandarin add novel top notes. Ellen used a high percentage of naturals in this composition, including real oakmoss. The oakmoss is the low-atranol version, which is IFRA-compliant but retains its full fragrance profile.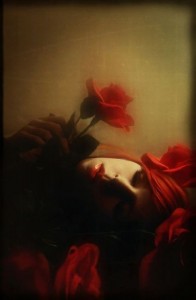 Ballets Rouges is for all those who have been craving a full-bodied, updated vintage-type rose perfume complete with natural oakmoss. It's a thickly layered, jewel-colored perfume in the grand style, far removed from the shy, transparent, pastel-shaded fragrances that often pass for chypres these days.
Ballets Rouges : $15 for the 5 ml spray, $25 for the 15 ml screw-top bottle (both parfum concentration), and $40 for the 30 ml EdP spray.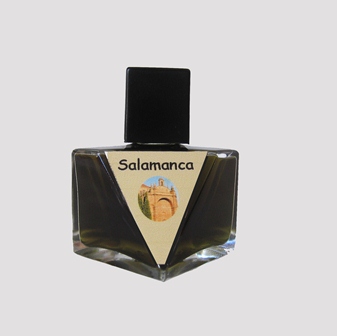 SALAMANCA: As a world traveler, Ellen Covey has spent a considerable amount of time in Salamanca, a Spanish university town halfway between Madrid and the Portuguese border. Salamanca is situated smack in the middle of the Castillian plateau, high enough in altitude to be cold in winter, but hot and dry in summer. The town has been standing for thousands of years, boasting a Roman bridge and many stone buildings that date back to medieval times. Salamanca is an island of culture in the middle of "charro" (cowboy) country, the part of Spain where bulls are raised for the ring, and acorn-fed pigs are raised for the famous air-cured jamon (ham). The countryside looks a bit like the African savannah.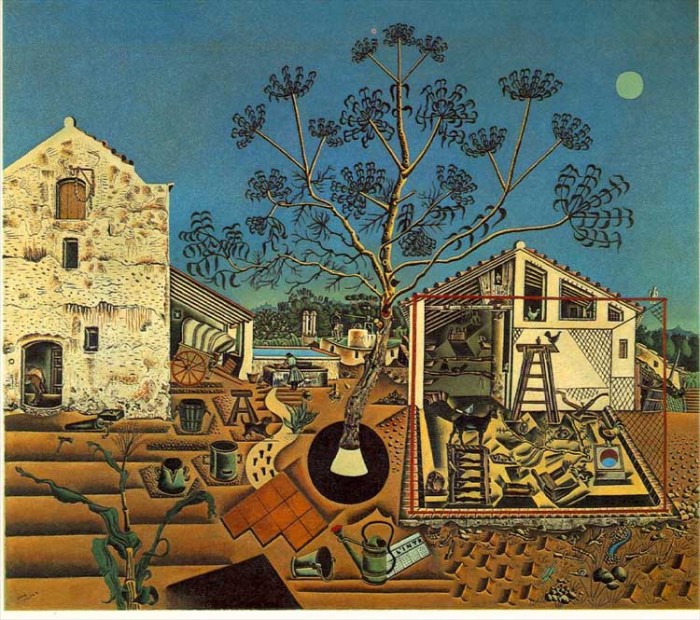 Painting by Joan Miro
"My most vivid impressions of Salamanca are during the peak of the summer, when the vegetation in the surrounding fields and the vacant spaces in town has turned dry and tawny-brown, and the stone buildings seem to hunker down and bake in the sun". To capture this dusty, minerally atmosphere of dry grass and weeds, old stone buildings and the leather goods sold in the shops on the Rua Mayor, she used a base of French hay absolute along with tonka, mitti (an attar made in India by distilling the scent of clay), vetiver, immortelle absolute, African helichrysum oil, labdanum absolute, opoponax, a leather accord that she created especially for use in this fragrance, and a touch of yellow mimosa absolute, which lends a subtle floral quality that perfectly complements the leather.
Salamanca is for all lovers of leather, hay, hot sun beating on dry grass, and water evaporating from wet stones by the trickling river. Most of all, it's for those who love old stone cities and wide-open spaces basking under a crystalline blue sky
Salamanca: $ 20 for the 5 ml spray, $35 for the 15 ml screw-top bottle (both parfum concentration), and $50 for the 30 ml EdP spray.
Art Direction: Michelyn Camen, Editor in Chief
Editor's Note: Dr. Ellen Covey, who lives in Seattle, Washington has appeared in our American perfumer series. If you missed her Profile in American Perfumery click here To read Guest Contributor Harper Hilton's review of Arizona, Golden Cattleya, and Guerjat click here. Sr. Editor Tama Blough reviewed Siam Proun, Kingston Ferry and Olympic Rain Forest click here. Siam Proun was named "Best Fragrance You've Never Heard Of" for 2011
We have the pleasure of offering one lucky winner a 15 ml. bottle of perfume of their choice of one of these scents. To be eligible please leave a comment on which one you prefer and why by March 26, 2012.
We announce draw winners only on site and on our Facebook page, so
Like Cafleurebon
and use our RSS option…or your dream prize will be just spilt perfume