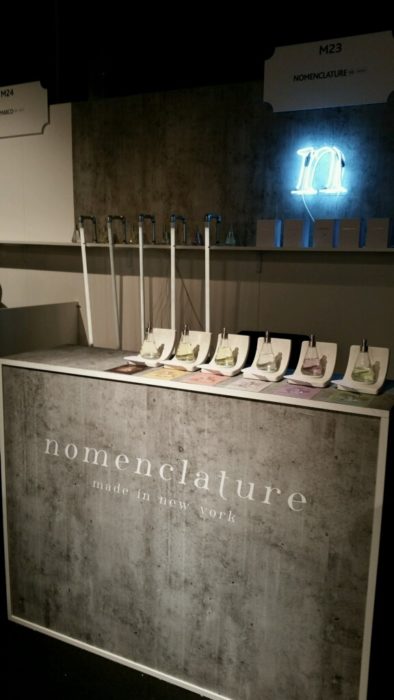 Photo of the nomenclature booth at Esxence 2017 (photo by Michelyn)
In an interview I conducted with Bertrand Duchaufour in 2010, he spoke of his fascination with Japanese culture. In his new fragrance shi_sõ, for Creative Directors Carlos Quinto and Karl Bradl of Nomenclature, the "king of niche" perfumer looked once again to Japan for the brand's sixth neo- synthetic fragrance (following Lumen,_esce, composed by Frank Voelkl).
According to Nomenclature, "Though fragrance chemistry can't yet say "green" in quite as many ways as Nature, today its variegated palette goes far beyond "grass" or "Granny Smith". shi_sõ centers around the Givaudan molecule Glycolierral®, a herbaceous capture of the cool scent of crushed ivy leaf (lierre means ivy in French)."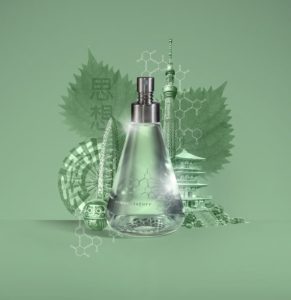 nomenclature shi_sõ
Even the name has a hint of Bertrand Duchaufour's fascination with duality: Say it with a long "o" – Shisõ – and in Japanese, it means "modern thought". With a short "o", it symbolizes the uniquely complex flavor of the shiso leaf, an iconic herb in Japanese cuisine, seldom featured in fragrance. Its unique aroma is a blend of mint, basil and cumin with a metallic flash has long fascinated Bertrand Duchaufour. In shi_sõ, he spins it into an arrestingly modern take on a classic genre, the eau de Cologne, replacing citrus with a kaleidoscope of green notes, the bite of cardamom, a sprig of cool spearmint the lemony scent of verbena. Rasping blackcurrant, almond toned anise and the tartness of rhubarb; Glycolierral® wraps the bracing blend in a sweet, milky, sap-laden effect.
Notes: GLYCOLIERRAL® GREEN, SHISO, IVY LEAF, CARDAMOM, SPEARMINT, VERBENA, BLACKCURRANT
Via press release Nomenclature and my own synopsis; shi_sõ debuted at Esxcence 2017.
-Michelyn Camen, Editor-in-Chief
Available in store July 2017