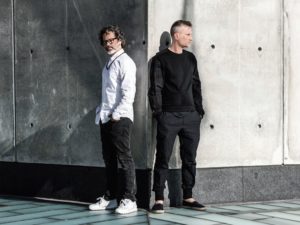 Karl Bradl and Carlos Quintero of Nomenclature
Creative Directors Karl Bradl and Carlos Quintero of Nomenclature launched four fragrances last year, in collaboration with Patricia Choux of MANE and Frank Voelkl of Firmenich; each built upon a complex proprietary modern synthetic molecule.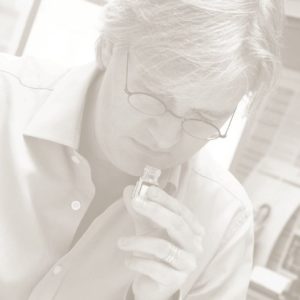 Frank Voekl (photo Nomenclature)
The fifth fragrance lumen_esce (named after the lumen, the unit of measurement of light) was composed by Frank Voelkl and spotlights Violettyne®, which was patented in 2000 by Firmenich.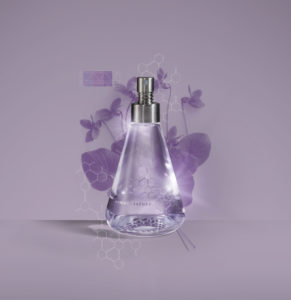 Nomenclature lumen_esce
One of the one of the earliest triumphs of fragrance chemistry that captures the scent of violets, are ionones and ever since, these synthetic molecules have been a pillar of perfumery. Violettyne is the 21st century's answer to "their wistful, powdery fragrance: a hyper realistic bright violet with a metallic vibration, edged in fluorescent green. Associated for millennia with the most elevated states, violet is also the highest frequency of visible light. In lumen_esce, Frank Voelkl plays on both meanings of the word, expressing the color's radiance by exploring the full spectrum of the flower's scent. Boosted by a cool-as-cucumber essence of violet leaves, the sizzling Violettyne® shoots high-voltage current from bloom to roots. Petals aquiver, the flower scatters scented powder on a springtime posy (freesia, jasmine, iris and rose). Patchouli Prisma, a high-tech natural ingredient distilled and reassembled to enhance its woody warmth (Frank often uses violet leaves and woody accords in his most memorable fragrances; I can always tell his signature), sheds black light on the radiant bouquet.
\VIOLETTYNE®, VIOLET LEAVES, FREESIA,JASMIN SAMBAC, BULGARIAN ROSE,BERGAMOT, PATCHOULI PRISMA
Via press release Nomenclature and my own synopsis
Note: Karl and Carlos was the recipient of CaFleureBon's Best of Scent: 2015 for Creative Direction.
Available February 14, 2017,100 ml/$165 preorder here
Michelyn Camen, Editor in Chief