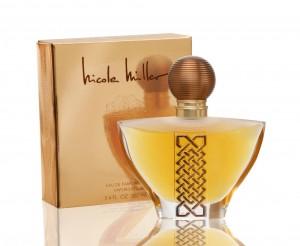 For the "fashionista" perfumista who loves to make a grand entrance, Nicole Miller, the renowned runway designer, will debut her eponymous scent at Saks Fifth Avenue on April 25th, 2010
Halle Berry, Beyonce, Angelina Jolie,Angelica Huston, Alicia Keys,and Kim Cattrell are just a few of the bold face names of all ages and backgrounds who wear Nicole Miller's sexy sculptural designs. These women are smart, confident and damn sexy…as is the fragrance.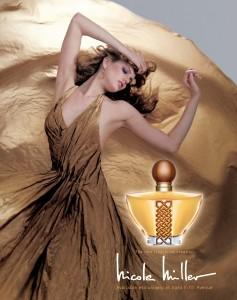 If you stalk the catwalk, you know that too many times the fragrance bearing a designer's name usually doesn't measure up; the prices are haute, the scent falls short of expectations.
Nicole Miller is not for those looking to play it safe this Spring; the fragrance doesn't follow the industry's clean, green or citrus trend. Ok, it's not the most original fragrance I have tried and I have no idea what a cassis sorbet note is, but Nicole Miller proves a fragrance can have swagger and sillage at a reasonable price.The drydown of amber and oakmoss differentiates it from comparably priced fare, usually fruity floral clones.
Parluxe is the manufacturer and distributor, who surprised us in 2009 with their more than respectable feminines last year –Queen and Natori.
Top notes: cassis sorbet, orange and aldehydes.
Heart Notes: yellow gardenia, orange flower, ylang ylang, orange flowers and violet leaves.
Base Notes: Black patchouli, oakmoss, white cedarwood and amber.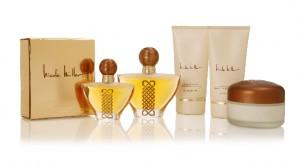 The new Nicole Miller Fragrance Collection includes: eau de parfum spray, 1.7 fl. oz. ($65), 3.4 fl. oz. ($80), 5 fl. oz Shower Creme ($35), 5 fl. oz. Body Lotion ($45) and 6.7 fl. oz Body Creme ($60) will be available exclusively at Saks Fifth Avenue and Nicole Miller boutique.