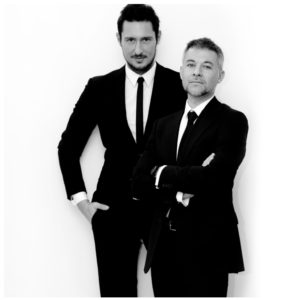 Creative Directors Riccardo Tedeschi and Alessandro Brun(R) of Masque Milano
The highly acclaimed Italian House, Masque Milano founded by Alessandro Brun and Riccardo Tedeschi, whose perfumes are scent operas will launch two fragrances at Esxence-The Scent of Excellence.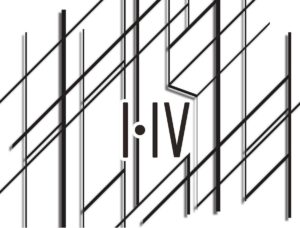 Teaser for Times Square
I.IV – TIMES SQUARE
New York stinks.
It stinks of cheap harsh tobacco and dense exhaust gas.
The traffic jam seems endless.
And stinks of hot rubber and stale steam.
People are weird. The fashionista lady with the glowing-green stilettos orders a huge pretzel.
And stinks of lurid street-food of any sort. Cinnamon and fries. Mustard and caramel.
The cherry of the whore's bloody-red lipstick melts with the strawberry of her chewing-gum.
The side alleys are just garbage and urine.
But find your way through the crowd of bachelorettes waiting for the male-strip show, and it will be a flood of tuberose and carnation.
I feel like having a walk tonight.
Go get my crab cakes and a burger. And breathe the city miasmas while reaching the place.
Oh I love this city. How do I love it.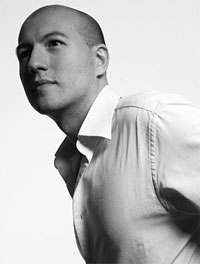 Bruno Jovanovic
Alessandro Brun writes, "Times Square is a fragrance trying to depict the smellscape of Manhattan (Broadway/Times Square) in the 90's. Neon lights, street food, rubber of hot tires, whores with their red-glossy-lipstick and "slutty" fragrances. As you can imagine, finding the right nose was quite a demanding job. You see, it has been years we had been admiring Bruno Jovanovic for what he did with Abercrombie & Fitch (Fierce). That fragrance marked a new era of olfactorial marketing. When Bruno started working with Frederic Malle, we were afraid he would become a super-star and chances to work with him would completely vanish. Fortunately, one year ago we approached him with this collaboration, which he enthusiastically accepted. Creating Times Square was yet another massive endeavour, but Bruno is not only uber-talented, he and his team are so professional. The collaboration "cost" us a couple more trips to IFF in NYC, but also we found that working at a distance is effective. The IFF team brought us to their greenhouse in New Jersey, where they did some headspaces for us (including the Headspace of Central Park's flowers!). The final result is exactly how we imagined it. A fragrance so rich and faceted, certainly it could prove not easy to wear to somebody – as in many other of our "daring" compositions – but really exciting to experience".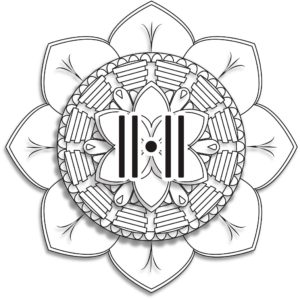 Teaser for Mandala
II.I MANDALA
The whole universe
Light, rarefied air. Utter silence.
Cows lazily lying on the grass stare at you, while you start spinning the prayer wheels.
From the monastery comes the monks' overtone singing – two notes chanting in perfect, peaceful harmony.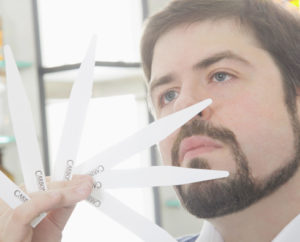 Christian Carbonnel
"An oriental fragrance inspired by a Tibetan monastery, and a special singing technique of monks call overtone singing. Two notes singing at the same time. We wanted to develop a fragrance which smelled like deep incense and myrrh, and concurrently of fresh light mountain air. The nose behind the composition is Christian Carbonnel, a friend of ours for many years, an expert in creating oriental fragrances and with a lab loaded with incredible natural materials. We worked with Christian for quite a long time on this composition. Mandala is elegant and refined, yet spiritual. We love its airy opening, which immediately introduces very differentiated notes: floral, herbal, spices and woods. From the one hand it is very pleasant, at the same time it hints about the richness of the composition .-Alessandro Brun and Riccardo Tedeschi
Meet Alessandro and Riccardo at Booth No 42 March 32-26.
Via Alessandro Brun
–Michelyn Camen, Editor-In-Chief (who has lived in NYC most of her life)