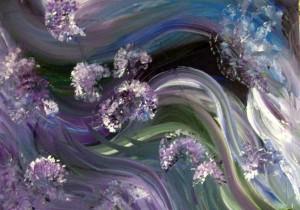 Dabney Rose's all natural perfumes are delicate and charming, always giving me a sense of the divine feminine, a gentle seduction with her softly blended flowers spices and resins.
Windspeed is a new liquid perfume reminiscent of Dabney's limited edition La Femme Biker with its touch of chrome and leather but with a more full bodied floral bouquet over a real ambergris base. Windspeed is unabashedly feminine. It starts of mouthwateringly fruity and gently dries down through layers of flowers to an ambergris/light leather/tobacco finale.
Dabney's new solid perfume Leda (the name inspired from the Greek mythological story of the Leda and the swan) is a bright floral spice with a nice kick of clove dancing between jasmine absolute, ylang ylang , African marigold, lemon verbena, mimosa and Egyptian cassie flowers.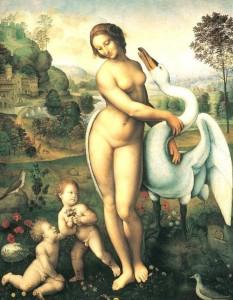 If I were as lovely as a swan I would glide across the lake to you
I would preen my feathers just right
And anoint myself with Leda's Perfume
Redolent of flowers and spice
Demurely I would bow my head
And beckon you with shy eyes
To twine your swan neck around mine
But alas I am only an ugly duckling
And I am too shy to swim across the water to my Swan King
I will have to wait to grow into my feathers and hope
…perhaps the scent of my perfume will waft far enough to reach you?
sillage: gentle
longevity: gentle
natural or blended: natural
worth the risk to buy unsniffed: Yes. both/either Leda and Windspeed
http://www.dabney-rose.com/perfume.htm
blowing in the wind painting from http://www.bonnielanz.com/wp-content/uploads/2008/02/blowing-in-the-wind.JPG
Leda and the Swan http://www.abm-enterprises.net/leda-swan-da-vinci-student.jpg
Leave a comment for this post and you are entered to win the fragrance of your choice – either a Leda Perfume Solid or a Windspeed Liquid perfume. Please specify. Draw ends November 5, 2010 at 11:59 pm.
-Monica "Skye" Miller, Natural Perfume & Senior Editor