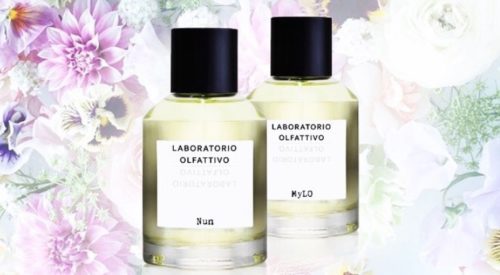 Laboratorio Olfattivo is one of those under the radar artistic perfumeries that always has my attention when they announce a new release. Founded by Roberto Drago in 2009 and based outside Rome, the brand essentially, as the name suggests functions as a laboratory for olfactory work. 'It is an artistic workshop in constant ferment, energised by perfume artists who work in total freedom, without any constraints on their creativity'…Patchouliful and Kashnoir are two favorites; both created by Cecile Zarokian. Sgr Drago announced the debut of a thematic collection of fragrances: "Laboratorio in Fiore", inspired by flowers that connote the sun. The first two fragrances, Nun and MyLO, are created in collaboration with Luca Maffei of Atelier Fragranze Milano.
Nun Eau de Parfum 100 ml – Concentration 15%
The word is from the Ancient Egyptian and mean the primordial water, and the god Nun. According to the legend, this water gave birth to the Lotus, a flower which hid during the night, and blossomed in the morning when the sun shone, revealing the Sun god Atum.. the Sun god, of rebirth.
Notes: Citrus, Pear, Lotus, Jasmine, Ylang-Ylang. Woods, Amber and Musk
MyLO
Eau de Parfum 100 ml – Concentration 15%
Inspired by the white Lily and a play on the company's name: My fragrance, My Laboratorio Olfattivo…MyLO.
Notes: White Lily, Iris, Jasmine, Rose, Benzoin, Vanilla, White Amber and Musk.
Via Laboratorio Olfactivvo
Michelyn Camen, Editor in Chief