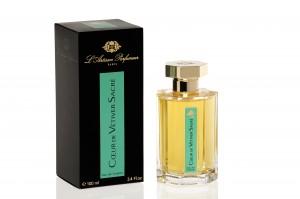 L'Artisan Parfumeur is adding a new fragrance for Fall, COEUR DE VÉTIVER SACRÉ. After two years of collaboration with Bertrand Duchaufour, the House has chosen perfumer, Karine Vinchon as the nose for an exploration of the many facets of vetiver; the fragrance is inspired by Western culture's fascination with the Occidental.
According to the press release, Ms. Vinchon create a different and sensual vetiver; its sparkle is magnified by bergamot black tea and hints of date and dried fruits. Its peppery side is enhanced by saffron, ginger and pink berries. Its vibrant and smoky heart is strengthened by slights notes of vanilla, incense and musks".
CŒUR DE VÉTIVER SACRÉ will launch in September 2010 and be exclusive to Barney's New York.
– Michelyn Camen, Editor-In-Chief
Editor's note: Bertrand Duchaufour returns with a new fragrance, in late Fall, a heady oriental inspired by his travels to Istanbul called "Traversée du Bosphore"