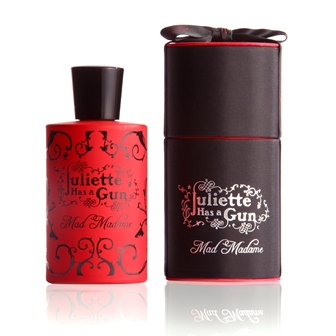 OMG, WHO THE HELL IS SHE?
LOOK AT HER!
HEARD SHE'S COMPLETELY MAD…
"She fascinates, entertains, provokes. And no one is left indifferent. While the whispers gather in her wake, so does the sensual trail of an aphrodisiac perfume… A green chypre fragrance revolving around the metallic Rose Oxyde, the Blackcurrant bud Absolute, and the woody-modern Ambroxan."
THE COMPOSITION
TOP: Rose Oxyde, 15g; Ambroxane, 15g; Blackcurrant Bud absolute, 15g, Freesia accord, 8g.
HEART: Peony accord, 4g, Patchouli essence, 12g, Tuberose absolute, 8g, Sylvester moss, 3g, Hedione, 3g
BASE: White Musk, 8g, Tolu balm absolute, 2g, Vanilla absolute, 2g, Castoreum absolute, 2g, Animalys absolute, 3g
"For this new episode I wanted to pay tribute to a woman who dares. A woman slightly more mature than the previous episodes, but by no means better behaved! Mad Madame has this touch of craziness, which she is happily displaying. Endowed with a sense of provocation, she enjoys being looked at and igniting conversations. As Oscar Wilde once said, 'The only thing worse than being talked about is not being talked about.' -Romano Ricci, Juliette has a Gun
via press release