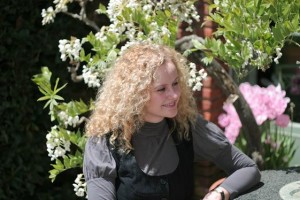 When one of our favorite American niche perfumers collaborates with Anthropologie we know it will ca fleure bon. What brought them together? It was their mutual passion for perfume, art, design, travel and literature. The collection was inspired by Ineke's garden, and captures the essence of rare botanicals. And details matter; from the unique character of the flowers represented to through the artistically rendered flacon and packaging -cylindrical glass bottles enclosed in boxes decorated by prose in hand-drawn calligraphy
The Fragrances: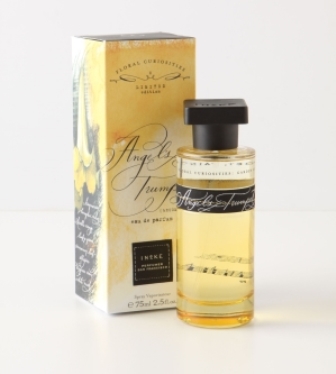 Angel's Trumpet (Brugmansia) Rich and Opulent
Angel's Trumpet opens with refreshing notes of honeydew melon, Seville orange and leafy greens. The fragrance is then warmed by cinnamon leaf and allspice and supported by Virginia cedar and white musk.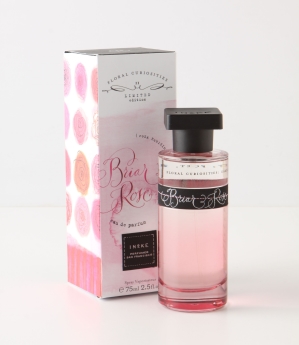 Briar Rose (Rosa rubiginosa) Fruity and Powdery
Dark accents inspired by twisted thorns characterize Briar Rose. Black raspberry, bitter almond, exotic spices, black violet, patchouli and cacao absolute come together to form a unique fragrance.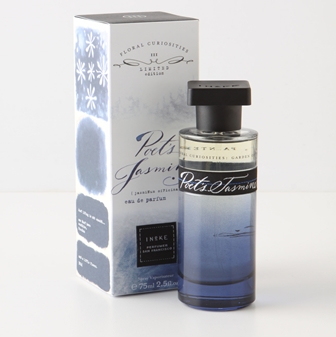 Poet's Jasmine (Jasminum officinale) Citrus and Herbal
A fragrance inspired by Poet's Jasmine tea, replete with slices of citrus fruit. Added points of interest include star anise, rosemary, absinthe, frankincense, cardamom, hinoki wood and guaiac wood.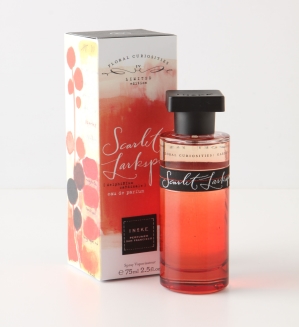 Scarlet Larkspur (Delphinium cardinale) Floral Oriental
The scent deepens with notes of claret wine, nutmeg, saffron, amyris wood, tonka bean and bourbon vanilla after a bright fruity opening consisting of blood orange, red currant and morello cherry
Eau de parfum spray vaporizer, 2.5 fl. oz., $68
Only at Anthropologie and available in August 2011
Please leave a comment to show this venture some love!!!! Which fragrance would like to try. Mark Behnke AND Ida Meister will review soon
–Michelyn Camen, Editor-in-Chief