Iris Ukiyoé, is the ninth fragrance in the Hermessence collection, and is a symbolic view of another raw material, this time Iris, of Jean-Claude Ellena's distinctive interpretation of a raw material.
Conceived by Jean-Claude Ellena as a divertimento on the theme of iris, Iris Ukiyoé is not another classic evocation of a soliflore. Composed in the same way as a Japanese bouquet, full of nuances and paradoxes, Iris Ukiyoé reveals a world of petals with unsuspected tonalities. Somewhere between roses and orange blossom, underscored by the sharp exuberance of mandarin, it is characterized by a lasting presence that is as light as it is enveloping .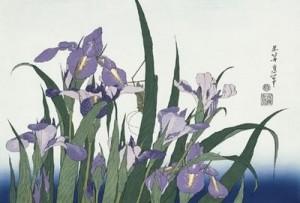 Hokusai
"I collect prints and have a mental picture of irises in the 'floating world' (the ukiyoé in Japanese) in the works of Hokusai or Hiroshige. They inspired me when I was writing this divertimento based on floral iris. I felt like foiling the classic approach to iris by working on the flower's fragrances which are virtually unknown. The perfume is delicate but very much there, shifting between roses, orange blossom and mandarin, all expressed by small, impressionistic touches."
With Iris Ukiyoé, M. Ellena sought to capture olfactory sensations, " the almost cold effect of roses, the delicate voluptuousness of orange blossom, the moist vegetable quality of petals punctuated by mandarin zest… In order to express that floral ambiguity hovering between presence and fragility, between discretion and generosity, I worked using small impressionistic touches. It was by juxtaposing these facets that the fragrance assumed its identity."
–Michelyn Camen, Editor-in-Chief
Editor's Note: Mark Behnke will be reviewing Iris Ukiyoé soon; it will debut at retail in late November. As with all Hermessences they can be purchased only at the Hermes boutiques.