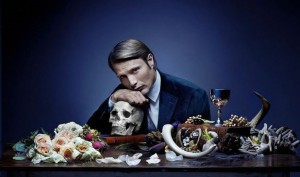 One of the movies that still gives me nightmares is Jonathan Demme's Silence of The Lambs, starring Anthony Hopkins and Jodi Foster. There is a line from the movie that I always remember about perfume…Hannibal Lecter says to FBI trainee Clarice Starling; "You use Evyan creme and sometimes you wear L'Air du Temps, but not today."
Lecter's keen sense of smell and epicurean tastes will be turned into an eponymous perfume. NBC and Gaumont Intl are partnering with Evolution, a global branding firm to license the popular TV series Hannibal Lector (starring Mads Mikkelsen) in a number of "lifestyle" categories. With past episodes named Sorbet. Apertif, Entree, and Amuse Bouche, the possibilites for gourmands are endless.
Perfect for Mother's Day… No wait that's Bates Motel.
source-Hollywood Reporter
Why is a cannibal / serial killer being turned into a 'lifestyle brand' anyway? Interesting choice of words. If any of the fragrances list fava beans and chianti notes as ingredients …
-Michelyn Camen, Editor in Chief