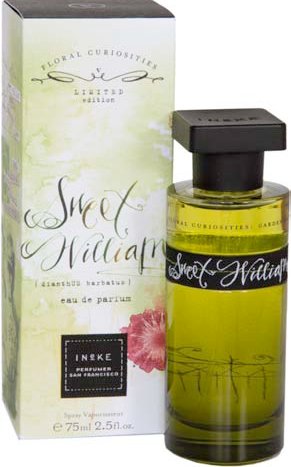 A mutual passion for scent, botanicals and art brought Anthropologie and Ineke Ruhland together to create the Floral Curiosities limited edition line of fragrances in 2011 – Angel's Trumpet, Poet's Jasmine and Scarlet Larkspur, each inspired by scented flowers grown in Ineke's garden. Each of our editors have a favorite; what we loved? All were affordable, accessible and beautifully constructed. For 2012, Sweet William Eau de Parfum, will be the newest addition to the Floral Curiosities fragrance collection created in partnership with Anthropologie.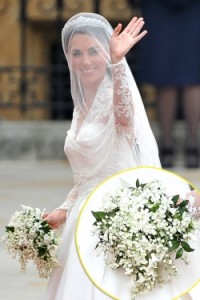 So what's in a name? Kate Middleton included it in her bridal bouquet, presumably for both the lovely scent and for the name (in the language of flowers sweet william flowers are equated with gallantry). Sweet William (Dianthus barbatus) is a clove-scented, fringed flower that is often bicolored in white/pink/red tones or in white.
Sweet William is a soliflore fragrance with dominant wood notes including cedarwood, sandalwood and patchouli . The Sweet William floralcy opens with peach and then is further warmed with cinnamon, clove and cumin essential oils.
Available exclusively at Anthropologie stores starting in October 2012. The collection also is available in travel sizes, just in case a Prince sweeps you off your feet and have to dash.
Eau de Parfum, 2.5 fl. oz., $68
Botanist's Travel Spray EdP, 0.5 fl. oz., $28
–Michelyn Camen, Editor In Chief