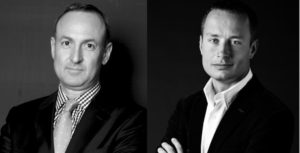 Chandler Burr and Etienne de Swardt of Etat Libre D'Orange
What does a L.A. woman smell like? In 2009, perfume critic and author Chandler Burr wrote a novel, "You or Someone Like You",whose female protagonist is the muse for a new fragrance from Etat Libre D'Orange. Chandler Burr is the Creative Director and the perfumer is Caroline Sabas.
According to Mr. Burr: "A few years ago I wrote a novel called You Or Someone Like You set in Los Angeles. Its central character is a woman, Anne Rosenbaum, who lives in the Hollywood Hills with her husband, Howard, a movie studio executive. Like so many of the homes up in the fantastical curves and canyons of the Hills, they they look down on LA's downtown skyscrapers and the concrete ribbon of the 101 freeway, across mid- Wilshire and Robertson, the glass towers of Century City, and, on clear days, over the 405 to Santa Monica and the placid, blue Pacific. And always the palm trees, imported and planted in LA in the early 20th century, 'just as I am an import', Anne observes, 'now indigenous.' Anne is English, born in Hammermith, London. He continues, "As many have observed, Los Angeles is not a city. It is a state of mind. A strange amalgam of places and languages. Los Angeles is rivers of cement highways and infinite strips of asphalt, traffic, and, despite or because of it all, one of the most breathtakingly beautiful places on earth, a natural beauty made by nature and molded by people, cobalt sky and the greens and tans of the desert parks, ocean fog, the white and delicate pale yellow jasmine and honeysuckle flowers that grow up parking signs reading 'Permit Parking Only Violators Will Be Towed…This scent is very specific. When Etienne de Swardt approached me about creative directing a fragrance whose "You Or Someone Like You is not the 'scent of LA' or 'the smell of the Hollywood Hills captured.' It is not one of those olfactory synecdoches. It is, on the other hand, stylistically and in its technical construction what a Los Angeles woman would wear in my view. Caroline and I discussed this at each step during the creation process. It is contemporary, 21st century. It is LA, whatever that means, though in part it means the norms a scent would follow in a meeting at one of the agencies near Wilshire, at a studio, at a lunch in Bel Air or dinner off Beverly Drive. (The raw materials are completely irrelevant. The work is the work. If you need to know what it's made of, don't wear it; You is not for you)."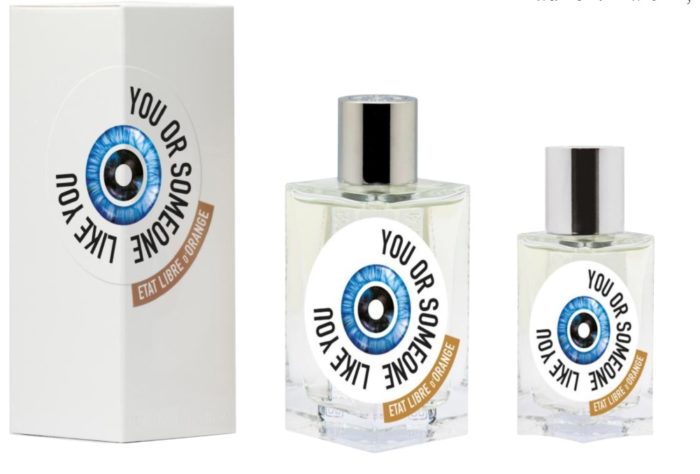 Via Etat Libre D'Orange
Parfum Natural Spray 50 ml 85 €
Eau de Parfum Natural Spray 100 ml 125 €
Available March 1, 2017