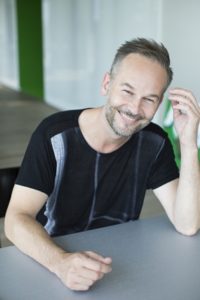 Geza Schoen
With so many of neo-synthetic molecules central to fragrances over the last two or three years, let's not forget that it was Geza Schoen, in 2006, who launched what was then a revolutionary concept. Escentric 01 and Molecule 01 used the synthetic Iso E Super as the only ingredient in one fragrance and in huge amounts in the other. I recommended a colleague to help with the publicity for Luckyscent; the initial reaction was bafflement. It wasn't until about a year or so later that Molecule 01 started its trajectory to "cult fragrance". In 2014, CafleureBon included Molecule 01 in our Modern Masterpieces series. Escentric Molecules fragrances are launched in binary pairs that focus on a specific aroma-molecule. The Molecule fragrance in each pair contains nothing but the molecule pure and simple. The Escentric fragrance in each pair refracts the aroma-molecule through the prism of other ingredients to bring out its key qualities.
In 2010, I asked "Escentric 01 series, 02 series, and 03 series each feature two complimentary fragrances. How is an Escentric fragrance different from its Molecule counterpart? His answer: "That's easy. All molecules in their singularity are made to fit for those who like the idea of a beautiful odor or scent rather more than to wear a complex perfume. mol01 has proven to become an incredibly magnetic potion you will get stopped on the street for. For those who do like a fuller impression within their idea of a perfume we do have the Escentrics which feature the molecule with a strong presence in it, surrounded by other ingredients to amalgamate with the star raw material to form a unique creation". As for its cult status with celebrities and perfumistas, he told me, "Well I kind of knew that the response would be positive, not to extent though, that we are experiencing now. its good we have great original perfumes on the market which smell different to the other; look at Mark Buxton's CDG2, Bertrand Duchaufour's Dune, Michel Almairac's Fahrenheit, Jean Claude Ellena's Eau Parfumee Au The Vert, Sophia Grosjman's Eternity to name only a few. All totally different in style but all ultimately original and that simply works all for the durability of a fragrance".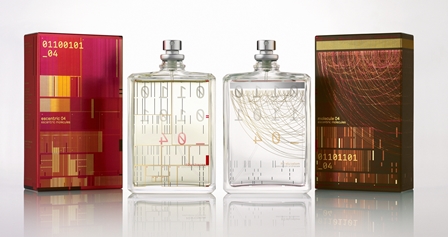 Escentric 04: Molecule 04 and Escentric 04
In 2017, the fourth paring in the series, uses the synthetic JAVANOL©. (02 was Ambroxan, 03 was vetiveryle acetate).
"What I love about Javanol is its almost psychedelic freshness. It smells as if liquid metal grapefruit peel were poured over a bed of velvety cream colored roses. In Escentric 04 Schoen takes the grapefruit note in Javanol and revs it to hypermodern freshness." – Geza Schoen.
Molecule 04: Contains nothing other than Javanol, a sandalwood molecule that radiates futuristic freshness with a metallic grapefruit edge. Javanol was created from a natural substance in a laboratory at Givaudan in 2001.
Escentric 04: For Escentric 04, Schoen took inspiration from the grapefruit accents in Javanol. The result is a uniquely fresh interpretation of a sandalwood fragrance, fizzing with crisp, bitter top notes of pink grapefruit peel. Juniper and pink pepper give an extra shot of freshness, and marijuana brings out the softer quality of the grapefruit pith. The heart is orris with a 'fresh soft rose' that Geza composed from four different rose materials. The dry down is balsamic and woody with Javanol in combination with the somewhat sweeter sandalwood molecule, Polysantol. Geza states, "In the other Escentric fragrances I used a huge amount of the hero molecule. But Javanol is like truffles. A few slices of truffle shaved on top of your pasta are enough to transport you to heaven."
Escentric 04 and Molecule 04 are sold separately.EDT: 100 ml ($150) & 30 ml ($85) portable travel size. Availablefrom Barney's & Lucky Scent April 2017 www.escentric.com
Via press release and my own synopsis
–Michelyn Camen, Editor-in-Chief