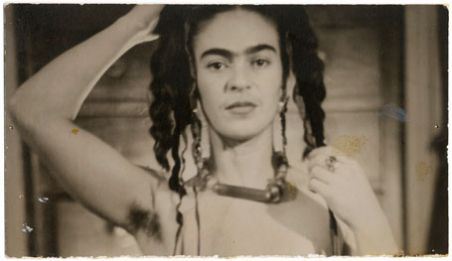 Frida Khalo by Julien Levy 1938
I first learned of Mexican Artist and Style icon Frida Kahlo, when I followed Michelyn's Face Book wall where she posts photos of Frida each Friday. I wanted to know more about her. Charismatic and unforgettable, Frida Khalo's unique beauty and style has been part of pop culture for over 50 yrs. Moreover, she was an indisputably talented Artist.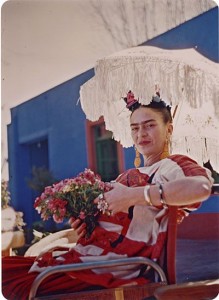 Frida Khalo on the Patio of Casa Azul Photo Florence Arquin
Frida Khalo became my muse, thus inspiring me to compose a perfume to celebrate this remarkable woman, her art and her Mexican heritage, from top to bottom notes.
Frida's Early Years and Living with Pain
Frida Kahlo Age 19 after her near fatal accident (Photographer Guillermo Kahlo 1946)
Artist Frida Kahlo was born Magdalena Carmen Frieda Kahlo y Calderón on July 6, 1907, in Coyocoán, Mexico City and lived at her parent's home, the now famous Casa Azul, and it was her residence until her death (officially of complications from pneumonia, but there is evidence that she took an overdose of painkillers) at age 47, July 13 1954. This was where she lived during her childhood polio and where she recovered from a near-fatal streetcar accident as a teenager, an event that left her body permanently broken. Frida would face a lifetime of operations and miscarriages – even an amputation.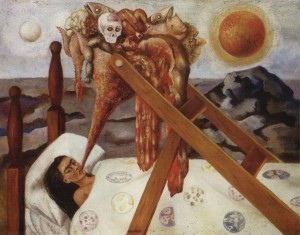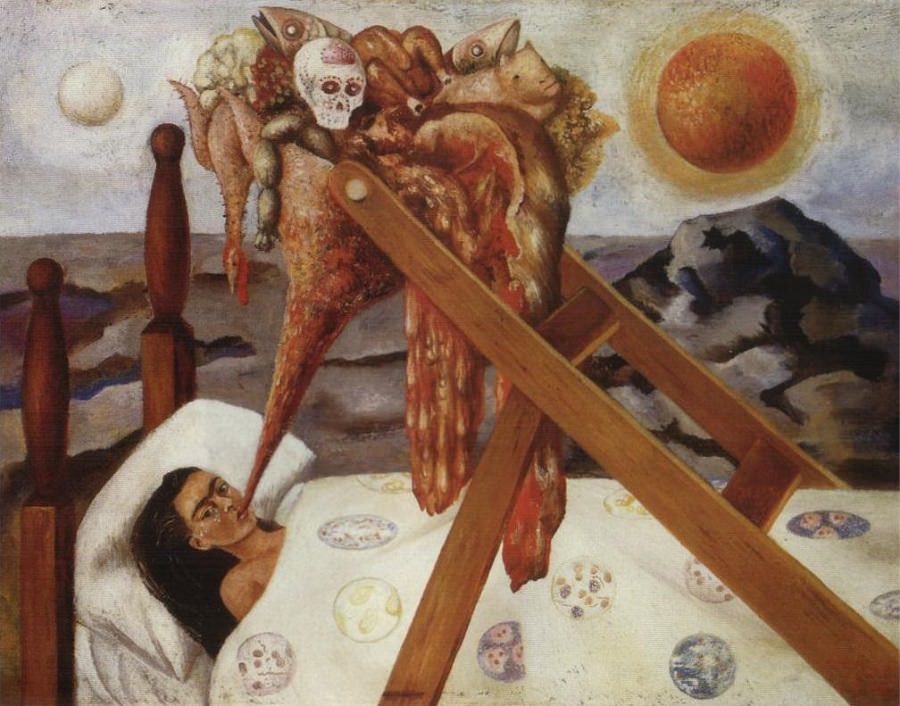 Frida Khalo The Last Judgement
She would suffer months on end of living in a body cast, using a wheelchair, and having to paint from a lying position in her bed. Many of her paintings would be bloody and disturbing.
"I am not sick. I am broken. But I am happy as long as I can paint." Frida Kahlo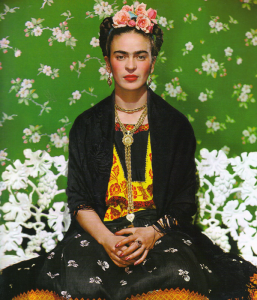 Nickolas Muray, Frida on White Bench (1938)
In composing a perfume that would pay homage to her life, I immediately decided on using tuberose, a flower that the Aztecs called the Boneflower. A beautiful native of Mexico, like Frida; a fitting homage to Frida's broken bones.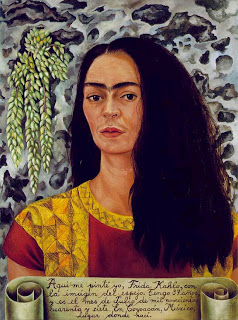 Self-Portrait With Loose Hair 1947
I also considered the hibiscus that she wore in her hair; the tropical blossoms, lush greenery, agave, fruits and kitchen herbs of Frida's garden. I think of heat, of earth, of the smells of Frida's heavy hair and the sweat of her body. I also think of Frida's blood, and of her ever-present casts and bandages.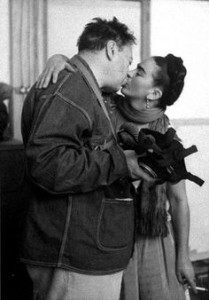 Mexican Painter Diego Rivera and Frida Khalo were married twice -Nicklaus Murray
Frida and Diego Rivera
One cannot tell her story without including Frida Khalo's tumultuous and deeply passionate open marriage to the famous Mexican muralist Diego Rivera.
"There have been two great accidents in my life. One was the trolley, and the other was Diego. Diego was by far the worst."
Frida with Jaquelin Lamba
Diego had other lovers, yet always returned to Frida. They divorced briefly, and then remarried. Frida also had multiple love affairs.
"Take a lover who looks at you like maybe you are a bourbon biscuit."
Considering her sensual side I used sexual and animalic notes.
Frida "The Bad Ass"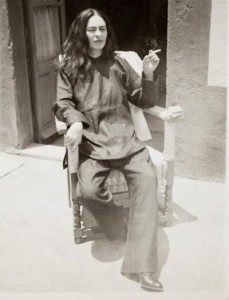 Frida Khalo Antonio Khalo photographer
Frida broke the rules of convention in all aspects of her life; in her art, her marriage, her politics, her health, her beauty, and her style. She drank heavily and was a chain smoker. She flouted the morès of her time.
"I drank because I wanted to drown my sorrows. But now the damned things have learned to swim, and now decency and good behavior weary me."
"I was born a bitch. I was born a painter."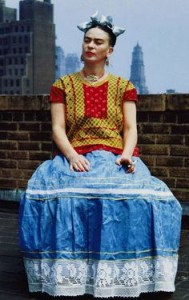 Frida Khalo New York, 1946. Nickolas Muray
Frida's unconventional style included dressing as a boy and smoking cigars. She wore traditional Mexican tehuana garb rather than the fashion of her day, even when travelling to the salons of New York and Europe. Frida was badass and fierce, yet she was accepted internationally and was invited to display her work in the U.S. and Europe.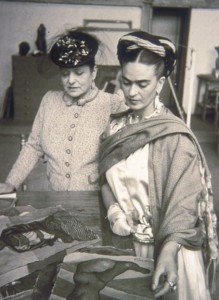 Frida Khalo with Helena Rubenstein at Diego Rivera's Studio Photo: Juan Guzman
Her charisma and unconventional dark jolie laide beauty helped turn her from being known as "Mrs. Rivera" to "Frida". Haute society embraced her. She met with Helena Rubenstein in New York and Elsa Schiaparelli designed a dress called "La robe Madame Rivera" (It has been documented that Schiaparelli's Shocking became one of Frida's favorite perfumes).
In the composition, I considered Frida's tequila and agave, her cigars and cigarettes, and also decide to honor the aldehydic, chypre structure of Shocking.
Frida the Revolutionary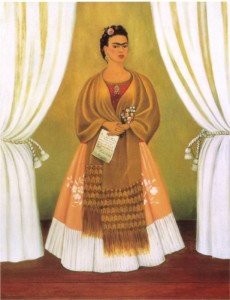 Frida Khalo Self Portrait Dedicated to Leon Trotsky 1937
A radical Marxist, Frida painted a self-portrait for her friend and lover Leon Trotsky.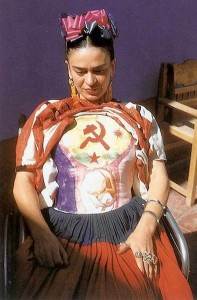 Frida Khalo in her wheel chair; note the Communist sickle and star, and unborn fetus
She also painted the communist logo on her body cast at one point in her life.
"Pain, pleasure and death are no more than a process for existence. The revolutionary struggle in this process is a doorway open to intelligence"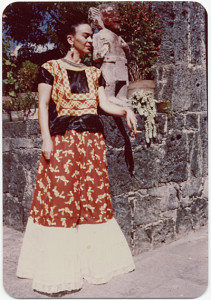 Frida Kahlo, Coyoacán Mexico, 1948 Photo Florence Arquin
Although Frida Kahlo spent most of life traveling; San Francisco, Detroit, Philadelphia, New York, and Paris, she maintained a traditional life when at her beloved home in Mexico. In creating Frida Eau de Parfum I considered the herbs Frida used in her famous festival dishes (I now own her cookbook); also the ever-present smell of smoky copal burned on the Day of the Dead festival. Sugar skulls and church incense are notes were added to my composition.
Frida the Artist
"They thought I was a Surrealist, but I wasn't. I never painted dreams. I painted my own reality."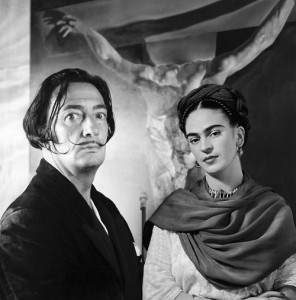 Salvatore Dali and Frida Khalo
Frida's art, like her life, was original and uncompromising. She received international awards, and government commissions. She became famous for her self-portraits that expressed the duality of her nature. While she never considered herself a Surrealist, Kahlo befriended the primary figures in that artistic and literary movement, She met Andre Breton in 1938. In 1939, Kahlo went to live in Paris where she exhibited some of her paintings and developed friendships with Marcel Duchamp, Salavatore Dali and Pablo Picasso.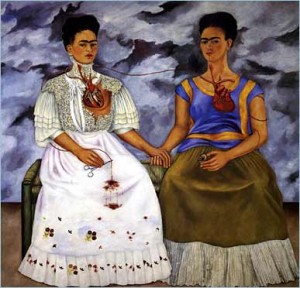 The Two Fridas (1939
During this time, she painted one of her most famous works, The Two Fridas (1939). The painting shows two versions of the artist sitting side by side, with both of their hearts exposed. One Frida is dressed nearly all in white and has a damaged heart and her clothing is spotted with blood. The other wears bold colored clothing and has an intact heart. Perhaps they represent the "unloved" and "loved" versions of Kahlo.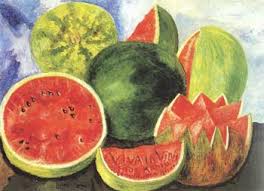 Viva la Vida, 1954
Shortly before her death she painted Viva la Vida which is her last known work. I decide to use watermelon to commemorate Frida's Viva la Vida, 1954. "Live Life"… and what a life she lived.
–Shelley Waddington, Founder and Perfumer for En Voyage (Edited and Art Direction by Michelyn Camen )
TOP: Fruits, herbs and leaves of Frida's Garden. Agave. Green Pepper.
HEART: Tuberose, Hibiscus, Cactus Flower
BASE: Light Woods, Sugar, Oak moss, Aldehydes; Myrrh, Frankincense, and Copal; Tobacco Accord, Sexual Animalic Notes, Musk, Amber
Available July 1, 2015 at En Voyage Perfumes
.5oz Spray EDP /$70.
1oz Spray EDP /$95.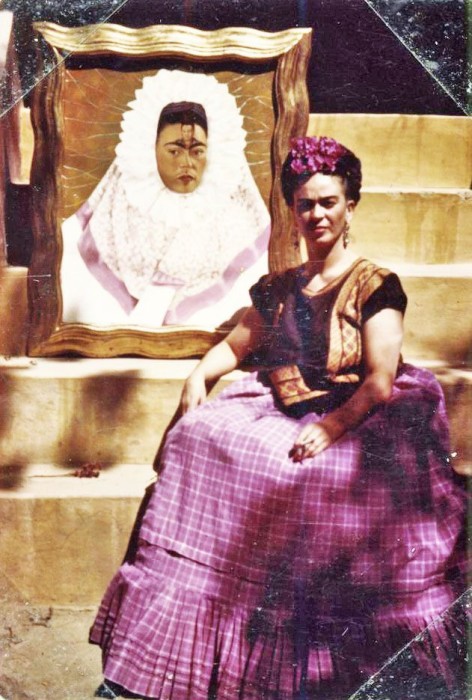 Frida Khalo for Mexican Vogue 1942
DISCLAIMER- All the art and photos of Frida Khalo are not associated and do not imply endorsement of Frida Eau de Parfum . I chose these images for this article only -Michelyn
Thanks to Shelley we have a worldwide draw for two registered readers for two samples of Frida Eau de Parfum. To be eligible, please leave a comment with what you admire about Frida Khalo or learned about her life, and where you live. Draw closes July 4, 2015