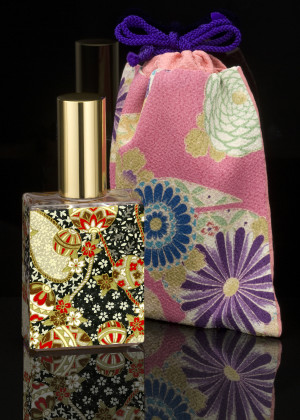 Geisha Vanilla Hinoki (photo Maria McElroy)
In 2011, Maria McElroy, founder and owner of the Japanese-inspired Aroma M Perfumes, introduced Geisha Amber Rouge a sexy spicy very grown up take on amber. Five years later, Maria debuts her first Geisha perfume since…Vanilla Hinoki, "a nighttime—or should we say bedtime" take on vanilla.
Blending Moroccan Vanilla, which is smoky and difficult to come by. Maria has paired it with an unexpected ingredient…Hinoki wood. This prized Japanese wood was used to build palaces, temples, shrines, noh theaters and hot spring pools known as onsen, found in mountainside inns. Maria's intention with this new scent was to "capture the cloudy, floating, sybaritic sensation of lingering in one of these scented hot springs".
Notes: Morrocan Vanilla, Hinoki , bergamot, clove, cardamom, leather; incense-like patchouli, amyris; and cedarwood.
Geisha Vanilla Hinoki is available in two formulations: As a spray parfum $90.00, its flacon wrapped with traditional Yuzen paper created expressly for Aroma M by Kyoto craftsmen; and as an oil-based portable roll-on $60.00, wrapped as well in Yuzen paper. Available now to sample and for pre-order on Luckyscent and will be live on www.aromam.com in May.
Editor's Note: I first learned of Aroma M when I was a publicist for Luckyscent and fell in love with Aroma M O-Cha. The pouch that houses the spray parfums uses Japanese fabrics and has been a favorite of mine since the early 2000s. I use them for my jewelry and one houses my passport!
Via Maria McElroy, Aroma M
Michelyn Camen, Editor in Chief