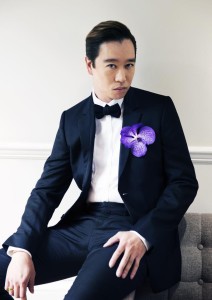 Christopher Chong of Amouage 2015
In conceiving Opus X, the latest release from Amouage's Library Collection, Creative Director Christopher Chong was inspired by the 1998 film The Red Violin, which tells the intricate story of a red- colored violin that travels from owner to owner, beginning with its creator Bussotti (Carlo Cecchi) in 1681. Spanning over four centuries and five countries the plot echos the story of each of its possessors. The hue of the mysterious violin, which in the movie contained human blood mixed in the finish, is a metaphor for the many facets and guises of the Rose.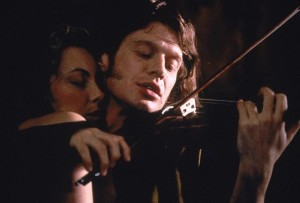 Still from the Canadian Movie The Red Violin
"The first string of this Violin plays a Rose Centifolia note, in which the flower shows its magnificence, luminosity and voluptuousness. The second string resonates a Bloody Rose accord adding mystery and sensuality. A lyrical ode of Rosebud brings glow and radiance to the perfume as the third string. Finally, Rose Oxide covers the perfume with a metallic veil. The culmination is a powerful and multifaceted Rose vibrating on different scales whilst unveiling its beauty and olfactive richness".
According to Christopher, "There is a varnish aspect of Geranium, embroidered with the sensual texture of Leather in the heart, intensify and deepen the scent. The final illusion of the woody, floral fragrance is created by the warmth of Ambrarome, an animalic touch of Ylang-Ylang, and the elegance of Laotian Oud to signify the spirit of an eternal voyage".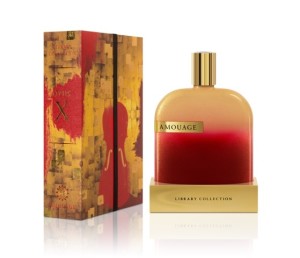 Opus X's bottle is a deep burgundy shade that fades into amber. The tome-shaped box is an amber and gold mosaic, with two artistic interpretations of the violin in deep red.
FRAGRANCE FAMILY
Woody Floral
OLFACTORY NOTES
Top : Rose Centifolia, Bloody Rose Accord, Rosebud, Rose Oxide
Heart: Geranium, Varnish Accord, Leather
Base: *Ambrarome, Laotian Oud, Ylang-Ylang, Metallic Accord
Editor's note: *Ambrarome is an aromachemical which was first developed as a replacement for ambergris and is also referred to as ETHYL ESTERS OF LABDANUM EXTRACT
Via Amouage
Availabilty April-May 2016. Price will be updated
Michelyn Camen, Editor in Chief