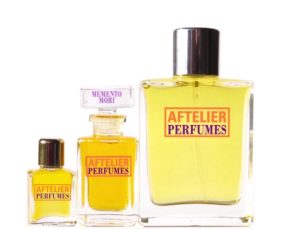 Mandy Aftel of Aftelier Perfumes' 2015 Vanilla Smoke took on the challenge of creating a natural vanilla perfume, no easy feat. Musk natural perfumes are also difficult to recreate especially if the perfumer wants to achieve sheerness, luminosity and lightness.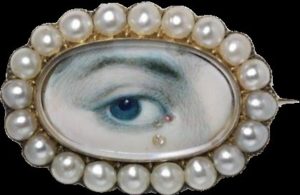 Memento Mori Brooch
Her new fragrance Memento Mori is "about the tender memories of the skin and body of someone with whom you have been intimate, and the ways that you treasure and long for that which you remember when they are lost to you. We want to hold the vanished beauty close even as we experience the piercing quality of memory and is named after the mourning jewelry worn by the bereaved, as far back as the 16th century; it was a a way of saying "gone but not lost" or "sacred to memory,"I wanted to capture the musk-like smell of skin, using all naturals. The wearer has the experience of the perfume changing on their skin, much as time changes memory. It is a perfume about love, loss and memory, and is the most personal one that I have made".
Top Notes: Butter, Orris, Phenylacetic Acid,
Middle Notes: Turkish Rose Absolute, Phenylethyl Alcohol,
Base Notes: Beta Ionone, Ambreine, Ambergris, Antique Civet, Patchoulyl Acetate
(in organic alcohol and fractionated coconut oil)
Memento Mori is available as a 1/4 oz. perfume ($180), a one ounce EDP Spray ($180), a 2ml mini perfume ($50) and a sample size ($6) at www.aftelier.com.
via Aftelier Perfumes
Michelyn Camen, Editor in Chief