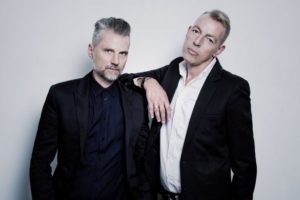 Karl Bradl and Robert Gerstner of Aedes de Venustas ©
One of my favorite new perfumes from Esxence 2017 , Pélargonium is Creative Directors Karl Bradl and Robert Gerstner of AEDES DE VENUSTAS' eighth offering since starting their eponymous collection in 2002. The strikingly elegant perfume was brought to life by the mega-talent Nathalie Feisthauer. It showcases an unexpected flower, Egyptian Geranium in an unusual way, against a dusky, smoky background of resins and woods.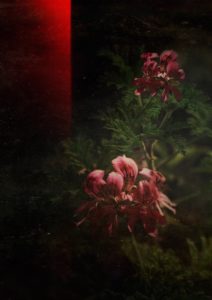 Egyptian Geranium photo Aedes de Venustas©
Egyptian geranium (not to be confused with the window box variety), name means "sweet- scented", yields one of the most versatile essences in perfumery. Distilled from the leaves of the plant rather than its flowers, it has long been used as a fresh rosy note, hence its vernacular name, "rose geranium". Ever since the late 19th century, it is one of the key materials of the masculine fougère family. In Pélargonium, Nathalie Feisthauer draws geranium from the depths of the fragrance pyramid to display its complex facets. Pélargonium portrays its namesake ingredient like one of the mysterious bouquets of Dutch Golden Age paintings, I immediately thought of the art of Hans Bollongier. Described by Nathalie Feisthauer, (who is the first woman nose for the House), as "aromatic, with a crushed-leaf facet, less fruity and more balsamic than rose, almost incense-like".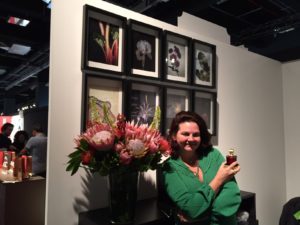 Nathalie Feisthauer at Esxence photo Sarah Colton
Using the Dutch Master metaphor, Nathalie starts "by stretching a canvas of cool orris notes on a neat cedar- wood frame. Then she paints a dark, smoky background of vetiver Haiti, guaiac wood and moss. Shot through with glints of green cardamom, the golden light of Calabrian bergamot suffuses the scene, caught by richly textured ingredients that bring volume and contrast.he herbal sweetness of carrot enriches the orris accord; ambery clary sage suggests the softness of velvety leaves. Lemony, peppery, incense-like elemi resin enhances both the fresh and balsamic facets of geranium. As a haze of musks smooths out its edges, Pélargonium's stately bouquet takes on a spare, abstract beauty."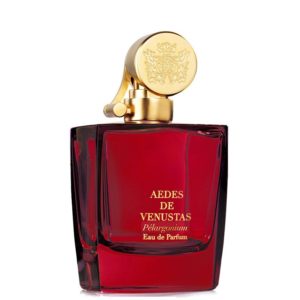 PÉLARGONIUM Eau De Parfum
100 ml/ $245
Available May 15, pre-orders accepted now at www.aedes.com
Via François Dusquene, the distributor for AEDES de Venustas and my own synopsis
Michelyn Camen, Editor-in-Chief