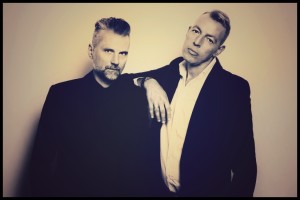 Karl Bradl and Robert Gerstner co founders of Aedes Perfumery
In his second collaboration with Creative Director Karl Bradl of the bijoux boutique Aedes Perfumery, reunites with award winning Master Perfumer Alberto Morillas of Firmenich, who signs the new AEDES DE VENUSTAS fragrance, the seventh in the collection, Grenadille d'Afrique.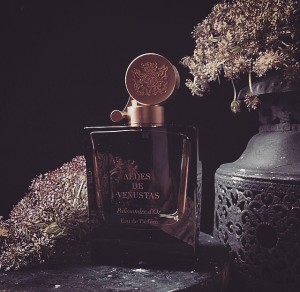 Palissandre D'Or
After last year's Palissandre D'Or, the theme of wood is the olfactive thread that continues through M. Morillas and Karl Bradl's newest exploration. With Grenadille d'Afrique, the journey is to a new region in the scent-map, the age-old landscape of Africa where woods and resins meet ink and stone in a tribute to ancient ebony.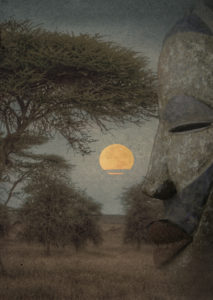 painting courtesy of Aedes de Venustas Grenadille d'Afrique Tree of Life
Each AEDES DE VENUSTAS fragrance is inspired by a raw material. Grenadille d'Afrique uses the rare, costly Dalbergia melanoxylon (literally "black wood") which yields one of the hardest and densest woods in the world. The Ancient Egyptians, called it h'bny, fashioned precious furniture from its heartwood, whose color ranges from deep purple to brownish black – the modern word "ebony" carries the memory of that distant past. In Tanzania, the Makonde people, who know it as mpingo, use it to create spectacular, highly prized Tree of Life carvings. In Grenadille d'Afrique – its French name the scent was created to evoke an arrestingly elegant olfactory sculpture.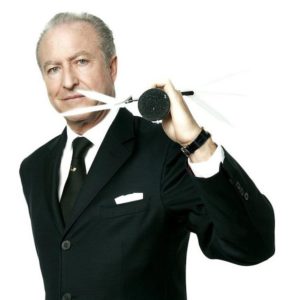 Alberto Morillas
Alberto Morillas says, "It is a surprising, uncompromising and emotional scent", the perfumer explains. "The materials are simple, stark and unadorned, like a very dense, very beautiful sculpture. It is through this density and simplicity that the fragrance turns into art".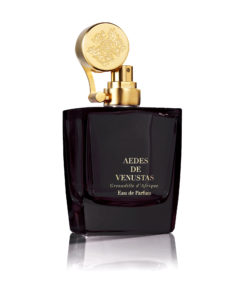 Grenadille d'Afrique expresses not only its namesake tree, but also the primal landscape in which it grows. Intriguingly described as "fossilized wood rubbed in a vanilla accord" by Alberto Morillas, this strongly contrasted composition sets its dark heart off with luminous notes.
"It is dusk or dawn? Sparkling bergamot captures the last rays of the sun, while a purple haze of lavender and violet spill their powdery moonlight on the savannah grasslands… Run through from twigs to roots with aromatic, juniper-scented sap, this olfactory portrait of the mythical African Blackwood tree is built around a "trunk" of Haitian vetiver. With its complex facets of wood, smoke, earth and flint, it is the vertical axis that draws together the fragrance's vegetal, animal and mineral notes. Turned into combustible resin by a lash of ambery cistus labdanum, vanilla exudes its balsamic warmth. Bleached wood, skin-soft bark and sun-heated stone release the day's heat into the ink-black night, cooled off by a breeze of musk…"
Retail Price : US $245/Available in October 2016.
via AEDES de VENUSTAS and Beauty Enterprises
Michelyn Camen, Editor in Chief
Editor's Note: AEDES DE VENUSTAS has received ÇaFleureBon Best of Scent Awards for three of their signature perfumes: Copal Azur (2014) by Bertrand Duchaufour, Iris Nazarena (2013) by Ralf Schweiger, which was the recipient of the Fragrance Foundation 2014 Award for Perfume Extraordinaire and Rodrigo Flores-Roux's Ouillet Bengale (2014)-Michelyn Camen, Editor in Chief
I will be attending the New York Press Launch and will make a spray sample for a registered reader worldwide. To be eligible please leave a comment with what intrigues you about Grenadille d'Afrique, your favorite Aedes de Venustas fragrance and where you live. Draw closes 9/7/2016.
We announce winners on site and on our Facebook page- so like Cafleurebon and use our RSS feed option … or your dream prize will be just spilled perfume