Bertrand Duchaufour and Neela Vermeire
2018 brings a new year and a new chapter for Creative Director Neela Vermeire of Neela Vermeire Creations. After her previous six perfumes including 2016's Rahele, all were signed by master perfumer Bertrand Duchaufour. Neela Vermeire now embarks on a different olfactory journey with a new collection of perfumes. Neela Vermeire Creations NIRAL "Serene Silk Connections" is the first in the series, which is once more in collaboration with Bertrand Duchaufour.
Neela Vermeire Creations NIRAL and Thomas Wardle
Neela Vermeire Creations NIRAL (unique, calm, serene) "is a perfume inspired by an interesting and unique relationship between British sericulture expert, author, printing-dyeing industrialist Sir Thomas Wardle (1831-1909) and India, celebrating his immense contribution to the promotion of Indian wild silk trade from Bengal and Kashmir to Europe." "Wardle's contribution may have been forgotten but he influenced and collaborated with several great textile artists and silk printers of his generation such as William Morris (1834-1896), Léon-Victor Solon (1873-1957) and a number of influential artists from the Art and Craft movement. Wardle perfected the technique for natural dyeing of the textured "tussar" silk, achieving stunning jewel toned colours reflected in our new box. His wife, Lady Elizabeth Wardle, founded the Leek Embroidery Society working on artistic needlework projects with tussar silk. Neela Vermeire Creations NIRAL, through its blend of rich raw materials is an ode to this quietly forceful silk ambassador. The perfume opens with iris, tea and liqueur notes weaving an intricate pattern with floral notes and spices akin to the textural delight of a piece of tussar silk, and symbolizing a unique relationship between two countries linked by a common heritage."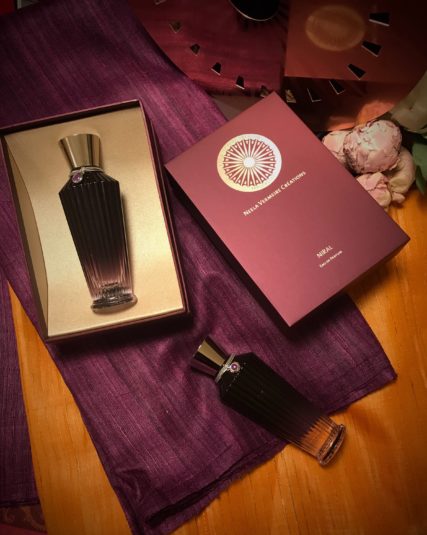 Neela Vermeire Creations NIRAL on Tussak Silk
Neela Vermeire Creations NIRAL has a redesigned packaging which blends the purple colour of Mohur Extrait and the EDP flacon, cradled in soft champagne gold within a two toned silken purple jewel box. Available in 60 ml.
Notes: Angelica, Champagne Accord, Iris, Tea, Rose, Magnolia, Cedar, Sandalwood and Leather (updated 3/5/2018 per NVC)
Via Neela Vermeire
Michelyn Camen, Editor-in-Chief