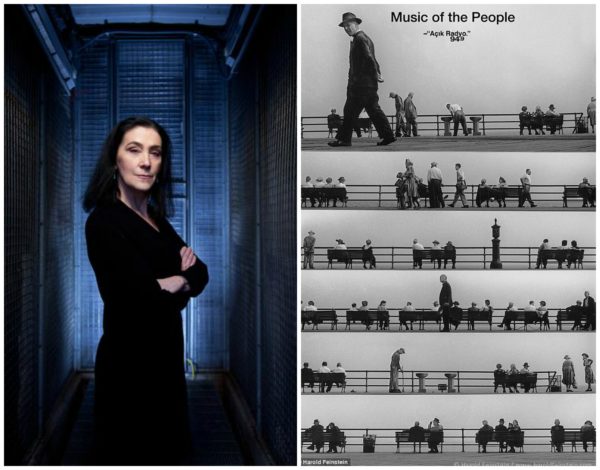 Perfumer Ellen Covey (photo by Lucien Knutesen and 1952, Music of the People montage by Harold Feinstein
Throughout my six years as Editor in Chief Of ÇaFleureBon, I have had the pleasure of naming quite a few Indie Perfumes. My first was Lautrec by Dawn Spencer Hurwitz, which was created in celebration of CaFleureBon's 1st birthday. Many followed including JoAnne Basset's Dark Mistress from the Shakespeare Sonnet, Neil Morris Vision in White, JK Delapp of The Rising Phoenix City Oud, the joy that is Sonoma Scent Studio Laurie Erickson's Yin and Ylang, which celebrated our 4th anniversary, the emotional farewell tribute to former managing editor Tama Blough by Tanja Bochnig of April Aromatics that I named San Francisco Rose, En Voyage by Shelley Waddington Zelda after the first American flapper Zelda Fitzgerald. In some it was just the name and others I was also involved in the creative direction. One of the most "magical" of names was for Pablo Neruda's Sonnet XVII by Ellen Covey, the 2x Art and Olfaction Award winning perfumer of Olympic Orchids Artisan Perfumes.
Most of these names are inspired by literature. I was speaking with Ellen last week about another project I had in mind. I work out to indie and pop hits and the ironic song by Mike Posner (remixed by the Norwegian duo Seeb), " I took a Pill in Ibiza" was on shuffle. (it is actually depressing "I took a pill in Ibiza to show Avicii I was cool, and when I finally got sober felt ten years older") .
Lyrics aside, I thought it was a fantastic name for a perfume…. A psycho-tropic fragrance. Ellen loved it, but we wanted to take it a step further and ask our readers and contributors for a song title they think would be a terrific name for a perfume. Ellen would be the sole judge, create the fragrance and the winner would have their name appear for the launch, and receive a bottle.
So here is your opportunity to name an Olympic Orchids Perfume.
The only rules are that it is a title of a song or musical composition that has never been made into a perfume prior and that you are a registered CaFleureBon reader anywhere in the world and sign up for Ellen's newsletter here. The song title may need to be modified for the perfume due to Copyright issues.
*One entry per reader. Please read all the comments because if the song or composition you choose appears before your submission and is chosen, it will go to the first reader. Our contributors and editors can also participate.
Good Luck.. Fame and fragrance awaits you.
Michelyn's official entry is "I took a Pill in Ibiza". Submissions due by July 28. 2016
Michleyn Camen, Editor in Chief and Award Winning Perfumer Ellen Covey, Olympic Orchids