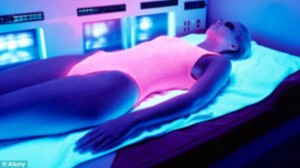 DON"T DO THIS!!!!: Photo Dailymail.com
Blame it on Coco Chanel who popularized tanning in 1923. But if you grew up in the 80s and 90s chances are you longed for deep dark bronzed skin and spent countless hours on the beach without a high SPF sunscreen or made weekly trips to the tanning bed. If you mixed baby oil and iodine or used a sun reflector raise you hand. We just didn't know any better. By now, we know there is no such thing as a safe natural tan.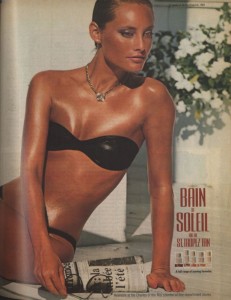 Vintage Bain de Soleil ad 1980s
A tan meant a healthy glow in Western culture and for those of us of a certain age it still does. Do you remember ads of that impossibly beautiful model in the black bikini … "Bain de Soleil, for the Saint Tropez taaaaaaan'? My first experience with a self tanner was Clarins in the late 80s and I turned oompa loompa orange. And the smell. And the tell tale streaks and stained palms. Nowadays through new technology that either uses a 100 percent natural form of DHA (the chemical culprit responsible for that orange tint and terrible smell) derived from renewable plant sources or that mix DHA with keto sugar molecules to provide a natural-looking tan.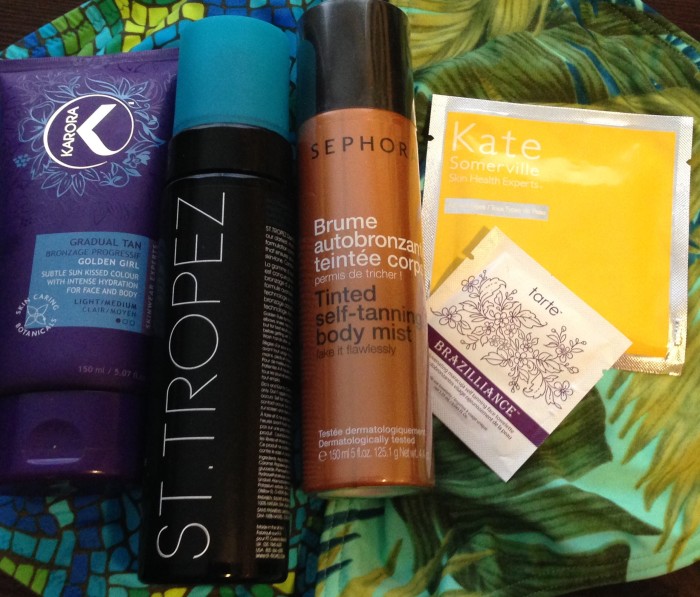 Karora Golden Girl Gradual tan, St. Tropez Dark Tanning Mousse, Sephora, tinted self tanning body mist, Tarte Brazilliance self tanning face towelettes, Kate Somerville 360 Self tanning Towels
As someone who has used self tanners for over 20 years I have tried just about everything on the market from drugstore to specialty. Here are my five favorites:
St. Tropez Dark Tanning Mousse
Pros: Goof proof, fast drying, intense color, steak free, green undertones means a browner less bronze tan, no offensive odor, tinted so you can see if you missed any areas. Lasts about 5-6 days. 100percent natural tanning agent. Good fade. I usually get 12-13 fully body tans; used weekly that lasts the summer. Three free (no parabens, phtlates, sulfates) cruelty free, available at most major department stores, online and at Sephora.
Cons: Pricy ($44/ 6.7 ounces) You must use a mitt, looks scary streaky until rinsed off in the shower. You must wait 4-8 hrs for the tan to develop and don't get wet. If you have a white shower curtain and towels it will temporarily stain until you wash them. Doing your back is tricky. Try securing the mitt onto a long handled shower brush. Not recommended for very fair skins, try the regular formula instead
Overall rating A+
Sephora Tinted Self Body Mist
Pros: 360 application, dries quickly, tinted so no mess ups, golden color, great for newbies, great for year round use, touch ups or for those who are pale complected. Doesn't need to be rinsed off. Tan develops immediately. I usually get seven full body tans out of each spray. Well Priced $16/4.4 oz sephora.com
Cons: lasts 3 days, be sure to put a dark towel down in the bathroom or it will stain tiles.
Overall rating: A + (I have been using this for years, if they discontinue this I will cry)
Karora Gradual Tan Golden Girl for Face and Body (Light/Med)
Pros: Super hydrated, chock full of botanical ingredients, nice aroma, can be applied daily to achieve desired color. Tan develops within 2 hrs. Good fade. Can be used on face and body ($25/5 oz) Available on Amazon.com and HSN and online at a few specialty stores as well as karora.com
Cons: no guide color, must use gloves or a mitt
Overall rating: A
Kate Sommerville 360 Tan Towelettes
Pros: Lemony scent, easy to use, natural color, dries instantly, three free, even application. Good fade and lasts 4 days. Great for travel.
Cons: no guide color, pricy $45 for 8 towelettes, difficult to do your back without years of yoga
Overall Rating: A
Tarte Brazilliance™ Skin Rejuvenating Maracuja Self Tanning Face Towelettes
Pros: EASY to use, formulated for the delicate and thinner skin on your face and neck. Dries instantly. Mositurizing, streak free, natural color, great for travel. Ten towelettes/25.00. can be used for touch ups and neck. Available on tarte.com and sephora.com
Cons: no guide color
Overall Rating A
Disappointments
Josie Maran Argan Liquid Gold Self-Tanning Oil: I have no idea why this product is always sold out on sephora online. I found it streaky, gives very little color, you have to wait 8 hrs before bathing and most of the product absorbs into the mitt before application.
Overall rating: D
Marula Bronzing Self Tan Oil: Love their facial oils but this self tanning product was problematic. There are no instructions in the box that it is meant for the face and neck. The dropper was difficult to use and kept clogging. Very expensive at $62.00 for 1.37 ounce. Delivered very little color. Very moisturizing with some shimmer and I love face oils and will use it to enhance a self tan but it did work for me on its own.
Overall rating: C
Self Tan Tips: First, always exfoliate, shave etc at least eight hours before, Use sunscreen outdoors, if you see any rash or irritation stop immediately. Invest in a mitt, I prefer velour back, but they are all pretty good. Clean them after each use in sudsy warm water.
Disclosure: Kate Sommerville, Tarte, Karora and Marula sent me products for promotional purposes over the course of several years; opinions my own
Note: I don't have fair skin, but I do get sallow and have yellow undertones, otherwise I would've rocked the Gwen Stefani, Dita Von Teese red lips and pale skin look years ago. I also recommend using a non greasy body oil, such as Providence Perfume Co Orange Blossom which is 100 percent botanical and absorbs easily into the skin, adding a bit of glow, it also seems to prolong my faux tan an extra day or two. Practice Safe Sun and always use a SPF of 30 when outdoors. See your dermatologist yearly for a body check for moles. Skin cancer is the most common of all cancer types. More than 3.5 million cases of non-melanoma skin cancer are diagnosed each year in the United States, and more than 73,000 cases of melanoma (the most serious form of skin cancer) are expected to be diagnosed in 2015.
–Michelyn Camen, Editor in Chief and Former Tanorexic